Surf and Sustainability
Matt Streiff channels his love of surfing and a fondness for Berkeley into support for Rausser College.
Despite growing up in inland San Diego County, Matt Streiff always had his eye on the coast. "Surfing was my favorite thing to do—it still is," he says. "I would beg, borrow, or do whatever I needed to do to get people to take me to the beach." In addition to riding the waves, Streiff, BS '97 Environmental Economics and Policy, spent his childhood playing tennis and soccer, and traveling to Baja California.
The strong affinity Streiff has for the "classic" Southern California lifestyle made his decision to attend UC Berkeley a little surprising. Surfing in the Bay Area can be tough; conditions are not always hospitable, and the swell isn't always the most cooperative. But the diverse, cosmopolitan locale he encountered on his first visit to Telegraph Avenue was enough to convince the avowed Southern Californian to head north.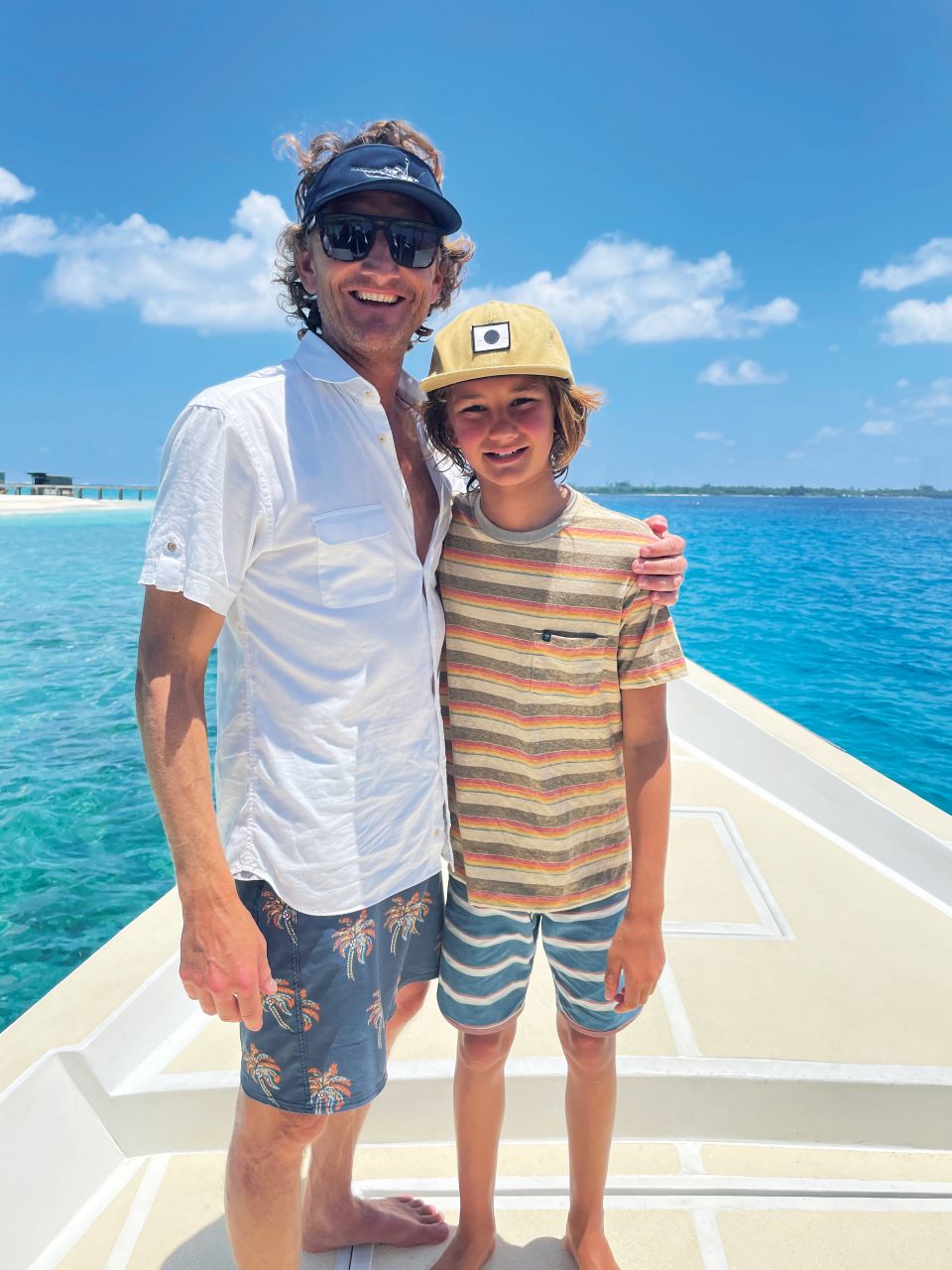 Matt Streiff and his son, Dylan, before hitting the surf on a recent trip to the Maldives.
At Berkeley, Streiff channeled his interest in economics and the natural world through multidisciplinary programs in the College of Natural Resources. He paired classroom lectures on international economics and environmental policy with hands-on experience in land management at Forestry Field Camp. Outside of class, Streiff and his friends regularly rooted for future NBA All-Star Jason Kidd at Haas Pavilion and future Pro Football Hall of Famer Tony Gonzalez at California Memorial Stadium.
Those moments followed Streiff to Paris, where he worked as a bartender after graduating; New York, where he attended Columbia Law and met his wife, Kimberlee; and back to Southern California, where he co-founded what would become American Healthcare REIT, one of the largest healthcare-focused real estate investment trusts in the country.
"It's amazing how much of an impact those four years had on me and my life today," Streiff says, remembering his time at Berkeley. "I have a lot of fondness for Cal; it played a very important role in my intellectual and social formation."
Streiff tries to return to campus at least once a year, typically to watch a football game with family and friends. He's shown his three children around the campus and taught them how to cheer on the blue and gold. His strong tie to Berkeley also influences his philanthropic priorities: he and his family make regular gifts to Cal Athletics and the Rausser College Fund for Natural Resources.
His firm belief in the importance of creating a sustainable future—which he classifies as one of the defining challenges of our time—aligns with Rausser College's mission. "The need for environmentally friendly practices in agriculture, energy production, and related fields is more present than ever," he says. "We need bright minds to focus on driving innovation because these challenges are not going away." 
Streiff's support of the College now comes at a critical point: many companies and other private organizations have begun to prioritize the environmental, social, and governance impacts of their investments and activities. "But in some ways, they're catching up to what the College was thinking about when I was there almost 30 years ago," he says. 
By giving back to Rausser College, Streiff hopes to strengthen student and faculty efforts to protect and steward our natural resources for future generations.