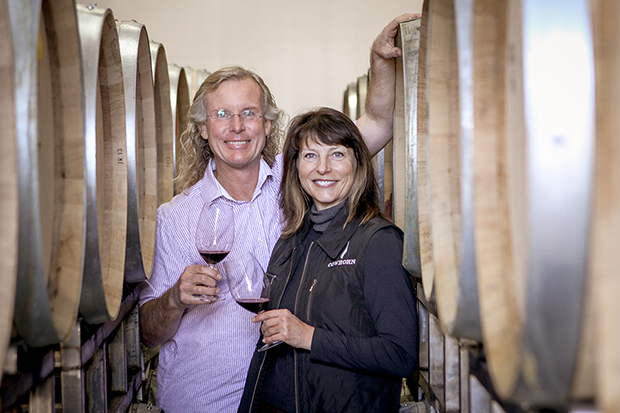 Bill & Barbara Steele
Listening to the Land
BS 1983 Conservation and Resource Studies
BS 1984 Political Economy of Industrial Society
It's the sort of story most of us can only dream about: leaving behind the demands of a high-pressure career to pursue a new life as a farmer. It's what Bill and Barbara Steele did—and they've never looked back. In 2002, the couple was living in Marin County, where Bill worked as an equity research analyst and Barbara was the CFO of a manufacturing company. A few years earlier, Barbara had started doing pro bono work with organic farms and vineyards in the Capay Valley—and was bitten by the farming bug.
"We had some pie-in-the-sky discussions: You know, if we ever did something, what kind of property we'd like," Bill explains. "We wanted something that was a blank canvas, where nobody else had made mistakes and we'd have to rip it all out. We knew from our organic-farming friends that we wanted something isolated, to avoid chemical drift from conventional farms. And then, of course, being from California, we knew we had to find good water rights."
On a visit to southern Oregon, Barbara finally got serious—and found what is now Cowhorn Vineyard and Garden, a 117-acre parcel bordered on two sides by Bureau of Land Management lands. The Steeles own the acres across the road to the river, and the nearest farming neighbor follows organic protocols.
"We weren't farmers," Bill says. "Neither of us had ever been on a tractor. So we started doing analysis—soil analysis, weather analysis—because our philosophy was, and still is, to let the land tell us what to grow, versus trying to impose our will onto it." The results of two years' worth of study determined where the roads should go, which in turn delineated blocks of land with different characteristics that are dedicated to individual crops.
"We weren't farmers. Neither of us had ever been on a tractor."
— Bill Steele
When it came to deciding on wine varieties, analysis was also key. "I wasn't a farmer, but I am a math guy, and if you give me a set of numbers, I can make sense out of them." he says. "For example, growing degree days—it's a form of sunlight. [France's] northern Rhône region is somewhere around 2500 to 3000; Cowhorn is 2700. The analysis kept saying, Rhône, Rhône, Rhône, so we planted Rhône varietals."
A Biodynamic Philosophy
The growing principles that the Steeles follow are tenets of Biodynamic® agriculture. At its core, Bill explains, biodynamic agriculture involves three basic principles. "First, no synthetic chemicals anywhere on the property. Second, you can't monocrop—and so in our case we have cherries and asparagus and lavender and hazelnut trees, in addition to vines. And third, you try to minimize outside inputs in order to create a closed-loop system." One aspect of the third point is the use, in fermenting wines, of only indigenous yeasts that are found on-site, which helps give the Cowhorn wines special characteristics that have earned the winery top honors.
The biodynamic philosophy has its share of detractors for its championing of special "teas" and "potions." Bill, however, shrugs off the criticism, saying it's mainly a matter of preference. "Some of the things you read about are probably less than 5 percent of what we do. The vast majority is commonsense, boring farming. But if we do everything correctly, it boosts ripening a week to 10 days, and that's huge in the wine industry. It gives us a little bit more flavor, a little bit more color, and allows us to make, incrementally, a little bit better wine."
The Steeles have 25 acres of grapes—just shy of 50,000 plants—which become fine syrahs, marsanne roussannes, and viogniers. The winery was built to produce between 4,000 and 4,500 cases, and that's where they want to keep it—at an artisanal level. They also sell 7,000 pounds of asparagus a year to three local markets in the Ashland area.
Building upon Sustainable Principles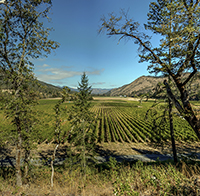 And now that the farm is as under control as a farm ever can be, the Steeles have embarked on a new project: a tasting room that will be the biodynamic equivalent of a sustainable construction. "It's going to be one of the greenest buildings in the country," Bill explains. "It's consistent with the Cowhorn brand. But it's also consistent with Barb's and my philosophy. The energy efficiency will be through the roof; the water savings will be very, very high; the materials will all be sourced from sustainable products." Ultimately, they hope, it will receive Living Building Challenge certification. In addition, the Steeles are building themselves a small residence, after 10 years of living in 377 square feet above their offices.
In the process, Bill says, they are creating a local market for green building supplies. "I know from all the guys who are building for us that they've never built anything quite like this before. They're so jazzed to come to work, because they're learning something new. And now they'll have this knowledge to apply to other buildings. So in small ways, things will change. And that's part of what Barb and I are trying to do."