Five Key Lessons
The Road to Paris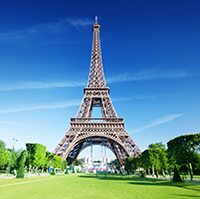 In December, more than 190 nations met in Paris to try to resolve the world's climate crisis at the 2015 United Nations Climate Change Conference. Over the course of the 23 years and 20 gatherings since the first such talks in 1992, only one legally binding agreement, the Kyoto Protocol, has emerged—a protocol in which two of the world's largest per capita emitters, the United States and Canada, are not participating.
During the fall semester, lecturer and former California assemblywoman Nancy Skinner '70 taught ESPM 290, The Road to Paris, a special course leading up to the historic negotiations. Here are five key lessons they explored.
Science should be the driver. There is clear and visible scientific evidence of a changing climate. We must help to ensure that the solutions pursued are based on sound science.
Think outside the box. Previous international negotiations have made little headway, but there are new voices—like the People's Climate March, Pope Francis's encyclical, and the Islamic Declaration on Global Climate Change—encouraging a different outcome.
Markets respond to policy. Public policy and political leadership have helped to drive the market for renewable energy with increased investment, technology breakthroughs, and price reductions. The annual added capacity for renewable power is now larger than for coal, natural gas, and oil combined.
Think globally, act locally. In the past, we've looked to national governments to solve the crisis. But sub-national governments like California and British Columbia—along with cities active in projects like C-40 and Cities for Climate Protection—are models for action, and grassroots efforts for fossil fuel divestment are emerging around the globe.
Remember land use, food production, and forests. Emissions reduction isn't just about transitioning from fossil fuels. Retaining the carbon stored in soils, grasslands, and forests is essential, as is reversing deforestation and land-use changes driven by food and fuel production.