On Monday, Dean Paul Ludden announced that he has accepted an offer to become Provost and Vice Chancellor for Academic Affairs at Southern Methodist University, beginning in the summer of 2007.

Ludden's departure will follow the Spring '07 semester, at the close of his 5-year term as dean.
---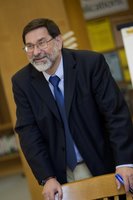 Ludden took the helm at CNR in 2002, when the College was facing a 10 percent state-imposed budget cut. He led the development of a strategic plan to navigate that and other challenges while increasing undergraduate enrollment, building strong partnerships both on- and off-campus, improving CNR's image, and significantly expanding College fundraising.

During his tenure, CNR has doubled undergraduate enrollment to over 1,300 students while also raising its admission standards. Ludden has led the College to embark upon collaborations with the College of Engineering and the School of Public Health, Lawrence Berkeley National Labs, and the Career Center. He has also strongly supported the College's active roles in the Berkeley Institute of the Environment, the new Blum Center for Developing Economies, and campus sustainability initiatives. While he is committed to interdisciplinary collaboration and a united College community, Ludden has also underscored the need for strong departments and autonomous faculty. "The best way to improve the College," he has continually advised faculty search committees, "is to hire young scholars who are better than ourselves."


"While Linda and I look forward to this new challenge, it will be difficult to leave the College that has become so important to us," Ludden said. "CNR has made tremendous strides thanks to the efforts of its faculty, staff, and students, and we will miss all of you. Many opportunities and tasks remain for the College, and I look forward to addressing these in my remaining time at Berkeley."