The UC Berkeley Graduate Division's Faculty Award for Outstanding Mentorship of GSIs was presented to Lynn Huntsinger, a professor in the Department of Environmental Science, Policy, and Management, for providing GSIs with guidance and mentorship in teaching. (Photos: Peg Skorpinski)

Surrounded by faculty, undergraduate students, and GSIs who held balloons, flowers and a framed certificate, Huntsinger received the award from Professor Laura Stoker, Chair of the Graduate Council Advisory Committee for GSI Affairs, as a surprise in the middle of a spring class.

"Lynn's mentorship provides us with a key opportunity for us to grow as instructors in our own right," wrote one GSI who nominated Huntsinger for the award. "Lynn also works hard to share decision-making with GSIs and to give them authentic teaching and course planning experience."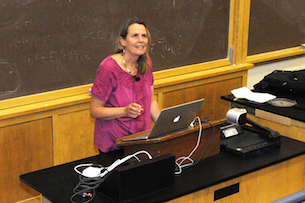 Read the full story at the source.