CNR Alumni & Family Weekend Picnic 2014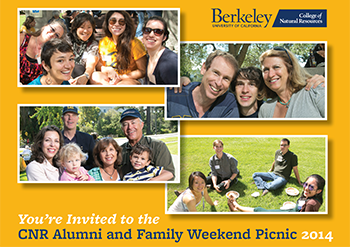 Saturday, October 11, 2014
Join us and raise your glass to toast our 2014 reunion-year alumni.
The CNR Alumni Association (CNRAA) invites you to the CNR Picnic on the Berkeley campus. This is a wonderful event for all generations, and families with children.
Enjoy delicious BBQ, farm fresh produce, great company, and CNR spirits compliments of CNR Alumni:
Gordon Biersch Brewery
With special thanks to Dan Gordon, B.S. '82, Political Economy of Natural Resources
Arrastra Vineyards, El Dorado County
With special thanks to Doug Leisz, B.S. '50 Forestry
Casa Lola Wine
With special thanks to John Casazza, B.S. '77, Soil and Plant Nutrition
Charles Spinetta Winery Premium Wines
With special thanks to Charles Spinetta, B.S. '63 Forestry
McManis Family Vineyards
With special thanks to Don Jackson, B.A. '50 Zoology
Wine, Beer and BBQ!
Saturday, October 11th | 11:30 a.m. to 2:30 p.m. | Genetics & Plant Biology Lawn located on the north-west side of campus between Morgan Hall, Mulford Hall, the Li Ka Shing Center, and the Genetics & Plant Biology Building.
For more information, contact Donna Chan or 510-642-6707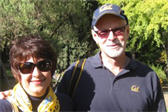 Faculty Lecture Series - Alumni & Family Weekend
Saturday, October 11
Annual Meeting of the CNR Alumni Association
State of the College Address (coffee & pastries provided)
J. Keith Gilless, Dean, College of Natural Resources
You Are What You Eat!
Lorrene Ritchie, Director and Cooperative Extension Specialist, Nutrition Policy Institute, UC Agriculture and Natural Resources, and Director of Research of the Dr. Robert C. and Veronica Atkins Center for Weight and Health
How Can Berkeley Develop Environmental Leaders?
Matthew D. Potts, Assistant Professor, Department of Environmental Science, Policy, and Management
Strategies Plants Use to Fend Off Their Enemies
Mary C. Wildermuth, Associate Professor, Department of Plant & Microbial Biology
California's Water Future
David L. Sunding, Chair and Thomas J. Graff Professor, Department of Agricultural and Resource Economics, and the Co-Director of the Berkeley Center for Water Resource Mangaement
Why Sustainability at the Neighborhood Scale
Harrison Fraker, Chair of the Energy Resources Group and Professor of Architecture and Urban Design