It All Begins in the Kitchen
A teaching space to serve the whole campus
To become registered dietitian nutritionists (RDNs), dietetics students must pursue a rigorous program of education, get accepted into highly competitive internships, and pass registration exams. But before all that, they need a more fundamental skill: They must learn how to cook.
In the College of Natural Resources, the Cal Teaching Kitchen is the laboratory in which future dietitians are prepared for careers that will help us understand and prevent chronic disease, promote healthy communities, and further metabolic research and education. Now CNR is launching a fundraising campaign to bring its kitchen up to par with its exceptional program.
UC Berkeley is the birthplace of nutrition studies, having offered the first courses on the subject in the early 1900s. Our faculty continue to be active in practice, serving as professional role models, and Berkeley researchers are at the leading edge of metabolic health and related fields. The dietetics program offers a rigorous, science-based curriculum and many opportunities for student research. And the campus is now part of the Teaching Kitchen Collaborative, launched by the Culinary Institute of America and the Harvard T.H. Chan School of Public Health.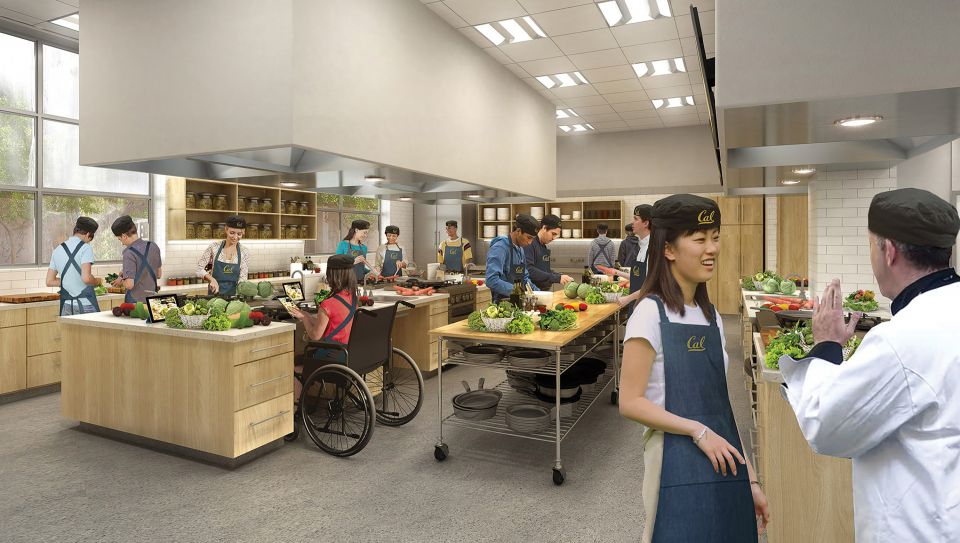 An architectural rendering of the vision for an updated yeaching kitchen.
VISUALIZATION: Robert Becker
Beyond the dietetics program, the teaching kitchen is used by graduate and undergraduate student groups, campus health services, Cal Athletics, and staff wellness programs. Students from all disciplines can take Personal Food Security and Wellness (NUSCTX 20), a popular course offering instruction in how to prepare healthy meals on tight budgets. Launched in spring 2016, this class is now more necessary than ever, as a recent study showed that 57 percent of Cal students struggle to find sufficient or healthy food.
Berkeley's dietetics students are achieving a remarkable 99 percent pass rate on the Commission on Dietetic Registration's mandatory exam. These are the future nutritionists who will help us combat the obesity epidemic and associated chronic diseases like diabetes, heart disease, and high blood pressure. They'll play an integral role in the well-being of our nation, promoting healthy food to better fuel our bodies.
"The food science course and accompanying lab was one of my favorite classes and sparked an interest in the biology and chemistry of food," says Brittney Dietz, PhD '16, Nutritional Sciences and Toxicology. "I was able to apply the knowledge and techniques I used in my medical research to experiments that unveiled the science of what we eat."
Unlike CNR's acclaimed program, however, the teaching kitchen is woefully out-of-date. Built in 1953, the facility still largely relies on older equipment. It's too small to accommodate its roughly 2,200 student visits each year. And its split kitchen-classroom footprint limits the potential for growth.
The fundraising campaign seeks to remedy all that. Plans call for a new open kitchen-classroom layout that will feature individual and ADA-compliant cooking stations for each student group; added counter space; an instructor station; and state-of-the-art equipment like gas ranges, energy-efficient appliances, and a commercial-grade dishwasher. An adjacent patio will feature a culinary garden.
"Graduates of our program are at the forefront of translating the science of nutrition into real-life applications," says Mikelle McCoin, director of the Didactic Program in Dietetics. "The new Cal Teaching Kitchen will serve as a valuable laboratory to train the food educators of the future."