Profile: Dean David Ackerly
The College of Natural Resources has a new dean, plant ecologist and evolutionary biologist David Ackerly.
For the past eight years, David Ackerly has been getting to know Pepperwood 
Preserve in intimate detail. In 2013, he and members of his lab set up permanent forest plots in the 3,200-acre Sonoma County biodiversity hot spot to study long-term changes in the distribution of its evergreens and native oaks.
Then massive change arrived: The 2017 Tubbs Fire burned through most of the preserve. A crew from Ackerly's lab spent the past summer—the first since the fire—assessing tree mortality and will return periodically to monitor the forest's response.
"This is why you set up long-term research," says Ackerly, an expert on how California's native flora is responding to the pressures of climate change. "You never know when a surprise will come." This patient, on-the-ground work is essential to informing effective conservation efforts. But for Ackerly, it also happens to be a rewarding task. "I love going back to the same place after a fire or rainstorm, or from summer to midwinter, and seeing the changes," he says.
Now, from his office in Giannini Hall, Ackerly is becoming immersed in yet another rich ecosystem, as the new dean of the College of Natural Resources. As a professor of integrative biology at Berkeley since 2005, Ackerly is new to CNR, but not to its core concerns. His research has long focused on better understanding biodiversity and ecosystem change and their implications for conservation. Most recently, he has applied his expertise in plant evolution, ecology, and phylogenetics—as well as cutting-edge data-analysis and modeling techniques—to studying how the spatial distribution of plants in California may change as temperatures rise.
"My interests in conservation and biodiversity have shifted in recent years," he says. "When we think about how these things play out in the world, they're not contained within a single discipline. So I've focused more and more on how to work across traditional academic boundaries and how to offer students richer training opportunities."
"I'm grateful to be taking on this role when the College is in a really strong position."
Ackerly's experience as an administrator, a student mentor, and a serial crosser of disciplinary boundaries makes him a natural fit for the Dean's Office. From 2010 to 2015, he held the Virginia G. and Robert E. Gill Chair in Natural History in the College of Letters & Science, and he served as the associate dean of the College's Biological Sciences Division from 2016 to 2018.
He has also taken on leadership roles in several multidisciplinary initiatives on campus and beyond, including the Climate Readiness Institute and the Berkeley Initiative in Global Change Biology. He's a senior fellow at the Berkeley Institute for Data Science and the principal investigator and director of Data Sciences for the 21st Century, a National Science Foundation–funded program that trains graduate students in the use of techniques from the data, social, and natural sciences for the purpose of studying rapid environmental change.
Biodiversity and the big picture
"I love new challenges that involve taking on the bigger picture," Ackerly says about his new job. "Being dean of CNR is an opportunity to think more comprehensively, across all our amazing faculty and departments, about how we integrate with the rest of the university."
This proclivity for mapping and making connections isn't new. As a plant ecologist, Ackerly has been doing that for decades. He helped develop the deeply influential concept of the velocity of climate change—the rate at which species' ranges must shift across the landscape to keep up with the changing climate.
"It's a way of calculating how fast conditions are moving," he explains. "For example, as the Bay Area gets warmer, climate conditions are shifting farther north." Given current trajectories, the velocity in this century could be more than five kilometers per year. "There's a reasonable scenario in which, by the end of the century, a lot of species won't be able to keep up."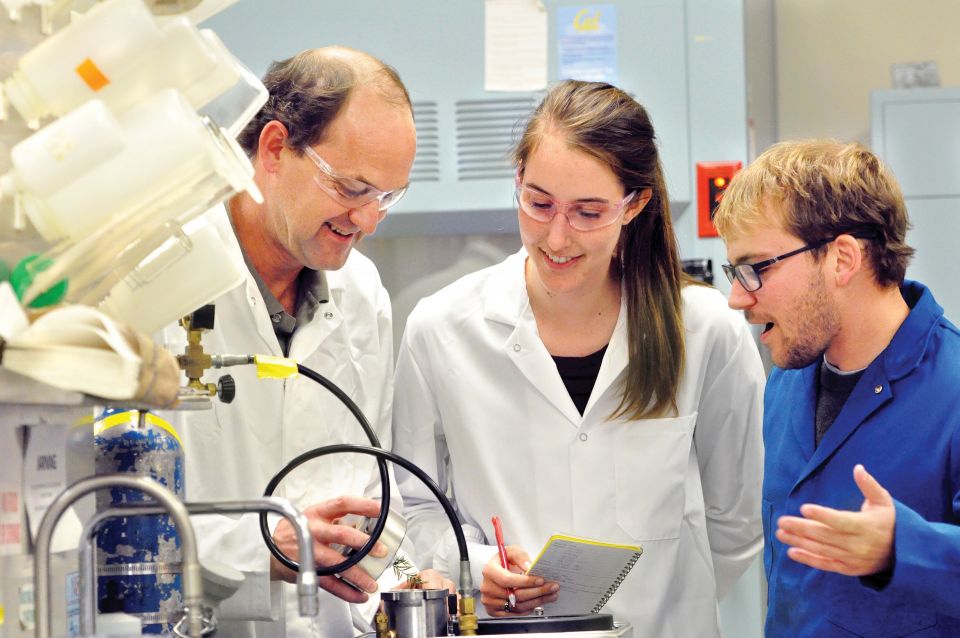 David Ackerly and graduate students Rachael Olliff and Andrew Weitz measure water deficits in plants as soil dries—an expected impact of a warming climate.
PHOTO: Peg Skorpinski
Forging ahead, forging connections
Ackerly is energized by the prospect of leading a college that specializes in public outreach and in applying its research in a fast-changing world. "This is the biggest contribution we at Berkeley can make: to identify and address big societal challenges that cut across departments and disciplines."
He's also committed to improving students' access to a CNR education, helping graduate students manage the rising cost of living in the Bay Area through more competitive stipends and scholarships, and increasing overall diversity among graduate students, postdocs, and faculty.
Ackerly credits CNR's robust institutional health to his predecessor, J. Keith Gilless. "I'm incredibly grateful to be taking on this role when the College is in a strong position," he says. "Dean Gilless and his team were very careful stewards of university resources. Under his tenure, the College's endowment and scholarship giving increased."
Maintaining that momentum, as the University continues to go through budget challenges, will be Ackerly's central task. "Hiring and maintaining the best faculty in the world, providing the right environment and culture for success, attracting the best graduate students—that's the job of the Dean's Office and will always be our top priority."