Half-Earth Day: How to Save the Natural World
Conceived by renowned biologist and naturalist Edward O. Wilson, the "half-earth" concept is a call to conserve half the earth's land and sea in order to provide sufficient habitat to safeguard the bulk of the planet's biodiversity, including humanity. On October 7, the College of Natural Resources and the E.O. Wilson Biodiversity Foundation cohosted the third annual Half-Earth Day celebration, bringing together people from around the world and across disciplines to share perspectives on how to reach this goal. After a full-day conference, Wilson joined former U.S. secretary of the interior Sally Jewell for a panel discussion on the topic as part of the Albright Lecture in Conservation.
During the evening event, special guests included former California Governor Jerry Brown; Stephen Lockhart, Chief Medical Officer at Sutter Health; Walter Jetz, Yale University and Scientific Chair of the E.O. Wilson Biodiversity Foundation; and UC Berkeley's Executive Vice Chancellor and Provost, Paul Alivisatos.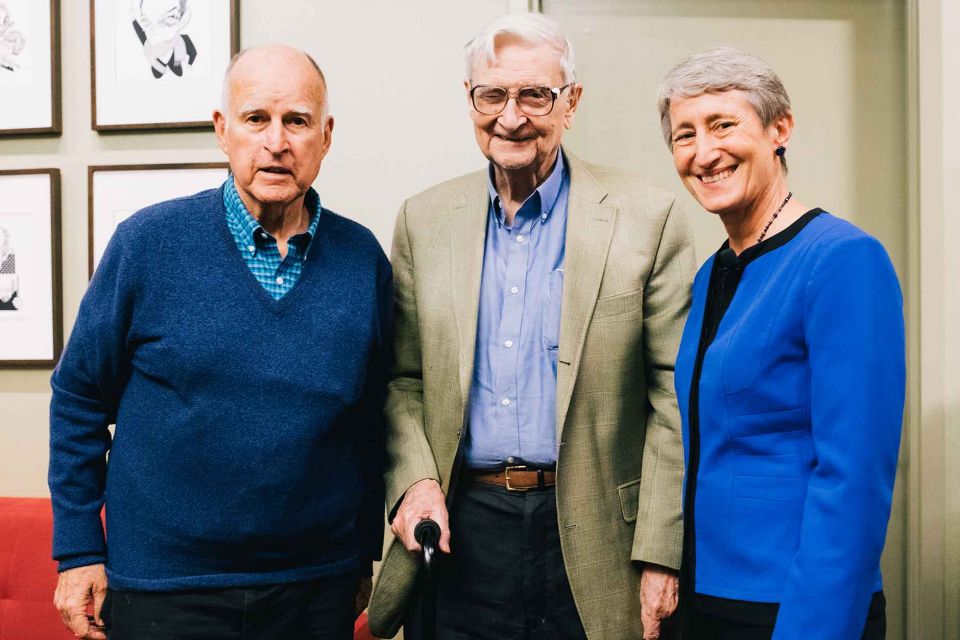 Brown noted to the crowd, "It's not us against the environment, but it's us in the environment, part of the environment. And as one goes, so does the other." Lockhart defined the problems we face as our environment deteriorates, how it affects species and people, and how we create the next generation of environmental stewards: "On the one hand, change can invoke a sense of fear and anxiety. On the other, change can open the door for a brighter, more sustainable future." Next Jetz explained Map of Life, a platform for the mapping and monitoring of global species populations that can inform conservation decisions.
In addition to the video of the evening event below, recordings of the conference proceedings are available at the Half Earth website.