The Horace M. Albright Lecture in Conservation spring 2015 presents:
America's Two Best Ideas—Public Education and Public Lands
Presented in conjunction with the summit "Science for Parks, Parks for Science: The Next Century"
A conversation with the U.S. Secretary of the Interior Sally Jewell, President of the University of California Janet Napolitano, and Historian and Author Douglas Brinkley.
Moderated by KQED  Forum  host Michael Krasny.
Presenters:
Sally Jewell: As Secretary of the Interior, Sally Jewell leads an agency with more than 70,000 employees. The Department of Interior serves as steward for approximately 20 percent of the nation's lands, including national parks, national wildlife refuges, and other public lands; oversees the responsible development of conventional and renewable energy supplies on public lands and waters; is the largest supplier and manager of water in the 17 Western states; and upholds trust responsibilities to the 566 federally recognized American Indian tribes and Alaska Natives.
Prior to her confirmation, Jewell served in the private sector, most recently as President and Chief Executive Officer of Recreation Equipment, Inc. (REI). During her tenure, REI nearly tripled in business to $2 billion and was consistently ranked one of the 100 best companies to work for by Fortune Magazine. Before joining to REI, Jewell spent 19 years as a commercial banker, first as an energy and natural resources expert and later working with a diverse array of businesses that drive our nation's economy. She holds a B.S. in engineering from the University of Washington.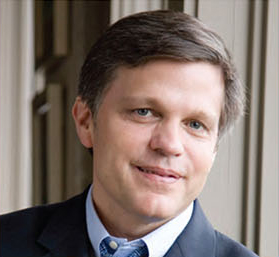 Douglas Brinkley is an author, professor of history at Rice University, and a fellow at the James Baker Institute for Public Policy. He is the history commentator for CBS News, a is contributing editor for Vanity Fair, and a frequent contributor to The New York Times, The New Yorker, and The Atlantic Monthly. Six of Brinkley's books have been selected as New York Times "Notable Books of the Year" A number of his most recent publications have become New York Times best sellers including The Reagan Diaries (2007), The Great Deluge (2006), The Boys of Pointe du Hoc: Ronald Reagan, D-Day and the U.S. Army 2nd Ranger Battalion(2005), Tour of Duty: John Kerry and the Vietnam War (2004) and Voices of Valor: D-Day: June 6, 1944 with Ronald J. Drez (2004). The Great Deluge (2006) was the recipient of the Robert F. Kennedy prize and a finalist for the Los Angeles Times Book award. The Wilderness Warrior: Theodore Roosevelt and the Crusade for America became an instant New York Times best seller as well and was the recipient of the 2009 "National Outdoor Book Award".
He won the "Benjamin Franklin Award" for The American Heritage History of the United States (1998) and the BusinessWeek "Book of the Year Award" for Wheels for the World and was also named 2004 "Humanist of the Year" by the Louisiana Endowment for the Humanities. He has received honorary doctorates from Hofstra University, Allegheny College, University of Maine and Trinity College in Hartford, Connecticut among others.
Brinkley completed his bachelor's degree at Ohio State University and received his doctorate in U.S. Diplomatic History from Georgetown University in 1989.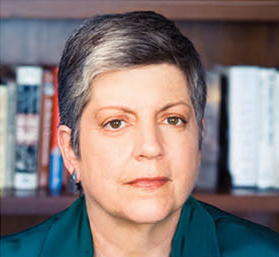 Janet Napolitano: As President of the University of California, Janet Napolitano leads a university system with 10 campuses, five medical centers, three affiliated national laboratories, and a statewide agriculture and natural resources program. Napolitano is a distinguished public servant with a record of leading large, complex organizations at the federal and state levels. She served as Secretary of Homeland Security from 2009-13, as Governor of Arizona from 2003-09, as Attorney General of Arizona from 1998-2003, and as U.S. Attorney for the District of Arizona from 1993-97. Before that, she practiced at the law firm of Lewis & Roca in Phoenix, where she became a partner in 1989. She began her career in 1983 as a clerk for Judge Mary M. Schroeder of the U.S. Court of Appeals for the Ninth Circuit.
As Governor of Arizona, Napolitano focused on education, from pre-kindergarten through public higher education. She was the first woman to chair the National Governors Association, and was named one of the nation's top five governors by Time magazine.
Napolitano earned a B.S. in 1979 from Santa Clara University, where she was the university's first female valedictorian. She received her law degree from the University of Virginia School of Law. Napolitano holds honorary degrees from several universities and colleges, including Emory University, Pomona College and Northeastern University. In 2010, she was awarded the prestigious Thomas Jefferson Foundation Medal (Law), the University of Virginia's highest external honor.
About the Event:
This event is free and open to the public. Albright Lecture tickets will be available to the public at 4 p.m., March 26 at the ticket window in the Wheeler Auditorium Lobby. Tickets are available on a first come, first served basis. Please arrive early as tickets will go quickly. Doors to the auditorium will open at 6 p.m. The lecture will be live-streamed in addition to being recorded and posted in our online archive at  http://nature.berkeley.edu/albright/lecture-archive .
"America's Two Best Ideas—Public Education and Public Lands" is part of the UC Berkeley initiative "America's Best Idea: The Next 100 Years," a partnership with the National Park Service and the National Geographic Society to celebrate the park service's centennial and to support national parks and protected lands for future generations.
The year 2015 marks the 100th anniversary of a conference held in Berkeley, hosted by UC Berkeley alumni Stephen Mather and Horace Albright, that led to the creation of the National Park Service in 1916. Mather and Albright went on to become the first and second directors of the National Park Service. With its partners, UC Berkeley looks forward to the next 100 years with a variety of activities and programs, including a summit on the partnership between parks and science. Learn more.
This special spring 2015 Albright program is also part of "Science for Parks, Parks for Science: The Next Century,"  a two-and-a-half-day summit convening science leaders to launch a second century of parks stewardship.
Presented in partnership with:

With additional sponsorship from:
Horace M. Albright Sponsor

Save The Redwoods League

Joseph Grinnell Sponsors

California State Parks Foundation

East Bay Regional Park District

LSA Associates

The Nature Conservancy

Yosemite Conservancy