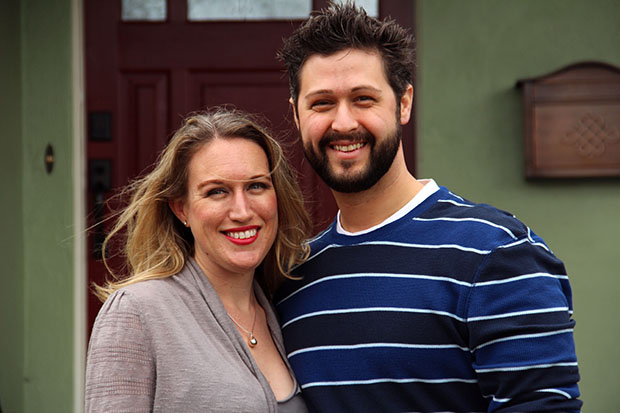 Commitment—to Each Other and to Cal
If it weren't for a six-foot-seven man who had a habit of not retrieving his oversize clothes from the dryer, Todd and Kristen Jones, both 2004 UC Berkeley graduates, might never have fallen in love.
It was 2002, their sophomore year. Living on separate floors of a house on Panoramic Way, the two shared a washer and dryer with about 20 other people. "We met specifically because of his best friend's laundry," says Kristen, a political science major who, up until the day she became fed up, gathered the neglected clothes, and knocked on his bottom-floor door, would typically wait hours to dry her own clothes. "I brought it down, and Todd opened the door," Kristen says, noting that she had seen her future husband in political science classes and thought he was cute. "And I was like, 'Oh my god, the cute guy lives here!' And so I was no longer harrumphy."
"I was pretty intimidated by her," Todd says, admitting he avoided Kristen at every opportunity, including numerous random meetings in the house, before finding the courage to kiss her at a party one night.
"You think about where your money is most needed and where it can do the most good. . . Cal is it."
Nearly seven years of dating led to marriage in 2009. Ever since their senior year, a priority for the couple has been to give back to the place that changed their lives both personally and academically. Their giving places them among the most loyal of more than 16,000 alumni who have donated to the New Alumni Challenge—a fund-raising campaign to encourage recent graduates to support Cal in its efforts to remain the top public university in the world. They have given at numerous times during the year, including 2014's first Big Give campaign.
"I feel very aware of how hard Berkeley has to work for money compared to private universities," says Kristen, who went on to work for the American Cancer Society and the United Nations in Vienna before becoming the director of audience engagement at the San Francisco Opera. She loved the challenging academic environment that she found at Berkeley, as well as the people with different passions and points of view, from all walks of life. "It's important to support the places you care about," she says.
"You think about where your money is most needed and where it can do the most good . . . Cal is it," says Todd, a double environmental sciences and political science major who joined Kristen for work at the U.N. before getting his graduate degree at the Yale School of Forestry and Environmental Studies. He now works for the San Francisco–based Center for Resource Solutions on programs for renewable energy and carbon offsets. He provides analysis and guidance to energy and climate change policymakers and organizations. (See also Q&A) Todd is grateful for unique CNR opportunities like joining professors for research outside the classroom. "Those types of experiences really made my education so much richer," he says.
Both Todd and Kristen are San Diego natives, and both are from families that believe strongly in charitable giving. So they want to make sure future Cal students have the same opportunities they did. Knowing that they are contributing—even if it is a small amount—gives them a deep sense of pride.
"Anything we can do to help make it so more people can experience that, the better," Kristen says.