Current work in our lab investigates the biogeochemical controls on pools and fluxes of carbon, nitrogen, and phosphorus in montane tropical forests in Puerto Rico. In particular, we have focused on the role of soil moisture, anaerobic conditions, and fluctuations in redox potential in controlling greenhouse gas biogeochemistry.
Tana E. Wood & Whendee L. Silver
Tropical forest soils are a major source of radiatively-active trace gases, including carbon dioxide (CO2) and nitrous oxide (N2O). Climate change is likely to alter soil moisture availability in tropical forests, and consequently the magnitude and temporal pattern of trace gas efflux from these systems (Matson & Vitousek 1990; Davidson et al. 2004; Werner et al. 2006). Currently, quantitative research that definitively investigates the role of soil moisture as a regulator of gas efflux from tropical forest soils is limited (see Davidson et al. 2004; Vasconcelos et al. 2004; Werner et al. 2006). To fully understand how the chemical composition of our atmosphere and climate will change, research examining the processes controlling trace gas emissions from tropical soils is essential.
Building on long-term ecological data at the Luquillo Experimental Forest (LEF), in Puerto Rico, we are conducting a small-scale throughfall exclusion experiment to answer the following questions:
What is the role of soil moisture in mediating the efflux of the radiatively-active trace gases carbon dioxide (CO2), nitrous oxide (N2O) and methane (CH4) from the soils of a humid tropical forest?What is the relative

contribution of trace gas

efflux due to root-rhizophere

response to soil

m

oisture

variability versus that of

heterotrophic bulk soils?
What physical and chemical changes that accompany reduced soil moisture affect the efflux of trace gases from tropical

soils.
Results from this study will provide critical data for predicting consequences of climate change in tropical regions.
COLLABORATORS
Ariel E. Lugo, Eoin Brodie
STUDENTS & TECHNICIANS
Danielle Matthews, Braulio Quintero, Carlos Torrens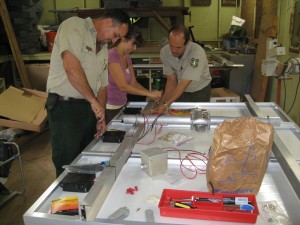 FUNDING & AFFILIATIONS
NOAA Global and Climate Change Postdoctoral Fellowship, Long-Term Ecological Research (LTER)- Luquillo Experimental Forest, International Institute of Tropical Forestry (IITF), Lawrence Berkeley National Laboratory, University of California, Berkeley