The Molecular Environmental Biology (MEB) major is designed to expose students to the organization and function of biological organisms. Molecular approaches are expected to play an increasing role in environmental problem-solving in the near future, and their success will depend upon a sound understanding of biological principles from molecular through ecological levels.
Sample Classes
The Biosphere
Molecular Genetics
American Wildlife: Identification and Conservation
Comparative Virology
Forest Ecology
Moorea Island Semester Study Abroad
Biology, Mathematics, Chemistry
---
Careers for MEB Majors
Medicine
Public Health
Veterinary Science
Biotechnology or pharmaceutical industries
Teaching and research
Zoos, national parks, wildlife preserves
Undergraduate Advising
Elizabeth Storer
Academic Advisor
260 Mulford
University of California
Berkeley, CA 94720-3114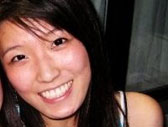 Julie Zhu is a third-year CNR student and a Molecular Environmental Biology major. Read about her experiences in the Peer Advisor blog!
Read the blog!