CNR has developed multidisciplinary programs that encompass the natural and social sciences, with a strong commitment to undergraduate teaching. Our ten undergraduate major programs prepare students for graduate study and careers in biological sciences, health professions, environmental fields, policy, law, business, and economics, and include programs designed for students with interests in specific professions, such as forestry and nutrition/dietetics. Most are integrative programs that emphasize flexible, interdisciplinary approaches.
Our  eight minor programs allow any UC Berkeley student with the proper prerequisites to declare an area of specialization in addition to their major.
Student in the lab of plant and microbial biology professor Michi Taga. Photo: Jim Block
Majors
For details about when and how to declare a major, go to Choosing a CNR Major
Genetics and Plant Biology (GPB) combines traditional plant sciences (physiology, biology, anatomy) with more recent biological disciplines (genetics, molecular biology, biochemistry) to study the role of plants in the global environment. The discipline emphasizes the study of plants from the molecular/genetic levels to the organismal level, including applications to biotechnology. Electives in the major are organized into five tracks: (1) biotechnology and bioenergy; (2) plant diversity and evolution; (3) plant genetics, genomics, and bioinformatics; (4) plant microbe interactions; and (5) experimental plant biology. Offered by the Department of Plant & Microbial Biology (PMB).
Microbial Biology (MB) is the study of microbes, which compose the largest majority of biomass on the planet. The major investigates interactions between microorganisms and the environment to determine the role microbes play in maintaining the health of our biosphere. This includes how microbes can help combat environmental pollutants, facilitate energy production, and influence the progress of medical research on infectious diseases. Electives in the major are organized into five tracks: (1) General Microbiology, (2) Host-Pathogen Interaction, (3) Ecology and Environmental Microbiology, (4) Evolution/Computational Genomics, and (5) Microbial Biotechnology. Offered by the Department of Plant & Microbial Biology (PMB).
Molecular Environmental Biology (MEB) introduces students to the organization and function of biological organisms at the molecular, cellular, organismal, and ecological levels. In this major, students learn how to apply biological principles to understand how organisms function in their environment. A classic pre-medical or pre-health science major, MEB offers six areas of concentration within biology: (1) animal health and behavior, (2) ecology, (3) insect biology, (4) microbiology, (5) environmental and human health, and (6) biodiversity. Offered by the Department of Environmental Science, Policy, and Management (ESPM).
The Nutritional Sciences and Toxicology Department offers three undergraduate specializations within the Nutritional Sciences (NS) major. All three specializations relate food and/or toxicants to human health and disease risk:
**Note: Starting Fall 2015, all Nutritional Sciences-Physiology & Metabolism and -Toxicology students will be required to have two semesters of calculus.  This can be fulfilled by taking Math 1A and 1B or Math 16A and 16B.
The Physiology & Metabolism specialization studies delivery of nutrients from foods to cells and the many functions of nutrients, including in energy metabolism.
The Dietetics specialization prepares students for careers as Registered Dietitians. 
The Toxicology specialization focuses on the molecular and physiological effects of natural and human-made toxicants.
Conservation and Resource Studies (CRS) gives students the opportunity to actively design and complete an individualized environmental studies degree with an interdisciplinary area of interest. This major is designed for students interested in environmental issues and areas of interaction among natural resources, population, energy, technology, societal institutions, and cultural values.
The major offers a flexible, individualized educational approach to understanding the structure and dynamic functions of complex environmental systems within our society and biosphere. Because CRS students draw on the course offerings of the entire campus, they are able to tap into the social sciences, biological sciences, physical sciences, and humanities to address real-world complexity and the resulting issues. Sample topics include environmental justice and education, sustainable development of world populations, energy and environmental policy, conservation and culture, and ecological restoration and policy. Offered by the Department of Environmental Science, Policy, and Management (ESPM).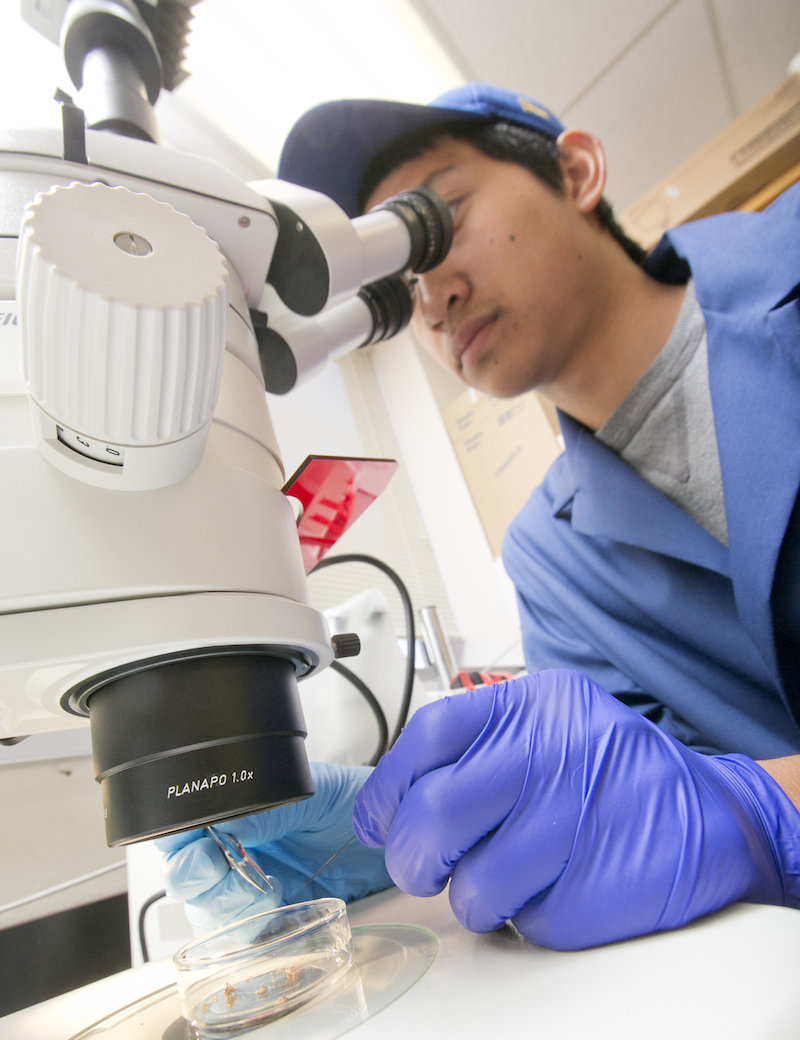 Student at microscope in lab of ESPM professor Neil Tsuitsui, Photo: Jim Block
Environmental Sciences (ES) provides broad, comprehensive education in the fundamentals of biology, chemistry, math, physics, and social sciences. The discipline involves the study of interactions between human activities and biological and physical environments on all scales, from the local to the global. ES majors finish their degree with a year-long research project, the senior thesis. Students investigate an environmental issue, design and execute independent research, and present their results in oral and written form. Offered by the Department of Environmental Science, Policy, and Management (ESPM).
Forestry and Natural Resources (FNR) focuses on the conservation and restoration of the earth's natural resources through hands-on study of the ecology, stewardship, and management of forest, woodland, and grassland ecosystems. The program offers concentrations in forestry and natural sciences and in human dimensions of natural resources, and qualifies students for the Registered Professional Forester's licensing exam in California. Topics studied include wildlife and conservation biology, ecosystem restoration, rangeland management, water policy, fire science, GIS and remote sensing, environmental justice, and rural sociology. Students participate in an 8-week summer field program in the Sierra Nevada. Offered by the Department of Environmental Science, Policy, and Management (ESPM).
Environmental Economics and Policy (EEP) focuses on economics and the political institutions that affect the development and management of natural resources and the environment. It takes a problem-solving approach to issues involving renewable and fixed natural resources, and has a foundation in microeconomic theory and the economics of resources and the environment. The major also includes topics related to policy, domestic or international development, and law. The program is offered in both the College of Natural Resources (BS) and the College of Letters and Science (BA). Offered by the Department of Agricultural and Resource Economics (ARE).
Society and Environment (S&E) introduces students to the main approaches and theory for environmental social sciences, including how social science tools can be applied to environmental problems, and how social science theories contribute to understanding environmental problems. Students are exposed to three areas of concentration, and choose to focus on one: (1) U.S. Environmental Policy and Management, (2) Global Environmental Politics, or (3) Justice and Sustainability. Offered by the Department of Environmental Science, Policy, and Management (ESPM).
CNR offers  eight undergraduate minor programs. Students in any major with the appropriate prerequisites may pursue a minor in CNR. All courses used in satisfaction of a minor program must be taken for a letter grade, unless the course is offered only on a Pass/No Pass basis. Students must achieve at least a C (2.0) average in the courses taken in satisfaction of a minor program and may not overlap more than one upper-division course between a major and a minor program.