A Flourishing Food Ecosystem
From organic agriculture to product development, CNR students are following their passions to make a difference on campus and to discover potential careers in nutrition, food design, and environmental science.
Hailey Zhou
Senior, Nutritional Sciences–Dietetics
Co-Founder, FoodInno Club
Hailey Zhou wants to work "at the intersection of food and health." She may already be there: She's been active in several campus initiatives that explore the future of food design and development.
In February 2016, Zhou—who first came to the United States from Shenzhen, China, in 2012 to attend high school—became co-founder and president of the FoodInno Club at Berkeley. It's an offshoot of the Berkeley-Stanford collaboration the FoodInno Institute. The club's "food innovation hackathons" enable students to bring a millennial's-eye view to local food companies, while also providing them with networking opportunities in their chosen fields.
"A food hackathon is a one-day event linking students' creativity with the challenges that local food businesses face by 'hacking' business model solutions," Zhou explains. Previous hackathons have included such local companies as TCHO Chocolate, Odwalla (Coca-Cola), House Kombucha, and Wrecking Ball Coffee Roasters. To date, FoodInno has also taught five student-run DeCal classes, including Food Design Thinking, Coffee & Wine, and Fermentation 101.
On Cal Day in spring 2016, Zhou wandered by a table promoting the Millet Project, and she has since become involved with that group, leading event outreach, business partnerships, social media, and product development efforts. Started by researchers in the Department of Plant and Microbial Biology, the project has set a long-term goal of developing a line of millet-based products. "Millet is an ancient grain I grew up eating in China, so I was curious," she explains. "It's not native to the U.S., but it's great for drought areas like California."
Zhou is also a co-founder of FEEDx—a collaborative conference on the future of food put on by Berkeley, UC Davis, and Stanford, begun in May 2016 and modeled after the TEDx series. In addition, she has worked as a sports nutrition intern for Cal Athletics and a social media intern for the undergraduate course Eat. Think. Design., offered through the School of Public Health.
Brianna Caspersen
Senior, Conservation and Resource Studies
Administrative Manager, Student Organic Garden Association
Brianna Caspersen came to Berkeley specifically to study nutritional sciences, but her interest quickly turned to the study of food systems. After taking a DeCal course offered by the Student Organic Garden Association (SOGA), she became the garden's summer operations apprentice. And once she got her hands in the soil, she began spending up to 20 hours a week not only growing her own food but also becoming involved with activism, community building, educational programming, and food justice issues.
The Student Organic Garden was founded in 1971 to promote a sustainable campus food system, and today it occupies a quarter acre on the Oxford Tract. Entirely student-run, each year it offers hundreds of students from across campus the chance to apply sustainable-agriculture theories in the field—and much of the resulting produce goes to the UC Berkeley Food Pantry. The plot comprises a variety of annual and perennial crops, a small orchard, and both medicinal and edible herb gardens. The gardeners practice agroecological techniques and perma-culture design principles.
Caspersen hopes to pursue a career in urban design using an environmental science lens. Her SOGA experience reminds her "how fortunate I am to fully engage with my food, from planting and nurturing it to harvesting and eating it," she says.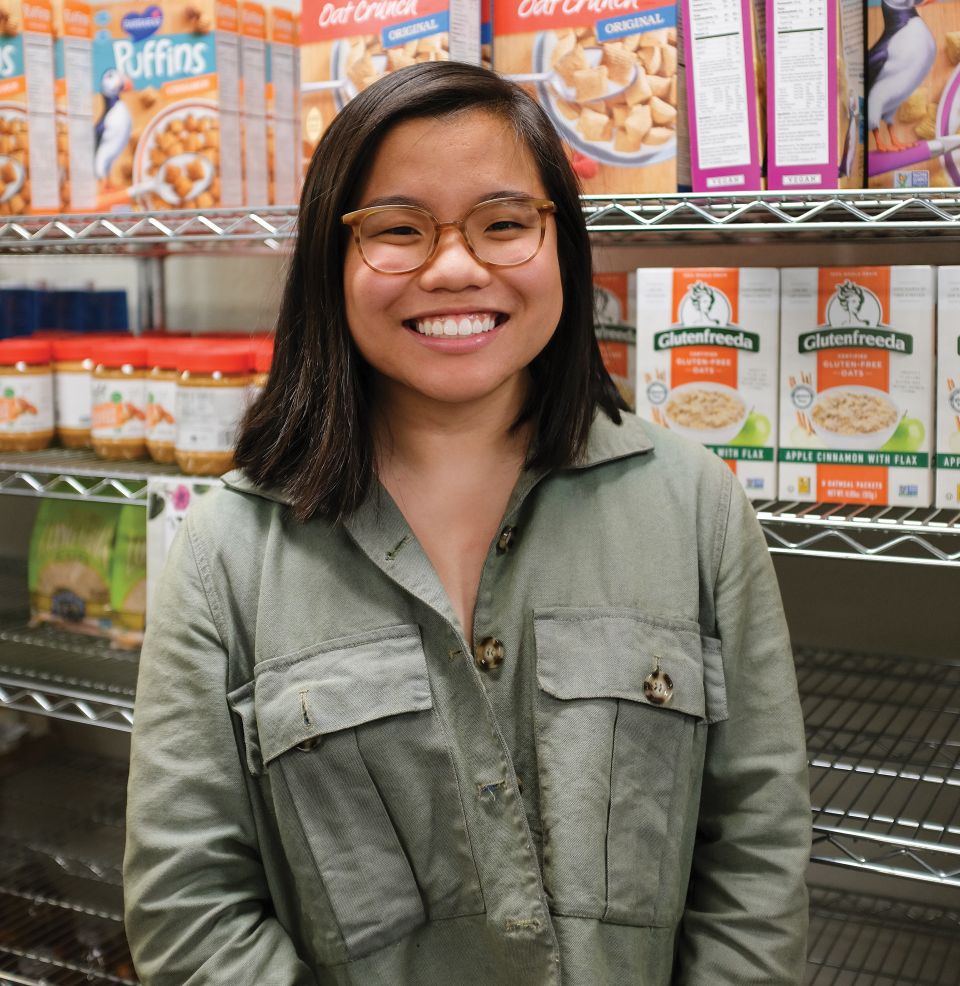 Carolyn Hsieh
Senior, Nutritional Sciences–Dietetics
Operations Manager, UC Berkeley Food Pantry
When Carolyn Hsieh began her studies in nutritional sciences, she hadn't even heard of the term "food insecurity." Now, as operations manager for the UC Berkeley Food Pantry, she knows how close it hits to home. Food scarcity among Cal students is all too common—as they prioritize expenses like tuition, high rents, and transportation, there's often not enough left over for food. Student visits to the pantry in spring 2017 totaled more than 5,600, representing at least 1,500 unique students.
Founded in 2014, the pantry offers a variety of healthy foods, all approved by the campus dietician. Its partners include Cal Dining, the Alameda County Community Food Bank, the Berkeley Student Food Collective, several campus gardens, and local businesses. With their Cal IDs, students can pick five items at a time, free of charge. The pantry is also working on several new initiatives, including mobile pop-up pantries and late-night events.
After graduation, Hsieh hopes to become a registered dietician, with a possible master's degree in public health. Her work at the UC Berkeley Food Pantry has "definitely deepened my interest in social service and food assistance programs," she says. "These issues are affecting the people I sit next to in class every day."
More Elements of the Edible Ecosystem
Through a new UC Berkeley "foodscape map" and other online resources, the Berkeley Food Institute highlights food-related activities on campus, including teaching, student and faculty research, student organizations, administrative decisions and initiatives, and dining services and procurement. Here's a sampling: