The George W. & Elsie M. Robinson Chair in Food and Agricultural Resource Economics
This fund supports a faculty chair in ARE. The chairholder's research focuses on the problems of the future agricultural resource base and world food production and distribution, with special emphasis on the depletion of agricultural land and the loss of topsoil.
The chairholder should help to further the understanding of relationships between state, federal, and international resource, food, and financial systems through analysis of key factors in each of these systems.
Since 1999, the Robinson Chair has been held by Professor David Zilberman, director of the Giannini Foundation and co-director of the Center for Sustainable Resource Development at CNR.
All gifts to CNR are tax-deductible to the extent of the law.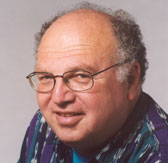 Professor David Zilberman of ARE currently holds the Robinson Chair.