Graduate Studies at the College of Natural Resources
Consistently placed at the top of national rankings, CNR's graduate programs allow students to form lasting partnerships with faculty working at the leading edges of their fields. Graduate degree programs are run by academic departments; visit the websites for individual departments and degrees to find more specific information, requirements and opportunities.
Information on applications, financial aid, rankings, and more can be found at the Graduate Division, a hub for current and incoming graduate students.
Graduate Degree Offerings
Agricultural & Resource Economics – PhD. ARE's doctoral program produces outstanding researchers in economics and policy, specializing in problems of agriculture, agribusiness, applied econometrics, biotech/intellectual properties, energy, environment and resources, international development, and international trade.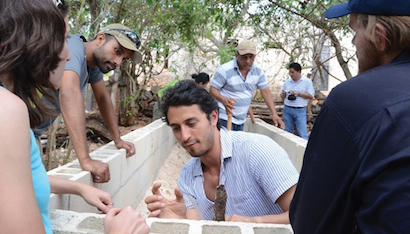 On a summer project in the Yucatan, Mexico, Energy and Resource Groups graduate students build a "biogas digester," a device that converts waste to clean-burning methane used for cooking. Photo: Sharada Prada CS
Energy & Resources – Master's and PhD. Students in the Master's and PhD pro­grams at ERG are taught the range of meth­ods and sub­jects they should be able to under­stand, advance, and critique to address crit­i­cal issues stem­ming from the inter­ac­tion of humans and the environ­ment. To that end, the require­ments are both broad and deep, stress­ing ana­lytic, method­olog­i­cal, the­o­ret­i­cal, and prac­ti­cal approaches to prob­lems in energy, resources, and the environment.
Environmental Science, Policy & Management – PhD. ESPM is engaged in biological, physical, and social research that spans the continuum from basic to applied research. The PhD program incorporates two general approaches: (1) broadly based interdisciplinary education and (2) disciplinary education in relevant fields supplemented with exposure to cross-disciplinary communication and problem solving.
Forestry – Master of Science. ESPM's Master of Forestry degree is the only "MF" program in California and the only graduate degree program in California that offers qualifying credit for meeting education/experience requirements for licensing as a Registered Professional Forester in California.
Range Management – Master of Science. Graduate study in range management serves as the basis for a professional career in rangeland livestock production systems, grassland, savanna, wetland and/or shrubland ecology and management, native plants, rangeland rehabilitation, conservation easements, wildlife habitat, water quality issues, working landscapes, and rangeland economics and policy.
Metabolic Biology and Metabolic Toxicology – Master's of Science and PhD. Nutritional Science & Toxicology degree programs span a breadth of topics from the delivery of nutrients to mammalian cells and their molecular functions, to the influence of genetics on diet-associated human disease, to programs and policies that address human and environmental health and safety. Degree programs include MS and PhD degrees in Metabolic Biology and a Metabolic Toxicology PhD.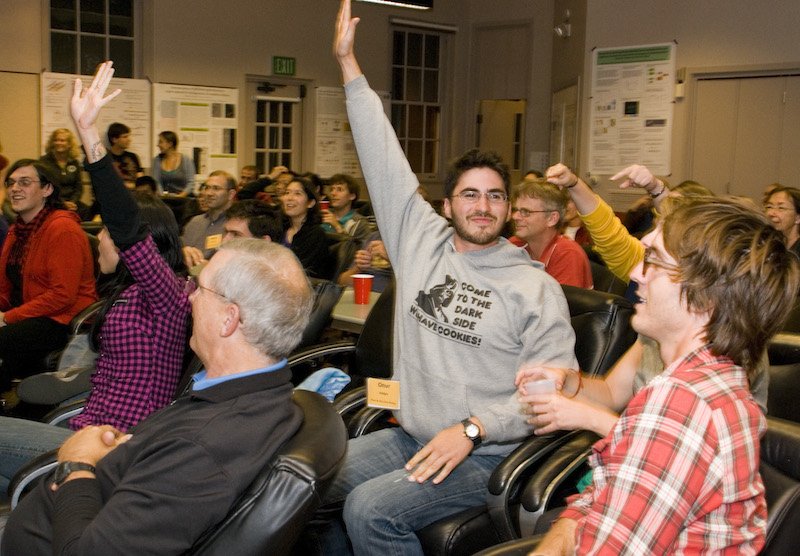 Students and faculty commingle at the Department of Plant and Microbial Biology's annual retreat.
Plant Biology – PhD. The Plant Biology PhD program focuses on basic plant research and on the design of biotechnologies. Our partnership with the United States Department of Agriculture's Plant Gene Expression Center in nearby Albany, Calif., offers a model of successful collaborations between the University and an outside agency.
Microbiology – PhD. Microbiology draws on and is relevant to the fields of biochemistry, physiology, molecular biology, genetics, cell biology, developmental biology, pathogenesis, ecology, and evolution. UC Berkeley's Graduate Group in Microbiology provides students with the education and research experience needed to develop as top scientists and researchers in the field.
Master of Development Practice. The MDP is based on multidisciplinary, constructivist approach to graduate education that integrates theory with hands-on, experiential learning. It is designed to meet real-world challenges, identify paths toward sustainable development, and serve as a hub of development practice on the Berkeley campus.
Graduate Degree Programs by Department
Department of Agricultural and Resource Economics
Department of Environmental Science, Policy, and Management
Nutritional Sciences and Toxicology
Plant and Microbial Biology
College of Natural Resources