The CNR Graduate Student Support Fund
Graduate students drive the exchange of new ideas. Scientific advancement relies on brilliant insights and intellectual exchange. CNR Graduate students make significant scientific breakthroughs when combining these new insights with the depth and breadth of knowledge offered by our award-winning CNR faculty.
Your generosity ensures that we have the necessary resources to recruit and retain the most talented masters and doctoral students. You can help ensure these students the financial means to pursue ambitious and demanding graduate research that benefits us all.
All gifts to CNR are tax-deductible to the extent of the law.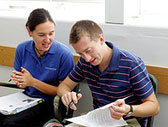 Graduate students work together as teachers and researchers, developing a network of outstanding colleagues that lasts them a lifetime.