The Henry J. Vaux Distinguished Professorship in Forest Policy
This fund supports programming in forestry and conservation involving a study of the interactions between society and its natural environment and development of proposals to deal with problems arising from such interactions.
The chair's programs are concerned particularly, though not exclusively, with forests as a major feature of the environment. This can involve lectures, conferences, symposia, colloquia, or other events. Programs presented on the Berkeley campus are designed to attract participation from faculty, students, and the community at large. Each event is reported in a published bulletin or film and disseminated widely to people concerned with environmental issues.
The current chairholder is Professor Sally K. Fairfax of ESPM. She writes of the Vaux professorship that it is an unusual opportunity in that its emphasis is on teaching rather than research. Professor Fairfax has used its resources for that purpose, as she is a particularly sought-after instructor on campus.
All gifts to CNR are tax-deductible to the extent of the law.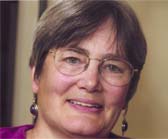 Professor Sally K. Fairfax currently holds the Vaux Distinguished Professorship.