The Betty and Isaac Barshad Endowed Chair in Soil Science
This fund supports the teaching and research activity, relating to soil science, of a faculty chair in the College of Natural Resources at the University of California, Berkeley.
Professor Issac Barshad earned a B.S. in Agricultural Science in 1936, an M.S. and Ph.D. in Soil Sciences in 1939 and 1944, respectively, at Berkeley. He studied the composition of soils throughout Europe and spent three years exploring the terrain of Pompeii. He devoted his whole teaching career to the University's former Department of Plant and Soil Biology, now part of the Department of Environmental Science, Policy, and Management.
The chair was established in 2004 and does not have a chairholder at this date.
All gifts to CNR are tax-deductible to the extent of the law.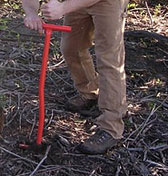 Professor Barshad's dedicated teaching has inspired countless students to study soils science.