Alumni Profiles
FNR Alumni go on to a wide variety of careers. Here is just a sample of what our alums are doing now.
---
Rob Lilieholm, Class of 1988
Professor of Forest Policy

Lilieholm is currently the E.L. Giddings Associate Professor of Forest Policy at the University of Maine, after 18 years at Utah State University. He is involved in alternative futures modeling as a way to anticipate landscape change and mobilize diverse interests in making informed choices. He is looking forward to helping to create a Center for Sustainability Solutions thanks to a $20 million grant from the National Science Foundation.
Lilieholmís research interests examine ways in which wildlands can be sustainably managed to promote a wide range of ecological and social goals. Examples include a host of land use issues, including the modeling of alternative future growth scenarios to determine the long-term impact of development on natural systems at the landscape level. Other research has examined wilderness management, as well as the development of strategies to manage commercial timberlands for biological diversity and wildlife habitat. Lilieholm has also been active in research and assistance projects promoting the sustainability of African national parks, and the people that rely on them for their survival.
---
Laurel Prevetti, Class of 1981
City Planner, City of San Jose
Prevetti received a Master of Science in Wildland Resource Science from UC Berkeley in 1984 and is currently the Assistant Director of the Department of Planning, Building and Code Enforcement for the City of San Jose, California. Among other efforts, she leads the staff in engaging the community in the creation and implementation of City planning for a sustainable future with measurable and achievable goals. She also teaches a core course at San Jose State University's Urban and Regional Planning Master's Program. Prior, she worked abroad in natural resources conservation in Latin America.
---
Tom Amesbury
Owner, Forester's Co-Op
Amesbury is the Principal Forester and owner of Foresterís Co-Op, a sustained-yield forest resource management company servicing client needs throughout the State of California. The Foresterís Co-Op offers market driven sustainable solutions to complex forestry, wildfire prevention, forest carbon sequestration, renewable energy, and fire-wise community development projects. Amesbury manages a staff of four full-time resource professionals and up to 25 seasonal technicians employed by the Foresterís Co-Op, which is located in Grass Valley, CA.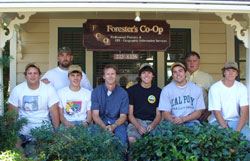 ---
Daina Dravnieks Apple, Class of 1977
Natural Resource Economist, US Forest Service

Daina Dravnieks Apple, a natural resource economist with the U.S. Forest Service, is senior advisor to the Deputy Chief for Research and Development, and served as a strategic planner for the National Forest System, and as an assistant regulatory officer. She also was the regional land use appeals coordinator and on the engineering staff in Region 5, San Francisco.
Apple began her Forest Service career as an economist at the Pacific Southwest Research Station, Berkeley. She was elected Fellow of the Society of American Foresters and is Past Chair of the National Capital SAF. She is a member of Sigma Xi Scientific Research Society, was elected Fellow of Phi Beta Kappa, and served as President of Phi Beta Kappa Northern California Association, and as National Secretary.
After completing her B.S. from UC Berkeley, Apple earned an M.A. in Geography (1980). She completed all course work in the Environmental Science and Policy Ph.D. program at George Mason University in Virginia. She is a member of AAAS, AIBS, AWRA, ACS and is listed in Marquis Who's Who in America, Who's Who in the World, Who's Who of American Women.
---
Resources for FNR Majors
Printable Information (PDFs)