The Rausser College of Natural Resources offers seven undergraduate minor programs spanning a range of biological, physical, and social science disciplines. If you would like to declare a minor in one of the areas listed below, please contact the Undergraduate Staff Advisor for the department offering the minor in which you are interested.
Conservation and Resource Studies
Conservation and Resource Studies (CRS) is an interdisciplinary program designed for students interested in environmental issues from both the social science and natural science perspectives. Students may study areas of interaction among natural resources, population, energy, technology, societal institutions, and cultural values. Students may elect to complete this minor through a list of preapproved courses or develop their own interdisciplinary group of courses similar to the structure of the CRS major.
Energy and Resources Group
The Energy and Resources Group minor (ERG) features core courses that introduce interdisciplinary analysis and tools and methods from different disciplines such as economics and ecology. They also cover key energy and resource issues. The electives, which are selected from a pre-approved list or with faculty permission, allow further exploration of these concepts. Though it is designed primarily to complement majors in the natural sciences and engineering, the ERG minor may be pursued by students in any major with the appropriate prerequisites.
ERG Summer Minor in Sustainability 
ERG's Sustainability Summer Minor/Certificate program offers a practical and relevant interdisciplinary approach at the intersection of environmental, economic, social, political, and cultural issues. 
Environmental Economics and Policy
Environmental Economics and Policy (EEP) offers interested students an opportunity to explore aspects of economic and political institutions that affect the development and management of natural resources and the environment.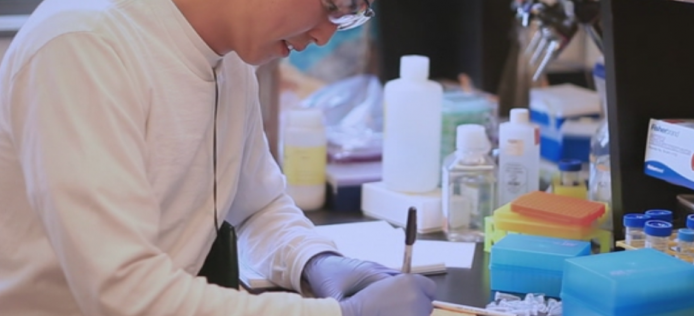 Student in a nutritional sciences lab.
Food Systems
Food Systems (FS) minor is for students who are interested in exploring the role of food within the environment and society.  Drawing from diverse fields as far ranging as ecology, sociology, the humanities, nutrition, history, and economics, the food systems minor critically examines issues of contemporary food and agriculture from a whole-systems perspective.  
Forestry and Natural Resources
Forestry and Natural Resources (FNR) minor is for students who are interested in learning about these subjects as an adjunct to their chosen fields. Students from many different majors, such as integrative biology, business administration, and civil engineering, find this minor complementary to their professional career goals.
Geospatial Information Science and Technology
Geospatial Information Science and Technology (GIST) offers undergraduates the opportunity to develop basic knowledge and technical skills in geographic information systems to help them address the ways in which spatial data and analysis can support and define environmental, urban, and natural resource sciences. The minor is designed to complement majors in the natural sciences, social sciences, and engineering.
Nutritional Sciences
Nutritional Sciences (NS) minor is available to students who have pursued basic coursework in the biological sciences under other majors. The research and curriculum span a breadth of topics, from the delivery of nutrients to mammalian cells and their molecular functions to the influence of genetics on diet-associated human disease. The Department previously offered a minor in Toxicology. This minor has been discontinued, effective Summer 2023. Only students who have finished the coursework before this point may be awarded the minor.
Sustainable Business and Policy (shared with the Haas School of Business)
In the Sustainable Business and Policy minor, students will gain a broad understanding of the skills needed for careers in business or government focused on sustainable business and policy. Students develop economic and business skills and gain an understanding of government laws and policies.