Microbes are the dominant life form on earth, weighing more than all other life forms combined. Bacteria, Fungi, Algae, Protozoa, Viruses; they're everywhere, and we need to know more about them. Industry, government, and academia agree, since we are seeing an increased demand for employees and students with knowledge and skills related to microbial biology.
Sample Classes
Bacterial Pathogenesis
Microbes Make the World Go 'Round
Public Health Microbiology
Comparative Virology
California Mushrooms
Biology, Mathematics, Biochemistry
---
Careers for MB Majors
Medicine
Public Health
Teaching and research
Biotechnology or pharmaceutical industries
Environmental Protection Agency
Undergraduate Advisors
Jenny Cornet-Carrillo
(510) 642-4249
260 Mulford Hall
University of California
Berkeley, CA 94720-3100
Student Learning Goals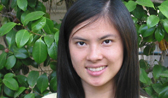 Tiet Nguyen is a third-year CNR transfer student and a Microbial Biology major. Read about her experiences in the Peer Advisor blog!
Read the blog!
The Mycophytes is a support network of students majoring or minoring in GPB or Microbial Biology.