Karuk-UC Berkeley Collaborative Co-founders
Thomas Carlson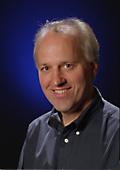 Thomas Carlson is a senior SOE lecturer in the Department of Integrative Biology in the UC Berkeley College of Letters and Science and a medical physician. He is a founding member of the Karuk-UCB Collaborative. Carlson's primary research interests include medical/nutritional ethnobotany, ethnoecology, ethnoepidemiology and the ecology and evolution of human disease.
Carlson collaborates with indigenous communities to learn about their ethnoempirical and ethnotheoretical perspectives on medical and nutritional ethnobotany, ethnotaxonomy, ethnoecology, and ethnoepidemiology.  Building on these collaborations, he works to develop systems through which the local/indigenous rural communities can be integrated into research projects and programs of ecosystem management, biodiversity monitoring and human disease monitoring.
Keywords: Integrative biology, ethnobotany, ethnoecology, ethnoepidemiology, medicine
Ron Reed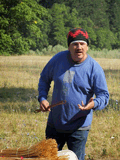 A co-founder of the Karuk-UC Berkeley Collaborative, tribal member Ron Reed is a traditional Karuk dipnet fisherman and a cultural biologist for the Karuk Tribe of California. He works for the Karuk Tribe of California's Department of Natural Resources as their Cultural Biologist. In his role, Ron develops plans for eco-cultural revitalization, leads youth cultural education camps, and fosters collaborative research at the nexus of traditional ecological knowledge and western science. Ron plays a critical role in increasing public awareness about the impacts of colonization on the spiritual and physical health of his people and on the ecological integrity of the Karuk ancestral lands.
Keywords: Karuk Tribe, Department of Natural Resources, youth, dipnet fishing, eco-cultural restoration
Jennifer Sowerwine
Jennifer Sowerwine is a cooperative extension specialist in the Department of Environmental Science, Policy and Management at UC Berkeley. She is a founding member of the Karuk-UCB Collaborative and Principal Investigator on the 3-year USDA-NIFA-AFRI grant titled "Karuk Agroecosystem Resilience and Cultural Foods and Fibers Revitalization Initiative: xúus nu'éethti – we are caring for it" (2018-2020). She was Principal Investigator on the 5-year USDA-NIFA-AFRI grant titled, "Enhancing Tribal Health and Food Security in the Klamath Basin of Oregon and California by Building a Sustainable Regional Food System" (2012-2017). Her work aims to engage diverse stakeholders across the spectrum of the food system through participatory and collaborative research methodologies to examine and co-create solutions to achieve equitable and sustainable food systems. Her research examines the cultural politics of resource access and the relationship between bio-cultural diversity, food security, food sovereignty and human health. She has extensive experience in collaborative design, implementation and management of multi-disciplinary projects with diverse stakeholders in cross-cultural settings.
Keywords: biocultural diversity, food, tribal health, food security, urban and peri-urban agriculture, sustainable food systems, food safety
Members of the Collaborative
William E. Dietrich

William E. Dietrich is a professor in UC Berkeley's Department of Earth and Planetary Science. He is also appointed in the Department of Geography and the Earth Sciences Division of Lawrence Berkeley National Laboratory.His research focuses on the processes that underlie the evolution of landscapes. His research group and collaborators are developing geomorphic transport laws for soil production, weathering and transport, and river and debris flow incision into bedrock.
Keywords: geography, earth sciences, ecosystems, geomorphic transport, landscapes and rivers, bedrock and debris flow
Sibyl Diver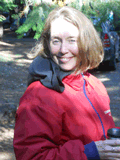 Sibyl Diver is a researcher at Stanford University in the Department of Earth System Science. She does community-engaged research on Indigenous water governance, focusing on Pacific Northwest salmon watersheds. Her work includes analysis of co-management arrangements (collaborative or cooperative management) between Indigenous communities and state agencies. She received her Ph.D. in Environmental Science, Policy and Management from the University of California, Berkeley. Originally from Delaware, Sibyl began working on these issues as a translator leading exchanges between Russian and Pacific Northwest grassroots indigenous leaders to discuss indigenous-led natural resource management initiatives.
Keywords: Karuk Tribe, Xaxli'p Indigenous Community, co-management of natural resources, community-based participation
Andrew Garrett

Andrew Garrett teaches linguistics at Berkeley and is interested in projects that bring together the concerns of academic linguists and language activists and community members. He is committed to creating resources that can be used by a variety of stakeholders for diverse purposes. His work in California has mainly focused on the Yurok and Karuk languages.
Keywords: linguistic ecology, Karuk semantics, morphology and phonology, Yurok Language Project
Arielle Halpern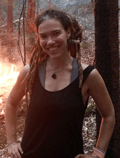 Arielle Halpern is an Assistant Professor of Biology and Environmental Education at Southern Oregon University. She completed her dissertation, "Prescribed fire and tanoak (Notholithocarpus densiflorus) associated cultural plant resources of the Karuk and Yurok Peoples of California" in the Department of Integrative Biology at UC Berkeley in 2016. Her research interests center on the effect of indigenous prescribed fire on the abundance and quality of tanoak acorns (Notholithocarpus densiflorus, Fagaceae), beargrass (Xerophyllum tenax, Melanthiaceae), and associated understory plant species of cultural value. Her hope is that this research can support the cultural revitalization efforts of the Karuk Tribe and the Indigenous Peoples of the Klamath Basin.
Keywords: indigenous prescribed fire, Beargrass, ethnoecology, ethnobotany, Klamath Basin
Leaf Hillman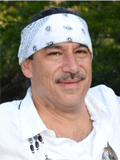 An enrolled member born at the ancient Karuk Village of Katiphiruk on the Klamath River near Orleans, Leaf Hillman serves as the Director of Natural Resources and Environmental Policy for the Karuk Tribe.  He leads the Tribe's work in the Klamath River Basin to help resolve years of high profile water disputes and restore environmental and economic health to a region uniquely rich in biodiversity, productivity, and culture.  He is a hereditary Dance Owner of the sacred White Deerskin Dance, a trained World Renewal Priest, and a Karuk Ceremonial Leader.
Keywords: Karuk Tribal Member, Natural resources, environmental policy, economic health, Klamath Basin
Lisa Hillman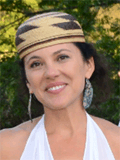 Lisa Hillman is a Karuk Tribal member with over 25 years of experience working with schools, community colleges and universities on curriculum development, program management, and serving as a lecturer. Currently, Lisa is Program Manager for the Tribe's Píkyav Field Institute and co-Principal Investigator for the USDA-NIFA-AFRI "Karuk Agroecosystem Resilience and Cultural Foods and Fibers Revitalization Initiative: xúus nu'éethti – we are caring for it" project. Additionally, she is using her writing skills for outreach, to move policy changes, and to seek funding support for a wide variety of educational, cultural, health, environmental, food security/food sovereignty and library programs.
Keywords: Karuk Tribal Member, education, curriculum development,  food security, economic health, culture, health
Lynn Huntsinger

Lynn Huntsinger is a professor of rangeland ecology and management and chair of the Division of Society and Environment, Department of Environmental Science, Policy and Management, UC Berkeley. Some of her ongoing studies include research on oak woodland landowners and management in California and Spain, land fragmentation and conservation in oak woodlands, and participatory management strategies.
Keywords: rangelands, landscape and resource management, socio-ecological systems, political ecology, environmental science, participatory management
Frank Lake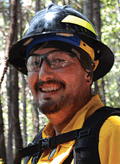 Frank Lake  is a research ecologist with the U.S. Forest Service. His research involves restoration ecology, traditional ecological knowledge, and ethno-ecology with an emphasis on cultural management and fire ecology of forest, shrub, grassland and riparian environments in the Klamath-Siskiyou bioregion. My work involves projects with the Orleans-Somes Bar Fire Safe council/Mid-Klamath Watershed council, Karuk Indigenous Basketweavers, Karuk Tribe of California, community members, and government agencies on fuels reduction, prescribed fire, ethno-botany, and other natural resources issues.
Keywords: ethno-ecology, natural resources, Klamath watershed, Karuk Tribe
Line Mikkelsen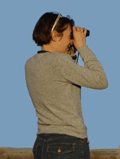 Line Mikkelsen is an associate professor in the Department of Linguistics at UC Berkeley. She is interested in the Karuk language and in language projects that bring together elders, language teachers, language learners, language activists and linguists to create language resources that are accessible and useful to everyone involved.
mylastname åt berkeley døt edu
Keywords: community language programs, Karuk Language Project, VP topicalization and VP anaphora constructions
Megan Mucioki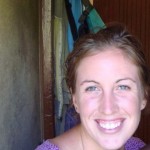 Megan Mucioki is a postdoctoral researcher at the University of California at Berkeley in the Department of Environmental Science, Policy and Management. Megan's research engages Indigenous and rural communities in food- and seed-focused research that informs the in situ conservation of traditional food plants and explores relationships between traditional foods and household seed and food security. Her research aims to support more equitable food and seed policies and systems for Indigenous people. Megan holds a Ph.D. in Plant Science from McGill University, where she studied informal seed systems and seed security in rural Kenya.
Keywords: tribal herbaria, seed systems, seed security, food systems, tribal food sovereignty
Mary E. Power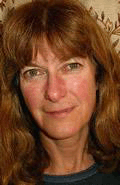 Mary E. Power is a professor of Integrative Biology in the College of Letters and Science at UC Berkeley. Her research interests center on river food webs.She seeks to understand how "attributes of species affect food web structure and dynamics, and how strengths of these interactions change under different environmental regimes. She studies, for example, the interplay of trophic dynamics with hydrologic and productivity regimes in northern California rivers, as well as impacts of invading alien species, and linkages between rivers and their watersheds.
Keywords: integrative biology, northern California rivers and watersheds, invasive species
Jeff Romm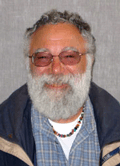 Jeff Romm is a professor of the Graduate School in the Department of Environmental Science, Policy, and Management at UC Berkeley. He engages in collaborative research to explore relations between social distributions of power and wealth, economic growth, and natural resource qualities, and impacts of policy and organization on these relations. He examines the impacts of institutional relations on the management of watersheds and river basins.
Keywords: economic growth, natural resources, institutional relations, watersheds, river basins, ecosystems
Colleen Rossier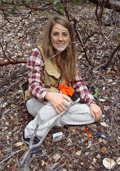 Colleen Rossier is a Ph.D. student in Ecology at UC Davis. She is studying ecological agroforestry management for traditional foods and fibers among the Karuk and Yurok with a focus on the intersection of human and ecological health. With the goal of strengthening ecological agroforestry management for food and medicinal plants of particular interest to the Karuk and Yurok Tribes, Colleen is completing collaborative research to enhance evergreen huckleberries (Vaccinium ovatum) and associated understory plants and mushrooms.  She previously worked for the U.S. Department of Agriculture's Office of the Chief Scientist and National Agroforestry Center (NAC), producing publications on organic agriculture, local/regional food systems,agroforestry, and traditional ecological knowledge.
Keywords: natural resources, agroforestry, human and ecological health
Daniel Sarna-Wojcicki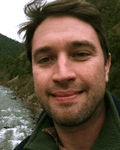 Daniel Sarna-Wojcicki is a postdoctoral researcher at UC Berkeley working with the Karuk Department of Natural Resources on projects related to climate change and agroecosystem resilience, and elk ecology and management. He holds a Ph.D. from UC Berkeley in Environmental Science, Policy and Management, and has been working with the Karuk-UC Berkeley Collaborative since 2009. His research uses community-engaged interdisciplinary methods to address issues related to ecosystem rehabilitation, watershed management and food access in underrepresented communities.
Keywords: community-based participatory research, watershed governance, ecosystem restoration, elk ecology and management, food sovereignty
Carolyn Smith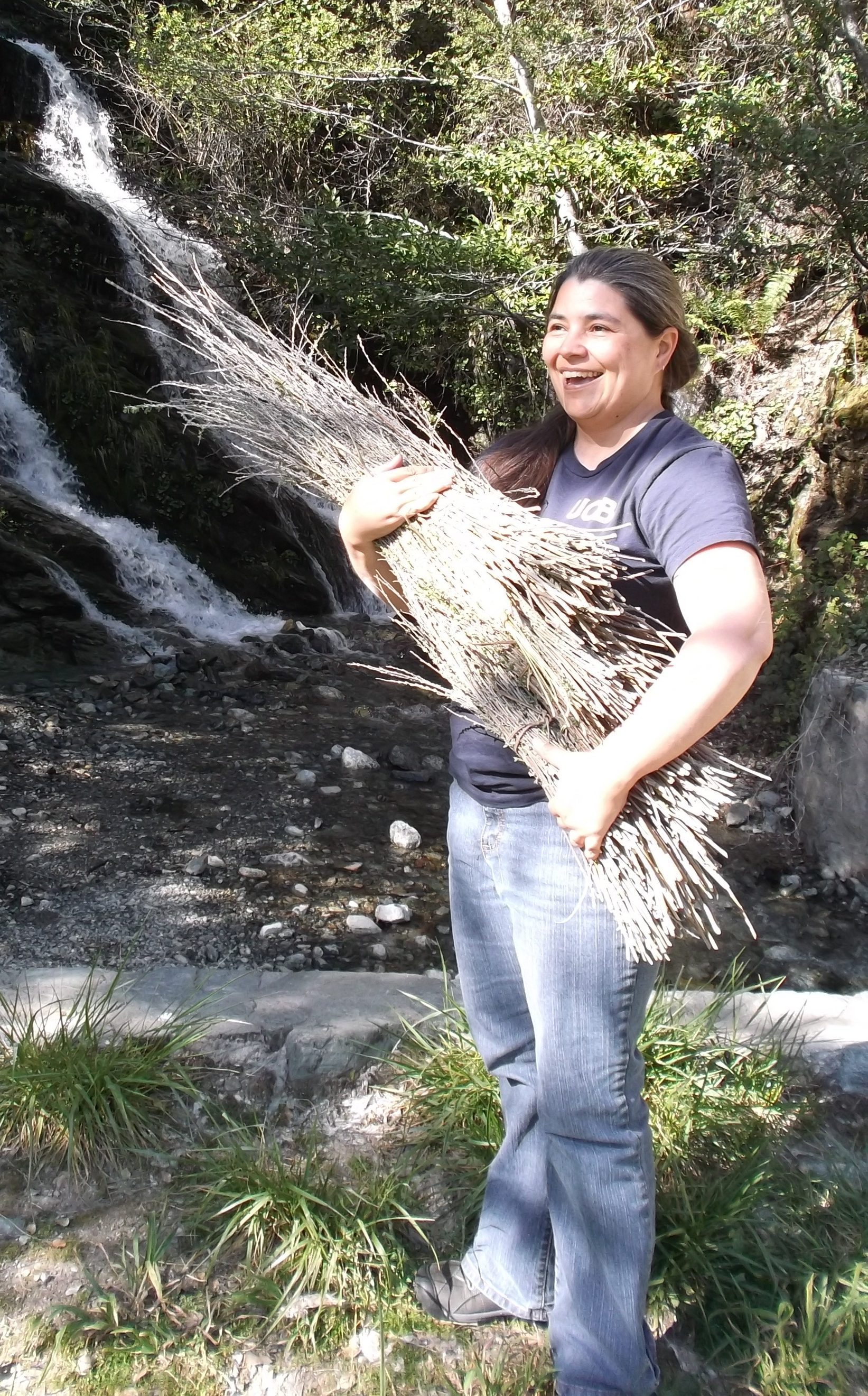 Carolyn Smith (Karuk Tribe descendent) is a 2018-2020 Chancellor's Postdoctoral Fellow in the Department of Ethnic Studies at the University of California, Berkeley. Her dissertation, Weaving pikyav (to-fix-it): Karuk Baskets in-Relation-with the Everyday World, spoke to the extraordinary interrelationship of baskets with nearly every aspect of Karuk life, including ontology, traditional ecological knowledge, language, familial and community relationships, identity, and social memory. By foregrounding Karuk histories and cultural traditions, she offered a perspective that countered anthropological studies of basketry, which tend to focus on typology and use value.  Carolyn's current research engages with indigenous knowledge to consider how Native American craftworks are profoundly intertwined with people, landscapes, and watersheds. In exploring indigenous ontological understandings of craftworks and their roles within communities, she addresses how museum identification and classification affect which works are eligible for repatriation and how they are represented and stewarded in collection spaces.
Keywords: traditional ecological knowledge, cultural arts, decolonizing museums, indigenous methodologies
Bill Tripp

Bill Tripp is a Karuk tribal member and Deputy Director of Eco-Cultural Revitalization for the Karuk Tribe Department of Natural Resources. He is a specialist on forest management and was co-PD on the USDA-NIFA AFRI Food Security project. He is also the lead author on the Karuk Eco-cultural Resource Management Plan (ECRMP).
Keywords: Karuk Tribe Department of Natural Resources, forest management, eco-cultural restoration