Postdoctoral Researcher
Department: Past Members, Post Docs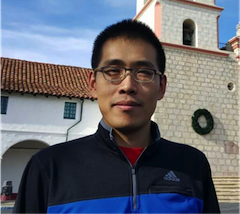 E-mail:yanglin@berkeley.edu
Research Website: http://ylinterra.com
Education
Ph.D. Geography, University of California, Santa Barbara, 2010-2015
M.Sc. Soil Science, University of Alberta, 2007-2010
B.Sc. Biological Sciences, Zhejiang University, China, 2003-2007
Field of Study
Ecosystem ecology, biogeochemistry, and applied spatial statistics
Research Description
I am a postdoctoral researcher in Dr. Whendee Silver's lab. I am working on a collaborative NSF-funded project, where I examine the impacts of iron redox fluctuation on the turnover of soil organic matter. In my doctoral dissertation, I studied how solar radiation contributed to litter decomposition in arid environments through both abiotic and biotic pathways. I have also done research on mapping soil properties and plant aboveground biomass in several grassland ecosystems.
Selected Publications (undergraduate mentee co-author underlined)
Lin Y, Prentice SE, Tran T, Bingham NL, King JY, and Chadwick OA. Modeling deep soil properties on California grassland hillslopes using LiDAR digital elevation models. In review after revision.
Xu X, Shi Z, Chen XC, Lin Y, Niu SL, Jiang LF, Luo RS, and Luo YQ. Unchanged carbon balance driven by equivalent responses of production and respiration to climate change in a mixed grass prairie. Global Change Biology, in press.
Lin Y, King JY, Karlen SD, and Ralph J. (2015) Using 2D NMR spectroscopy to assess effects of UV radiation on cell wall chemistry during litter decomposition. Biogeochemistry 125: 427-436.
Lin Y, Scarlett RD, and King JY. (2015) Effects of UV photodegradation on subsequent microbial decomposition of Bromus diandrus litter. Plant and Soil 395: 263-271.
Lin Y and King JY. (2014) Effects of UV exposure and position on litter decomposition in a California grassland. Ecosystems 17: 158-168.
Lin Y, Han G, Zhao M, and Chang SX. (2010) Spatial vegetation patterns as early signs of desertification: a case study of a desert steppe in Inner Mongolia, China. Landscape Ecology 25, 1519-1527.
Lin Y, Hong M, Han G, Zhao M, Bai Y, and Chang SX. (2010) Grazing intensity affected spatial patterns of vegetation and soil fertility in a desert steppe. Agriculture, Ecosystems and Environment 138, 282-292.
Awards and Honors
Co-author, Faculty Research Grant of Dr. Jennifer King, University of California, Santa Barbara (2015).
NSF Doctoral Dissertation Improvement Grant in the Directorate for Biological Sciences (2014).
Graduate Division Dissertation Fellowship, University of California, Santa Barbara (2014)
1st place student presentation at Alberta Soil Science Workshop (2009)
Teaching Experience
Teaching Assistant at University of California, Santa Barbara
GEOG 3B Land, Water and Life (2010, 2011, 2012, 2013, 2014)
GEOG 134 Earth System Science (2011, 2012, 2013, 2014)
GEOG 142 Global Biogeochemical Cycles (2013)
Teaching Assistant at University of Alberta
RenR 580 Biometrical Techniques in Agri-Food, Forestry & Environmental Sciences (2010)
SOILS 210 Introduction to Soil Science and Soil Resources (2009)
FOR 314 Forest Soils (2008, 2009)