Overview
The Environmental Science, Policy, and Management Department's Conservation and Resource Studies (CRS) major is an interdisciplinary program designed for students interested in environmental issues and areas of interaction among natural resources, population, energy, technology, societal institutions, and cultural values. The majorís orientation is toward flexibility and an individualized educational approach to understanding the structure and dynamic functions of complex environmental systems within our society and biosphere.
---
What will I study?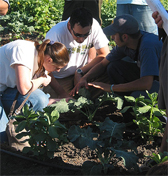 Students will be guided in self-selecting their eight upper division elective courses from departments all across campus. Because CRS students draw on the course offerings of the entire campus, they have the flexibility to incorporate any combination of courses in the social sciences, biological sciences, physical sciences, or humanities to address complex environmental problems.
Sample topics include environmental justice and education, sustainable development of world populations, energy and environmental policy, conservation and culture, and ecological restoration and policy, to name a few. Students may also draw upon appropriate community resources in the development of individual programs of study.
Despite the flexibility and breadth, all CRS curricula share a demonstrable commitment to gaining a truly interdisciplinary education. It differs from other ESPM majors in its individualized program that prepares students for a wide range of careers with an environmental leaning.
---
How much coursework is required?
Lower division requirements include courses in environmental sciences, physical science, biology, calculus or statistics, and social sciences. Students are encouraged to take additional lower division courses to gain a basic understanding and background in the subject area for their upper division Area of Interest.
All CRS students are required to complete a series of three core classes, ESPM 90, ESPM 100 and ESPM 194. In ESPM 90 students will work with faculty and mentors to self design and select their eight upper division area of interest electives; this course should be taken no earlier than second semester sophomore year for freshman admits. Transfer students will take this in their first semester on campus. In ESPM 194, students will culminate their individualized CRS studies into a seminar presented to their peers; this course is taken in the studentís last semester.
---
What can I do with this major?
CRS graduates are qualified for careers in
environmental consulting, education, health, or law
community, urban, or regional planning
other related areas of environmentalism in public agencies, non-profit conservation organizations, and private companies.
Graduates also matriculate into masters and doctoral programs in geography, law, and public health.
---
Advising
Undergraduate Advisor: Eva Wong
(510) 642-6730
260 Mulford Hall
University of California
Berkeley, CA 94720-3114
Faculty Advising: Ignacio Chapela, head advisor
CRS Faculty Advising
Resources for CRS Majors
Printable Information (PDFs)