Alumni Profiles
CRS Alumni go on to a wide variety of careers. Here is just a sample of what our alums are doing now.
---
Janice Dean, Class of 1999
Assistant Attorney General, State of New York

Janice Dean is an Assistant Attorney General for the State of New York, working in the Environmental Protection Bureau. She works with nuclear power regulation, hazardous waste law ("Superfund"), and issues of state law including protection of wetlands and fisheries, and redevelopment of contaminated properties known as brownfields.
Dean started her career in government right after graduation, joining the California Executive Fellowship Program with a placement in the Office of Governor Gray Davis, where she worked on land use issues like smart growth and environmental legislation including the first piece of environmental justice legislation passed in California.
Read Dean's entry on the Alumni Blog.
---
Jim Fenske, Class of 1982
Architect
Fenske is an architect in Pasadena, California, where he builds green buildings that are based in recycling materials. His firm cuts trees (in mostly urban environments) in the San Francisco Bay Area and mill them in Richmond into beams, framing lumber, siding, counters and flooring. He designs and builds homes as passive solar structures. His firm has finished the design of their next house which will be Platinum LEED certified and will be partially built in a nearby factory that he hopes will produce many more structures similar to it. Fenske is also working towards obtaining federal and state support for "innovative methodologies" in the construction process.
Photos of Fenske's Recent Work: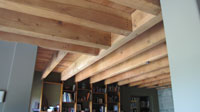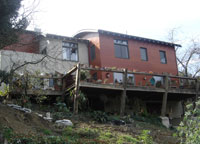 A rendering of a new building coming up: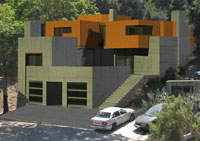 ---
Katya Bridwell, Class of 1975
Regional Manager, Naval Facilities Engineering Command (NAVFAC) Northwest
Bidwell is the regional manager for pollution prevention, solid waste, and environmental condition of properties (due diligence) working with the US Navy. Her work involves compliance issues, preparation of reports, and audits of facilities.
---
Inna Leavitt, Class of 2006
Eco-Gallery Operator
The reMake Lounge is an eco-art gallery, Do-It-Yourself school, and drop-in studio space. Our mission is to inspire the maker spirit, foster community, and keep materials out of the landfill.
---
Michelle Leonard, Class of 1980
Environmental Consultant
Leonard has worked in the environmental consulting field for approximately 25 years, with emphasis in solid waste management, recycling, and resource conservation. She provides consulting services to cities, counties, and private companies to help them design and implement waste reduction, recycling, and composting programs. She has prepared waste management master plans for cities and counties across the country, and is working on projects that combine resource conservation, sustainability, and alternative technologies for using waste as a source of energy.
---
Julie Anne Teel, Class of 1995
Senior Research Fellow in Energy and Environmental Security

Teel received her J.D. from NYU's School of Law in 1999. She started her legal career as the first law fellow at the Environmental Law Institute in Washington, D.C.
Since that time, she has worked for environmental protection, conservation, and sustainability in large part through litigation under a variety of state and federal laws. While with Earthjustice's Denver office, she supervised students as one of the attorneys charged with running the environmental law clinic at the University of Denver.
Teel is currently working as a Senior Research Fellow at the Center for Energy & Environmental Security of the University of Colorado at Boulder Law School after over eight years working as an environmental attorney for non-profit organizations and the City of San Diego. Her recent projects include:
Working with U.S., Brazilian, and Indonesian states and provinces on Reduced Emissions from Deforestation and Forest Degradation (REDD) efforts
Developing culturally appropriate Tribal Energy Action and Climate Change Adaptation Plans in consultation with three American Indian tribes in the Southwest and tribal organizations
Creating a Colorado Energy Profile for the Governor's Energy Office, which is a comprehensive, online, and publicly accessible compilation and analysis of Colorado energy resource data as well as federal, state, and local laws and policies affecting renewable energy and energy efficiency efforts in Colorado.
Resources for CRS Majors
Printable Information (PDFs)