Falling Levels of Air Pollution Drove Decline in California's Tule Fog
The Central Valley's heavy wintertime tule fog—known for snarling traffic and closing schools—has been on the decline over the past 30 years, and falling levels of air pollution are the cause, according to a study by scientists in the College of Natural Resources. Tule fog, named for a sedge that populates California's wetlands, is a thick ground fog that periodically blankets the valley during the winter months.
To find out why the fog is fading, researchers analyzed meteorological and air pollution data from the Central Valley reaching back to 1930. They found that while yearly fluctuations in fog frequency could be explained by changes in annual weather patterns, the long-term trends matched those of pollutants in the air.
The results help explain the puzzling decades-long rise and fall in the number of "fog days" affecting the region, which increased by 85 percent between 1930 and 1970, then decreased by 76 percent between 1980 and 2016. Air pollution in the valley increased during the first half of the 20th century, as the region was farmed and industrialized at a quickening pace, then dropped off after the enactment of air pollution regulations in the 1970s.
"That increase and then decrease in fog frequency can't be explained by the rising temperatures due to climate change that we've seen in recent decades," said Ellyn Gray, a graduate student in the Department of Environmental Science, Policy, and Management (ESPM) and first author on the paper, which appeared in the Journal of Geophysical Research: Atmospheres in March. "When we looked at the long-term trends, we found a strong correlation between the trend in fog frequency and the trend in air pollutant emissions." Co-authors on the paper include ESPM professors Dennis Baldocchi and Allen Goldstein.
— Kara Manke
Herbicide-Free UC
Mackenzie Feldman, Bridget Gustafson, and Helen Haugenes working on a pesticide-free garden bed on campus.
PHOTO: Courtesy of Mackenzie Feldman
In May, two CNR students' multiyear efforts were rewarded when the University of California issued a temporary ban on the use of glyphosate-based herbicides at all UC locations.
Back in 2017, undergraduates and beach volleyball teammates Mackenzie Feldman, BS '18 Society and Environment, and Bridget Gustafson worked to get glyphosate, a probable carcinogen, banned from the area around the Cal beach volleyball courts and then from other parts of Berkeley's campus. Feldman next launched a UC-wide campaign to eliminate the use of toxic herbicides on UC campus grounds. The effort, called Herbicide-Free UC, expanded across the UC system as teams of student activists joined the campaign at the Davis, UCLA, Santa Barbara, and Riverside campuses.
UC president Janet Napolitano noted that the ban—which has some exceptions, including agricultural operations and certain research or restoration efforts—was instated "due to concerns about possible human health and ecological hazards." 
Gustafson, now a senior majoring in molecular and environmental biology, is serving on a UC task force that is evaluating the use of toxic herbicides in the UC system and will deliver recommendations to President Napolitano this fall.
Since graduation, Feldman has been working full-time on Herbicide-Free Campus, the nationwide organization she created, whose focus now includes not only other universities but also primary schools. One recent campaign in Feldman's native Hawaii scored a victory in June when the state's superintendent announced an herbicide ban at all public schools.
— Mackenzie Smith 
Newsmakers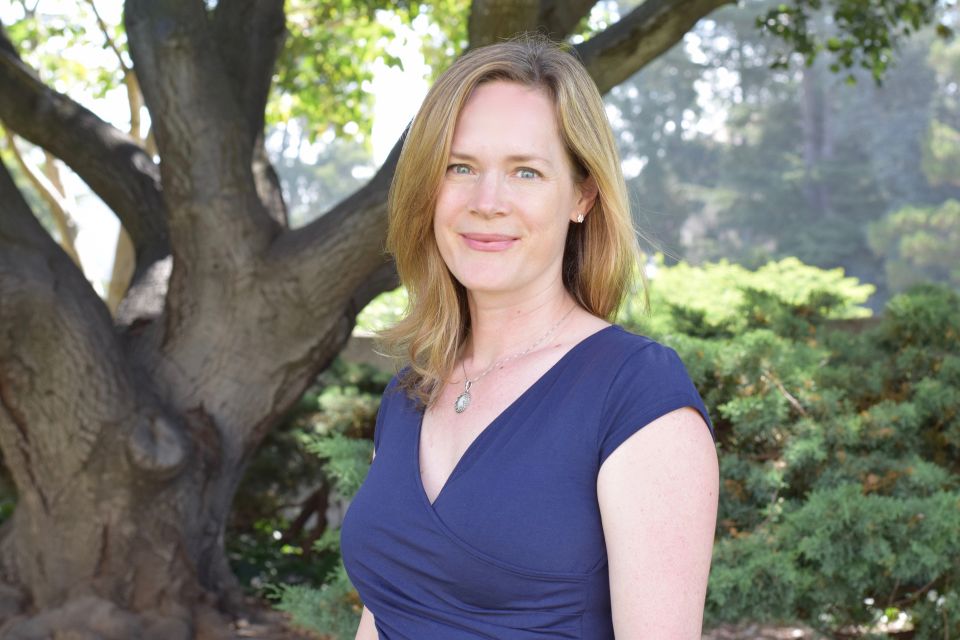 "We should be concerned on multiple levels."
Jennie Durant, PhD '19, ESPM
In June, the New York Times featured alarming results from an annual survey of U.S. beekeepers, which found that the 2018–19 winter honey bee die-off was the largest to date. Durant weighed in on the survey results, having published a separate study that same week on food-supply losses for bees, revealing that changes in the critical Midwest Prairie Pothole Region have been a major factor, as the area is losing wetlands containing clover that bees feed on.
"Putting something in the blue bin is not the same as recycling it."
Kate O'Neill, Professor, ESPM
O'Neill joined NPR's The Takeaway in May to discuss the future of U.S. recycling. Commenting on the Malaysian government's decision to send more than 3,000 tons of nonrecyclable plastic waste back to countries including the U.S., the U.K., and Canada, O'Neill noted that the United States has been "let off the hook for 20 years" when it comes to responsibly recycling and disposing of plastic. She suggested eliminating some plastics from the recycling stream, educating consumers, and investing in recovery facilities to battle our mounting trash problem.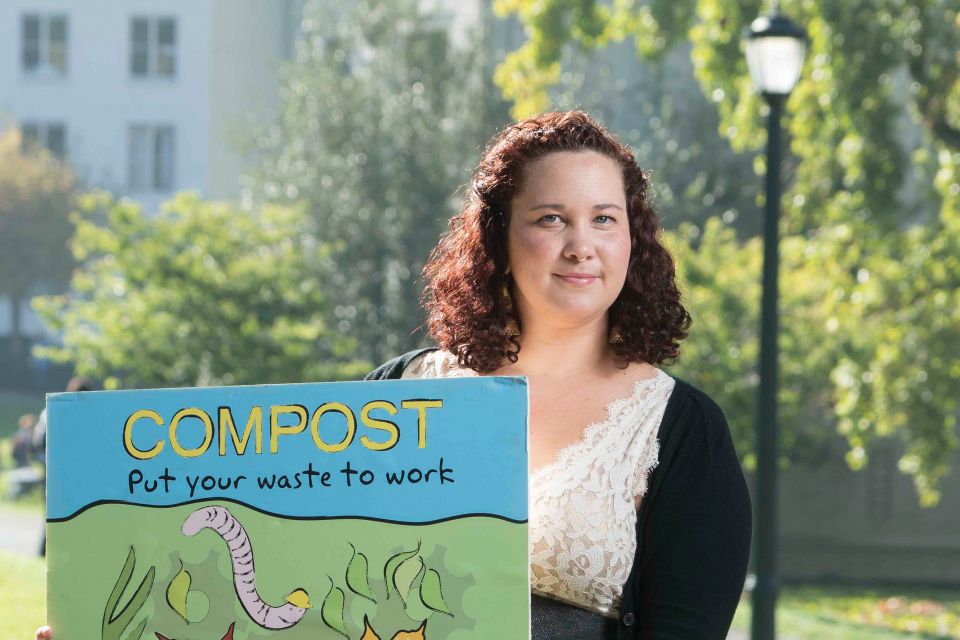 "There's [an] idea that there's this magical place called the back of the refrigerator where everything gets lost."
Laura Moreno, Graduate Student, Energy and Resources Group
An April National Geographic article explored the psychology of food waste and featured Moreno's tips for rethinking our consumption choices. Her recommendations included increasing food literacy and stocking water supplies in the back of the refrigerator, to prepare for emergencies and push food forward to keep it from getting lost.
Soda Wars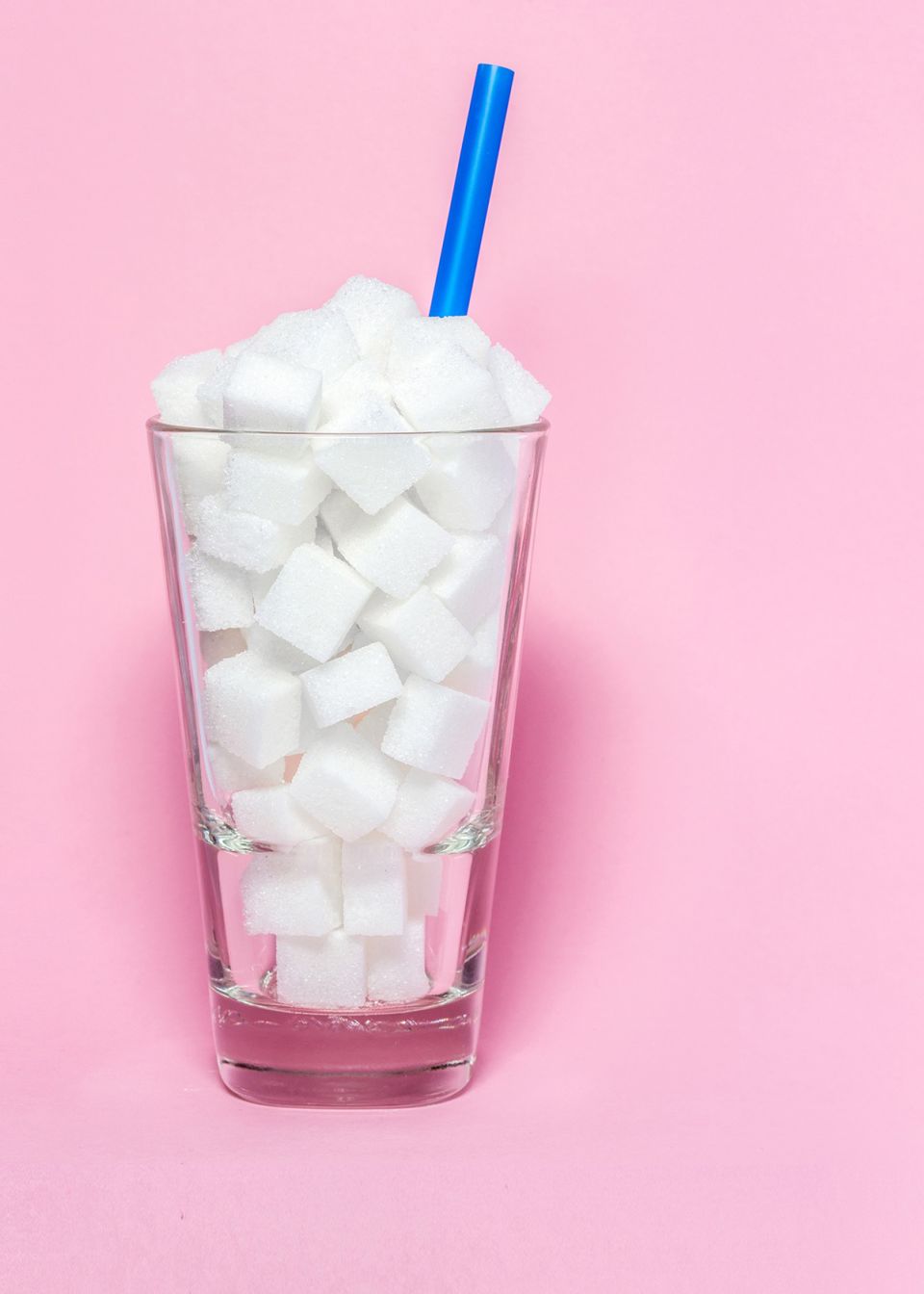 Sticker shock may not have been the only force driving the decline in soda consumption in Berkeley after residents voted to enact the nation's first soda tax in November 2014. The election, and the vigorous campaigning around the tax that led up to the vote, also may have played a major role in changing habits, shows a study by College of Natural Resources economists.
The study authors analyzed food and drink purchases at UC Berkeley–owned dining facilities and in drugstores in the city of Berkeley before and after residents voted in favor of levying a penny-per-ounce tax on all sugar-sweetened beverages.
Their analysis revealed that soda sales dropped by an average of 10 to 20 percent in the three months immediately following the vote—before the tax or any associated price hikes went into effect.
The results indicate that the contentious Berkeley vs. Big Soda campaign and, ultimately, the vote in favor of the tax were enough to decrease soda sales in the city.
"In this case, an election really worked to change consumption before a price change," said Sofia Villas-Boas, a professor in the Department of Agricultural and Resource Economics (ARE) and the senior author of the paper, which appeared in the journal Economic Inquiry in April.
"A key takeaway from our study is that if you replicate a soda tax or some other, similar measure in a different city, you might not witness the same consumption results if you didn't have a campaign and election leading up to the actual tax implementation," said Scott Kaplan, an ARE graduate student and co-author of the paper.
— Kara Manke
Supporting China's National Park System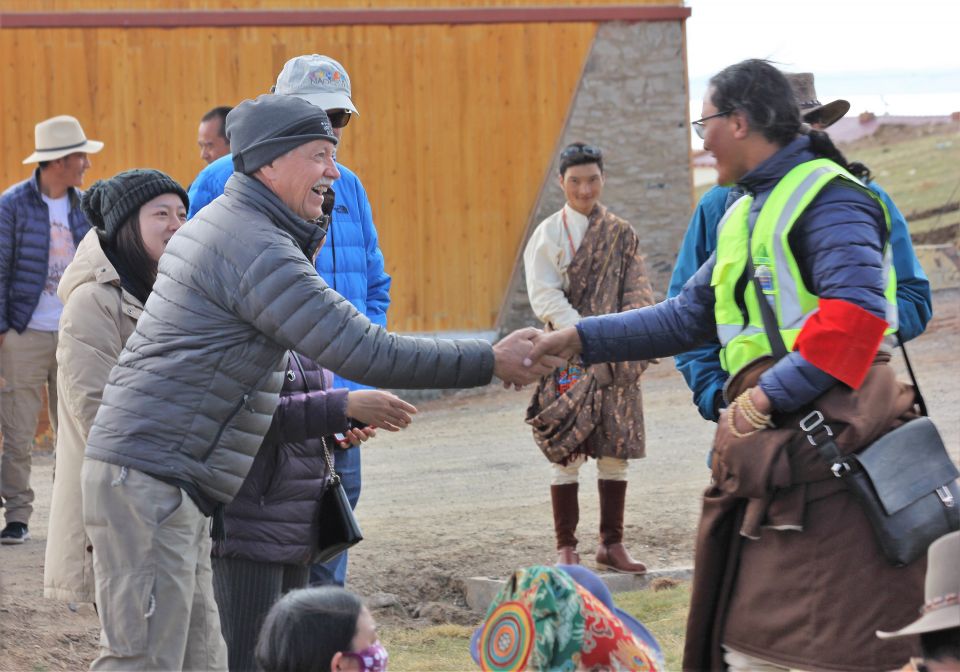 Jon Jarvis meeting Tibetan community rangers in Sanjiangyuan National Park.
PHOTO: Rudy D'Alessandro, U.S. National Park Service
Chinese president Xi Jinping has called for a national park system in the country by 2030, and the UC Berkeley Institute for Parks, People, and Biodiversity is playing an integral role in the country's progress toward that goal. Led by executive director Jon Jarvis and funded by the Paulson Institute, the group is evaluating one of China's pilot parks, Sanjiangyuan National Park—an area of nearly 30 million acres on the Tibetan Plateau. Within the park lie the headwaters of three major rivers—the Yellow, the Yangtze, and the Mekong—that supply water to 900 million people in China and five other nations. The institute is also assisting in the development of a sustainable financial model for the national park system and training senior Chinese leaders in national parks management, with a focus on conservation and stewardship. "We have the opportunity to build a program of conservation of national parks that will foster national pride in China and will have a huge impact for the biodiversity of the nation and hopefully the planet," said Jarvis.
UC's Newest Research Station
This historic ranch house in the Olema Valley is now available for student and faculty researchers.
PHOTO: Allison Kidder
Students and faculty at UC Berkeley have long conducted research at Point Reyes National Seashore, and now they have a home away from home within the park to make extended field studies easier. The campus and the National Park Service signed a five-year agreement last year allowing a historic ranch house in the heart of the Olema Valley to become a campus reserve: the Point Reyes Field Station. In May, the UC Regents approved adding the field station to the UC Natural Reserve System, bringing the total number of UC reserves statewide to 41.
"Point Reyes offers so many opportunities for our students and faculty to pursue their research and contribute to the conservation of park resources," said CNR Dean David Ackerly, the faculty director of the station. Ackerly spearheaded the effort to create the new station, now one of 15 field stations, reserves, and experimental forests administered by UC Berkeley.
The field station currently hosts studies on river otters, mountain beavers, and the ticks that carry the bacteria responsible for Lyme and other diseases, and it's also home to a plot for Lawrence Berkeley National Laboratory research on how microbial communities interact with plant roots to affect soil-carbon turnover, storage, and loss.
— Robert Sanders
Why I do Science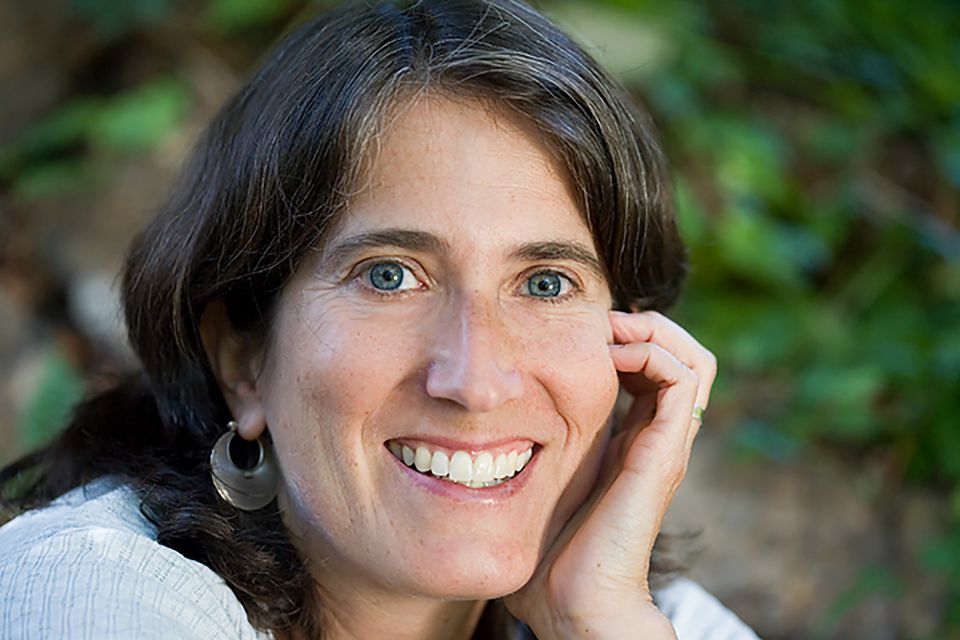 I'm the daughter of immigrants: My father was a Jewish refugee who fled Germany. My mother was an activist who emigrated from Argentina in the 1950s and later became one of the first Latinas to be promoted to full professor at UC Santa Cruz. My parents' stories motivate the research I do as an environmental health scientist and animate my desire to translate my work into policies that improve community health.
As an undergraduate at UC Berkeley, I majored in development studies, and my first job after college was at a civil rights organization in San Francisco. While working that job, I met people whose environmental and occupational health was jeopardized by discriminatory policies, and I wanted to build a career that could help change that. I returned to Berkeley to study epidemiology and biostatistics, with a plan to attend medical school. But I quickly realized that I was more interested in research and teaching than in clinical work, so I remained at Cal and earned my doctorate in environmental health sciences.
As a professor, I relish the community of researchers and students in my lab, where we give one another rigorous and supportive feedback on our work that pushes the methodological boundaries of our thinking and helps us consider the policy impacts of our science. I am proud of my collaborations with communities and colleagues, in which we translate our research into assessment tools that measure the impacts of social and environmental stressors. One of these tools is the Environmental Justice Screening Method, which was a foundation for the California Environmental Protection Agency's CalEnviroScreen. This spatial screening method is used to identify vulnerable communities that are burdened by multiple sources of pollution and require enhanced regulatory attention.
Rachel Morello-Frosch is a professor in the Department of Environmental Science, Policy, and Management and the School of Public Health. She was the 2018 recipient of the Chancellor's Award for Advancing Institutional Excellence and Equity.
Is Wildfire Management "for the Birds"?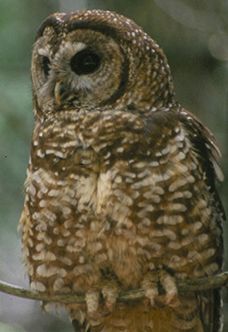 Spotted owl populations are in decline along the West Coast, and as climate change increases the risk of wildfires in the region, these iconic animals face losing even more of their forest habitat.
Rather than attempting to preserve the owl's remaining habitat exactly as is, however, wildfire management practices—such as prescribed burning and restoration thinning—may be key to saving the species, argue environmental science, policy, and management professor Scott Stephens and his co-authors in a paper published in July in Frontiers in Ecology and the Environment.
The paper compares the plight of the owl with that of another threatened species, the red-cockaded woodpecker, which has made a comeback in recent years—thanks, in part, to active forest management in the southern pine forests that the woodpecker calls home. Though the habitat needs of the two birds are different, both occupy forests that harbored frequent blazes before fire suppression became the norm.
"The South has melded fire and rare-species management in a holistic way, but in the West we're doing one or the other," Stephens said. "More restoration thinning and prescribed burning could help us keep the habitat that we have now, modify it, and actually make it more sustainable in the future."
— Kara Manke