Body Language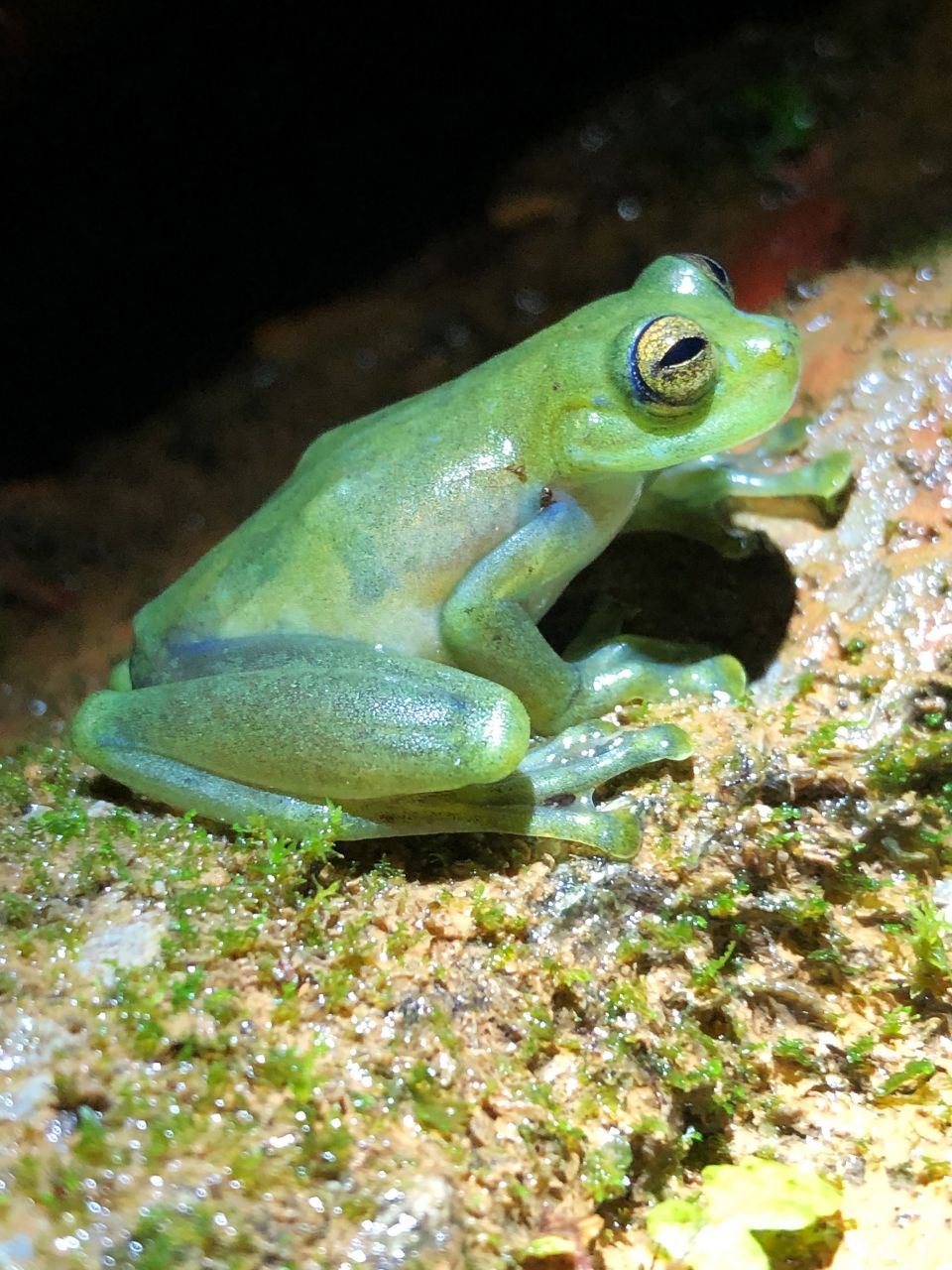 Rebecca Brunner discovered that an elusive glass frog species (Sachatamia orejuela) uses both high-pitched calls and visual signaling to communicate near loud waterfalls.
Photo by Rebecca Brunner.
Most frogs emit a characteristic croak to attract the attention of a potential mate. But a few species that call near loud streams—where noise may obscure their calls—also show off with a flap of a hand, a wave of a foot, or a bob of the head. Frogs who "dance" near streams have been documented in the rainforests of India, Borneo, Brazil, and now Ecuador.
Rebecca Brunner, a PhD candidate in the Department of Environmental Science, Policy, and Management (ESPM), has discovered that the glass frog Sachatamia orejuela  can be added to the list of species that make use of visual cues in response to their acoustic environments. It is the first time a member of the glass frog family has been observed using such visual communication. 
Little is known about the mating and breeding behavior of S. orejuela.  This species is almost exclusively found on rocks and boulders within the spray zones of waterfalls—where rushing water and slippery surfaces likely offer protection against predators. Their green-gray color and semi-transparent skin make them nearly impossible to spot. They'd also never been heard before now. 
Brunner was chest-deep in an Ecuadorean rainforest stream recording the call of an S. orejuela  for the first time when she also observed various visual signaling behaviors and captured them on video. Her discovery was documented in the journal Behaviour  in December. 
"I was already over the moon because I had finally found a calling male after months of searching. Before our publication, there was no official record of this species' call, and basic information like that is really important for conservation," Brunner said. "But then I saw it start doing these little waves, and I knew that I was observing something even more special."
— Kara Manke
Conservation Beyond Bounds
Though wildlife is a key attraction for visitors to national parks, animals don't often recognize park boundaries. Many species seen in parks range widely into surrounding areas, creating significant management expenses or conservation demands for nearby communities and state and local governments.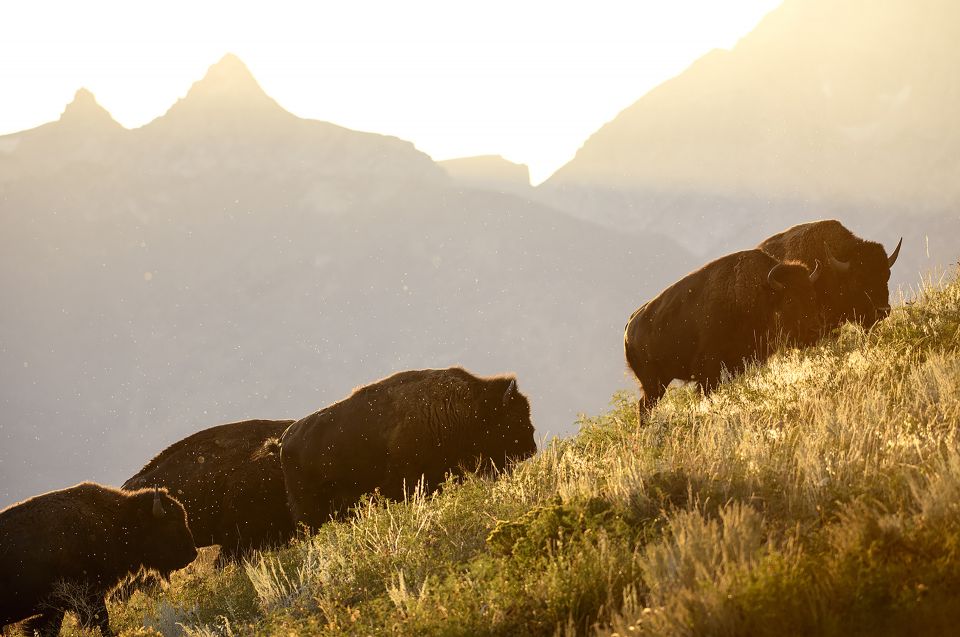 Bison roam a Grand Teton National Park hillside. New research explores funding strategies for large-landscape conservation adjacent to both Yellowstone and Grand Teton National Parks.
Photo courtesy of University of Wyoming.
The expenses include compensating ranchers for livestock depredation by large carnivores, building highway crossings and wildlife-friendly fences for migrating animals, and securing conservation easements on private land.
Using Grand Teton and Yellowstone National Parks as case studies, a recent paper co-authored by Berkeley researchers and their colleagues explores how states, working with national parks, could tap park visitors to fund wildlife conservation beyond park boundaries.
"The Greater Yellowstone is where the concept of managing the larger ecosystems beyond park boundaries was first introduced, yet it's been a largely unfunded mandate for many decades," said Arthur Middleton, an assistant professor in the Department of Environmental Science, Policy, and Management and the lead author on the study, which appeared in Conservation Science and Practice  in December. "The time is overdue for asking park visitors to chip in."
The authors suggest various possible mechanisms for funding, including charging an entrance "conservation fee," which would be earmarked for state wildlife-conservation programs. Another idea involves instituting lodging fees and additional sales taxes applicable only within parks.
For Yellowstone National Park, the researchers estimate that a conservation-fee approach—charging $1 to $10 per vehicle—could raise between $500,000-plus and $13 million annually. Tax-based approaches could raise anywhere from nearly a million dollars a year from a $1-a-night lodging fee to $22 million annually from a 2 percent sales tax increase.
— Emilene Ostlind 
Cooking Close-ups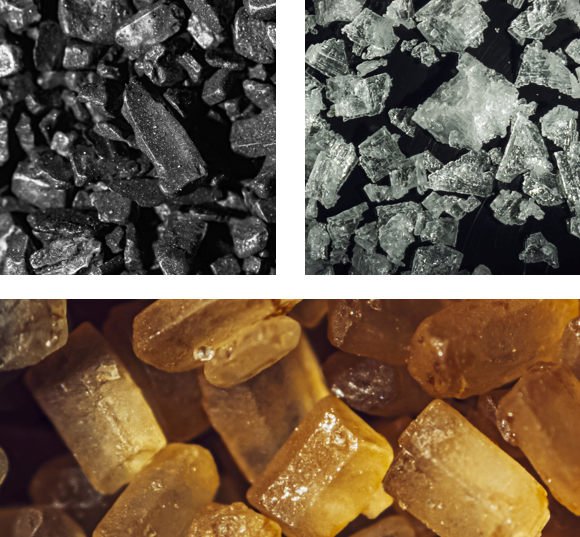 As a trained molecular biologist, food writer Nik Sharma has always been interested in the science of food and flavor. In his latest cookbook, The Flavor Equation: The Science of Great Cooking Explained + More Than 100 Essential Recipes  (Chronicle Books, 2020), Sharma explains various chemical and physical processes that occur in the kitchen. For some of the book's visuals, he used microscopes in Rausser College's Biological Imaging Facility, capturing striking macro images of culinary essentials including salts, sugars, and yeast.
Pictured, clockwise from top left: Hawaiian black salt, Maldon sea salt, and brown sugar.
Fighting Plant Pandemics
A rendering of the structure of the resistosome ROQ1.
Graphic by Raoul Martin.
What do bananas, wheat, chocolate, and humans have in common? All are in the midst of deadly pandemics. Humans have the tools to fight back; plants need help.
A discovery by plant and microbial biology professor Brian Staskawicz and colleagues, published last December in the journal Science, is a critical step toward assisting plants in fighting pathogens without pesticides or other toxins.
Global banana production is seriously threatened by Fusarium Tropical Race 4  fungus, while a disease called wheat blast endangers the world's wheat supply and overall food security. Cacao swollen shoot virus is spreading in West Africa, where roughly half of the world's chocolate is grown. According to Staskawicz, who serves as the director of sustainable agriculture at the Innovative Genomics Institute (IGI), the direst predictions foretell an unthinkable future without chocolate in as little as 10 years. 
In the study, Staskawicz, researcher Eva Nogales, and a team of IGI scientists outline their discovery of the structure and function of a resistosome, a plant immune receptor that recognizes pathogens and activates a strong defense. 
Using state-of-the-art cryo-electron microscopes at the Cal-Cryo facility, which Nogales directs, the team captured an image of a resistosome called ROQ1, which helped them understand how ROQ1 uses specific loops of its molecular structure to recognize pathogens. The research could lead to the creation of new resistance genes designed to protect plants from specific diseases and could help explain evolutionary mechanisms behind pathogen resistance. 
— Andy Murdock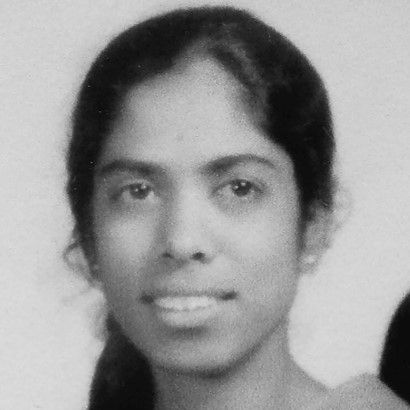 Did you know?
Shyamala Gopalan, the mother of Vice President Kamala Harris, earned her PhD from UC Berkeley in 1964. In 1958, at the age of 19, she moved from India to enroll in the graduate program in nutrition and endocrinology—which is now a part of the Department of Nutritional Sciences and Toxicology at Rausser College of Natural Resources. Her dissertation, supervised by nutrition professor Richard L. Lyman, focused on an inhibitor protein in whole wheat flour. Dr. Gopalan went on to become a leading cancer researcher. She passed away in 2009.
In Their Own Words: The Global Green Race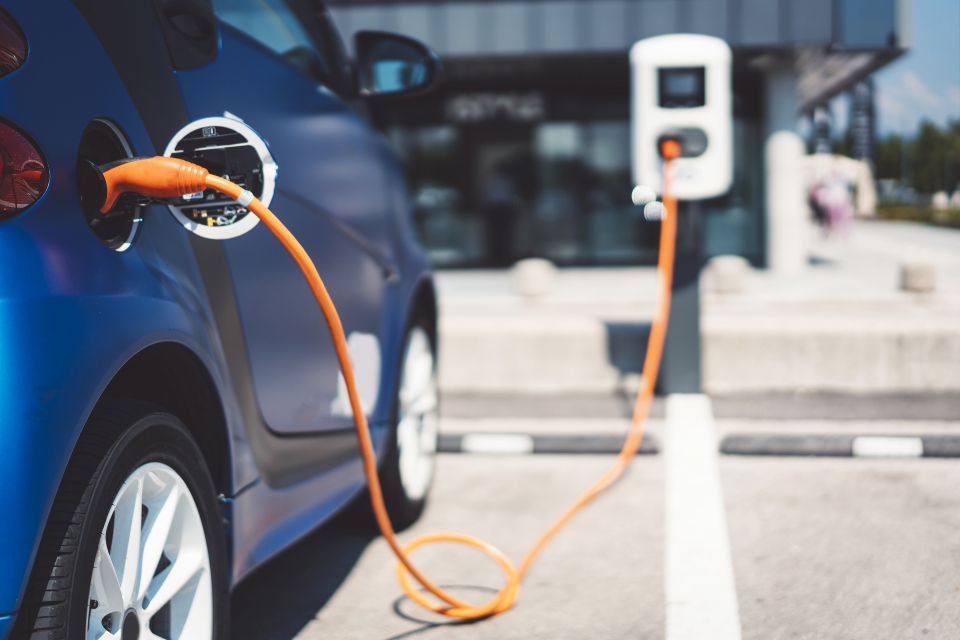 For decades, climate policy was primarily environmental policy. At UN conferences, for example, countries negotiated emissions-reduction targets and timetables. In recent years, another part of climate policy has increasingly gained traction: innovation and industrial policy. As countries seek to develop, manufacture, and deploy low-carbon technologies such as solar photovoltaics (PV), onshore and offshore wind power, electricity storage, electric vehicles (EVs), and hydrogen power, climate policy has come to be about global economic competition—and who will play what role in the green economy of the future.
European economies and China previously led the charge, but now, many more countries are joining the global green race. Economic relief and stimulus packages—in response to the economic crisis resulting from the coronavirus pandemic—contain various allocations for green industries and technologies. In addition, nations are pursuing long-term climate investment agendas, which place green technologies and infrastructure at the center of economic development. These include the E.U.'s Green Deal, South Korea's Green New Deal, and the Biden administration's 10-year $1.7 trillion climate investment plan.
Global competition in green technologies and industries can lead to a worldwide focus on innovation. For example, California's 2012 Zero-Emission Vehicle standard helped foster the rise of Tesla and the deployment of electric vehicles within the state, but it also pushed most automakers around the world to develop EVs to comply with California's regulation. Later, China adopted an EV mandate. These regulatory moves helped change the technological trajectory of the auto industry, and now a growing number of companies, such as Volkswagen and GM, are shifting toward an electric future.
However, global green competition can also lead to conflicts that stymie decarbonization efforts. A protracted trade dispute between the United States and China increased the cost of solar PV in the U.S. relative to what it would have otherwise been in open markets. Governments engage in geopolitical battles over rare earth minerals that are central to the development of several low-carbon technologies.
The world has entered an era in which global green-technology competition and global climate cooperation coexist. It is essential that policy makers steer the global green race to deepen and broaden international climate cooperation.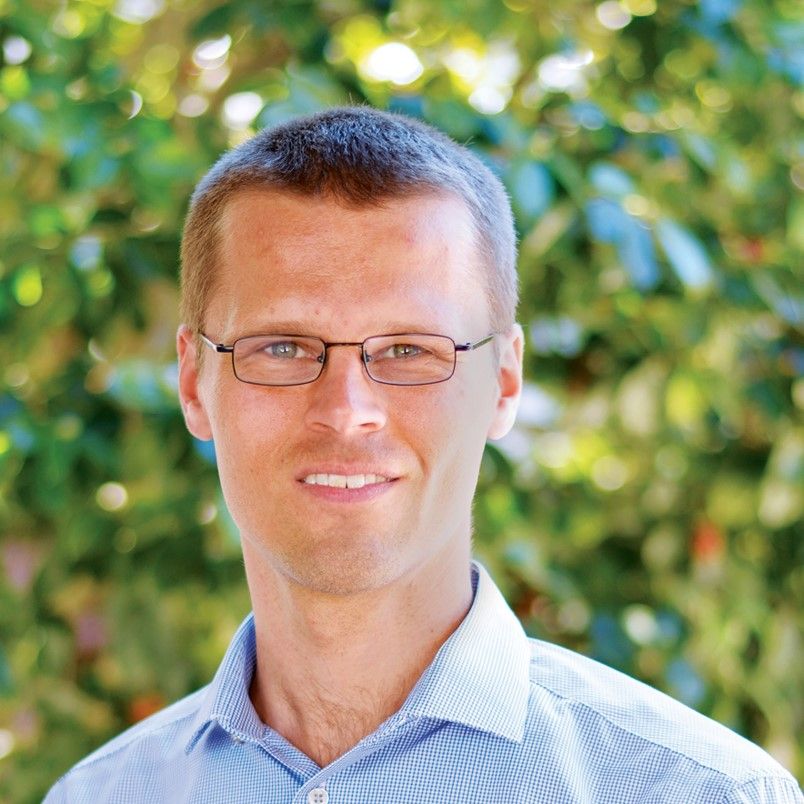 Jonas Meckling is an associate professor in the Department of Environmental Science, Policy, and Management who has written extensively on climate and clean energy policy. He leads the Energy and Environment Policy Lab and previously served as senior adviser to Germany's minister for the environment.