Written by Lauryn Chan
Spring 2016
Hope Collaborative works to support community-driven, environmental changes which will reduce health inequities within vulnerable areas in Oakland.
The project that I was most closely involved with during my time at Hope Collaborative is the Healthy Corner Store Project, which directly addresses the food system. This project supports the expansion and improvement of local small grocers in an effort to increase availability of nutritious, affordable food and improve the environment in Oakland.  We connect the corner stores with financing, technical assistance and community support so that they can increase their provision of fresh and healthy food options. I am so excited that we have begun to pilot 3 store makeovers at The Three Amigos, Sunbeam and One Stop!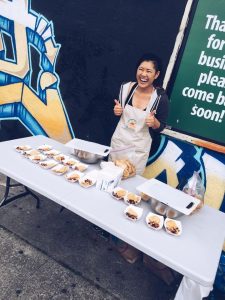 Personally, I thought it was crucial to recommend investing in strong marketing related to nutrition and availability of healthy alternatives. Moving on from that, I had the privilege of spearheading a sub-project called "Taste Test Tuesdays". Beginning April 19th, the local liquor stores, The Three Amigos, Sunbeam and One Stop, will host free taste testing demonstrations every third Tuesday of the month with recipes using fresh ingredients found in the store itself. The goal of Taste Test Tuesdays is to raise awareness of the healthy produce now available in these liquor stores! And to introduce family friendly, easy recipes that are affordable and healthy.  By talking to the store owner and several community members, I learned that the store will usually have the same customers and demographic coming in. I realized that I needed to work with partnering organizations in the community, such as schools, churches, local businesses and libraries in order to publicize the event and support Taste Test Tuesdays. But although I've been networking with health retail coordinators and policy managers, I learned that we all have the same vision- to promote the importance of healthy food in food deserts in Oakland. We all have the same passion and care for our city. Developing an event is impossible to do by yourself. It takes many hands. These hands came in the form of Acta Non Verba, BuildOn, People's Grocery, and Youth UpRising.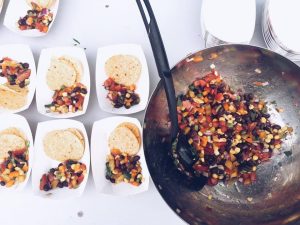 The first official Taste Testing event took place last week. I decided to use a fairly easy, yet healthy recipe for our demonstrations at the three corner stores. We sampled a Corn and Black Bean Salsa with All Natural Tortilla Chips. Everybody thought it was delicious! It was a huge success and went fairly well. Many of the community members enjoyed the food and were surprised, yet supportive to find out that the ingredients could be bought in their corner store.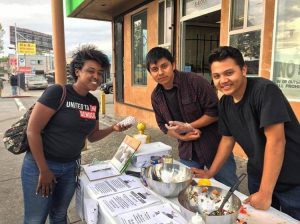 Understanding how little knowledge many people within Oakland have on fresh fruits and vegetables, I realized how important it is to educate the community on nutrition. These cooking demos will not only open conversations between volunteers and community members on their food story, and eating habits, but also the food system itself, and a call to action to reduce these health disparities.