Written by Claire Stockwell 
Fall 2018
As I conclude my semester interning with the Berkeley Unified Gardening and Cooking Program, I am sad to see it ending. I've loved being in the world of elementary school, especially in the garden; it's been wonderful to forget the stresses of being a full time UC Berkeley student in favor of hunting down cabbage eating inchworms, dressing up as a scarecrow to walk in the Halloween parade, and getting my hands in the dirt with twenty or so willing participants at a time. My Mondays and Wednesdays the past four months have been sweetened by kids' laughter, monarch butterflies, and the feet stomping excitement that comes with the announcement of that week's "Garden Snack."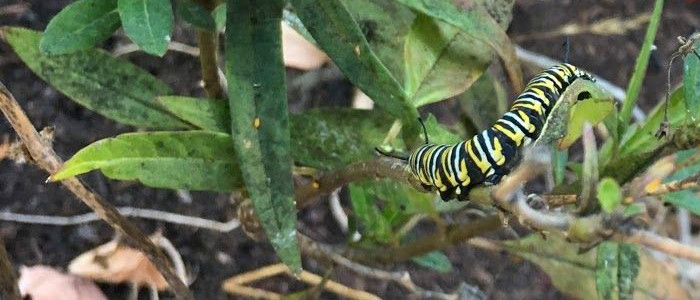 Alongside the joy and excitement of combining two things I really love, teaching and gardening, came the pressure of keeping both in harmony, and getting it all just right. Kids age 6 to 10 are fantastic learners; for the most part, they're excited, open-minded, and fearless (until they discover a spider sitting near them in the garden). But they carry a lot of baggage with them – by no fault of their own – based on what's going on at home, in the classroom, and in their heads. Dealing with this is a common frustration found in teachers in all settings, but particularly school gardens.
The frustration lies in a lack of connection – between teachers, our students, the curriculum, their garden, and the overall food system. It's like it just hasn't quite clicked yet – that the lessons we teach in the garden directly relate to what we're doing in the garden, but also the greater food system and our own role within it.
An example: I've done a certain lesson on watersheds with 10-15 classes. It can be taught in a variety of ways, and it has, as we've modified it for location or time or supplies. It provokes a diverse and in depth conversation about water – how it cycles through the Earth's ecosystems, how it affects everything it touches, and how restorative and destructive it can be. We look at how it evaporates, forms clouds, falls on the earth – how it runs over concrete, but soaks into dirt, and creates mud, and carry plants and seeds and even animals over land. We can take this rich, insightful, interactive lesson, and contrast it with a simple moment in the garden: a student is pulling weeds, and notices a long, thin black tube immersed in the soil of the garden bed. They grab it and pull it out to examine it more closely. They ask me: what is this? They are holding the most important and relevant aspect of our anthropogenic water cycle: an irrigation tube. The entire watershed lesson doesn't mention agriculture.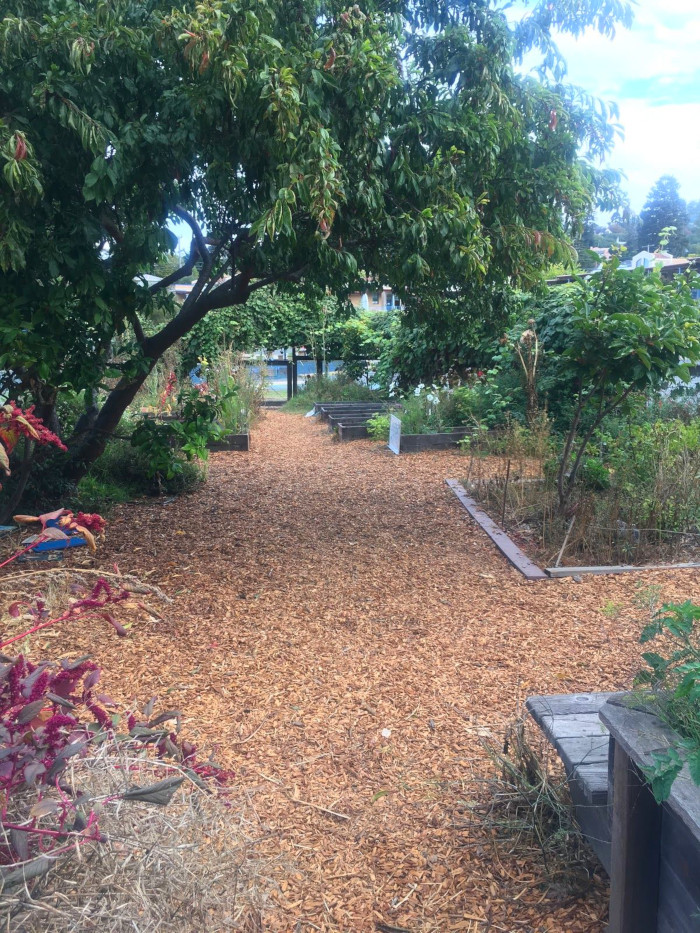 In this example we see the disconnect between science-based curriculum and garden-based lessons. Another disconnect comes with the reality of teaching kids about food systems – that the food system they themselves are a part of doesn't always serve them effectively; as in, a lot of kids aren't getting enough to eat. School gardens are a remedy, in numerous ways. They provide a fresh source of healthy produce, and as a tool to get kids to learn about making healthy choices. They are an outlet for students to learn outdoors. It has been proven that gardening has positive effects on the mental health of both children and adults. But school gardens aren't necessarily going to fill the gap in a student's diet if they're experiencing food insecurity.
Of the inequities, frustrations, and lack of connection I observed in the program, there is only so much that I can address personally. I was lucky to have a mentor teacher, Sarah, who was not afraid of acknowledging inequities in the garden classroom and open to my constructive criticism. As an outsider who entered her teaching space, she made me feel welcome offering suggestions for the garden and interacting with the students and applying lessons in ways I saw to be the most beneficial. She even encouraged me to change or add things to her lessons to better fit my vision of what garden education should look like. And the results of this were so exciting to see! As someone with an education background, I love seeing kids learn. I love being a part of that process. And as I've become more aware of the way different parts of a food system operate, the more I want to learn about them myself as well as teach students about them. Seeing a student make a connection between what we did in the garden and what they eat feels like such a triumph. I am grateful to BUSD's Gardening and Cooking Program for letting me experience that, and I hope my participation in it has made it better, even in the smallest of ways.