Written by Ivy Hirsch
Spring 2018
In the United States today, nearly 50% of all American adults have one or more diet-related chronic diseases such as type 2 diabetes, obesity, and cardiovascular disease.¹ People of color and low-income status make up a majority of this population due to a lack of access to healthy foods.³ Our current food policies pave the way for large-scale, pesticide-infused, fossil-fuel guzzling monoculture farms, factories, and corporations to thrive financially, while their consumers' health plummets due to environmental and human health hazards. In addition, our industrialized food system illuminates the deeper racial and class-based structural inequalities that consume United States culture. In California alone, 4.9 million people face food insecurity, despite the state producing nearly 50% of the entire nation's fruits and vegetables. 20.6% of California residents are poverty-stricken, the highest rate of poverty in the nation, and 24.2% of California adults are obese.² Food insecurity and obesity are often associated due to lack of access to fresh, healthy, and affordable foods, circling back to the overarching problem of inadequate food policies. This is a problem of both access and affordability; the former pertaining to inequalities in the distribution of grocery stores providing healthy food, and the latter in regards to governmental subsidies disproportionately given to corporate growers and food manufacturing companies. And this is where Fresh Approach comes in!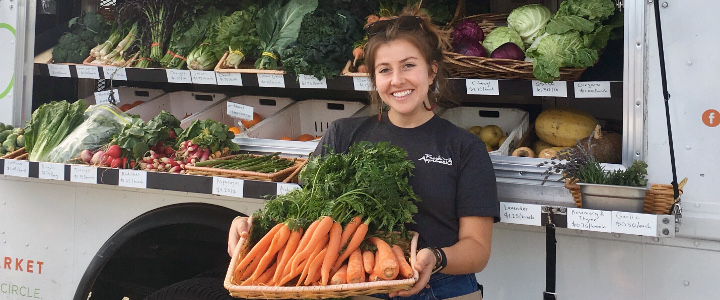 Fighting the Fight
As a Society & Environment major focusing on Justice & Sustainability, I have developed a deep interest in building sustainable food systems as well as fighting the fight against food injustice. This includes the lack of access to good food that so many face – an issue that is just plain ludicrous, considering the fact that we produce more than enough food to feed the entire world a well-balanced diet. I found Fresh Approach through a previous student's project, and was drawn to its mission of creating long-term change in local food systems by increasing access to and knowledge of fresh food and its nutritional values. Fresh Approach is a non-profit organization that focuses on improving food access and expanding knowledge about healthy food and nutrition. This organization promotes an alternative food movement by working with low-income communities to provide California-grown produce to residents at an extremely affordable rate, as well as nutritional education to sustain healthy eating. It builds upon three platforms: nutrition education, food equity, and food access, all of which work together to improve food security. Not only does Fresh Approach improve food access by distributing fresh produce to 21 areas in 7 different parts of the Bay Area through the Freshest Cargo mobile farmers' market, but it implements food equity services by providing 50% discounts to residents who receive CalFresh, SSI, SSDI, WIC, and Medi-Cal benefits. The Fresh Approach Freshest Cargo mobile farmers market truck focuses on cultural relevance in its served communities and works with its customers through surveys and verbal communication to ensure that they are receiving the utmost benefit from the truck's produce and locations.
My Freshest Cargo Experience
Through my internship with Fresh Approach, I was able to work on the Freshest Cargo mobile farmers' market truck in Richmond, CA, every week. The Richmond route stops in three different areas that would not otherwise have access to fresh produce; I had countless customers tell me how much they appreciated the Freshest Cargo fruits and vegetables due to the fact that they did not have grocery stores within a reasonable distance that provided these healthy, nutritious, and affordable goods. I created relationships with community members that visited the truck every single week, and learned a lot about their personal lives and health habits. While I have learned about food justice and sustainability in my courses at UC Berkeley, this internship has given me more concrete, hands-on experience with these issues and has helped me to develop a better understanding of different histories surrounding food and income.
A Sustainable, Subsidized Future
Furthermore, working on the Freshest Cargo mobile farmers' market truck has illuminated the government's lack of support for healthy food production, and therefore healthy people. While Fresh Approach does receive limited governmental grants, most of the organization's money comes from privately-funded grants. Relying on grants is not financially sustainable for the long-term goals that the organization has; in order to continue to provide this valuable health support for Bay Area communities (and the rest of the world), state and national governmental funds should be allocated to food access organizations such as Fresh Approach. These organizations are the future of food justice for all, and they must be supported! The discounted produce for anyone who receives income support is also a game-changer for health. Every farmers' market and grocery store should incorporate this program for vegetable and fruit sales; in order to do this, the production of these (unconventionally-grown) goods must be subsidized. We all know that eating more fruits and vegetables can lead to healthier, happier, and longer lives – education is not the only issue here – it is whether or not everyone has access to these healthy choices that dictates the game.
Working with Fresh Approach has not only helped me to progress in my understanding of food justice, but it has let me engage with and learn from my community of diverse and remarkable people. While I am still skeptical about the fate of our food system, Fresh Approach has given me hope in terms of increasing food access for all.
References
2015–2020 Dietary Guidelines for Americans. (n.d.). Office of Disease Prevention and Health Promotion. Retrieved from https://health.gov/dietaryguidelines/2015/
"Hunger Fact Sheet." 2018. California Association of Food Banks. 2018. http://www.cafoodbanks.org/hunger-factsheet
The Grocery Gap. (n.d.). The Food Trust.