Written by Julia Tubert
Fall 2016
I have spent the past semester working with HOPE Collaborative, "a community collaborative working to support community-driven, environmental changes which will reduce health inequities within the most vulnerable communities of the Oakland flatlands." I worked most closely with HOPE's Healthy Corner Store Project (HCSP), which works with local corner stores to increase the availability of healthy and affordable foods in parts of Oakland where there is limited access to grocery stores. Currently, there are two stores in the program, One Stop at International Blvd. and 84th Ave. and Three Amigos at Foothill Blvd. and 13th Ave. However, the project had a third store until September and is currently seeking additional corner stores to partner with. HOPE helps storeowners with financing, job training, community outreach, and renovations. For example, we had a workday at Three Amigos to help clean, reorganize, and set up a new deli so the store can serve sandwiches and other fresh prepared foods.
To get the community involved in the Healthy Corner Store Project, HOPE hosts taste tests (formerly known as Taste Test Tuesdays, which were then switched to Recipe Wednesdays in November). We serve samples of dishes made with healthy, affordable ingredients that can be found at the corner store. For the three I was able to help organize, we made healthy banana "milkshakes," mango black bean salad, and red beans and rice. When handing out samples, we talked with community members about what HOPE does, offered information about our volunteer program, and informed them about any upcoming events. I met some inspiring individuals during these events who were genuinely excited to learn about HOPE, some of whom didn't have homes or jobs but were eager to volunteer. I have found that people who have less are often willing to give so much more. "This is just what I need in my life right now," one woman told me after I explained what it is like to volunteer at HOPE. "Food is love!" she exclaimed after taking another bite from her sample of mango black bean salad. Of course, I encountered people who were rude or not interested when doing these types of outreach events (at HOPE and at past jobs), but I also had great conversations with community members and saw many familiar faces returning to the stores on a frequent basis.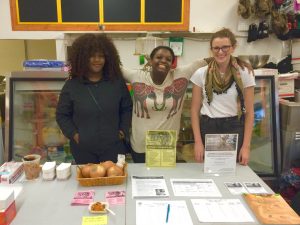 Although I collaborated with HOPE staff members to select the recipes for the three taste tests, the goal is to eventually use recipes from the community. This is why HOPE had its first Community Recipe Swap on November 30, which was similar to a potluck, but attendees from the community shared their home recipes and the cultural and/or personal significance of the dish they brought. Next spring, recipes from the different Community Recipe Swaps will be collected into a cookbook, which a group of high school volunteers have spearheaded. I was only able to attend the first Recipe Swap, although there will be more down the line.
Aside from helping out with choosing recipes and organizing events, I did a lot of graphic design work, creating dozens of flyers and other outreach materials to give HOPE a fresh look and match the website design better.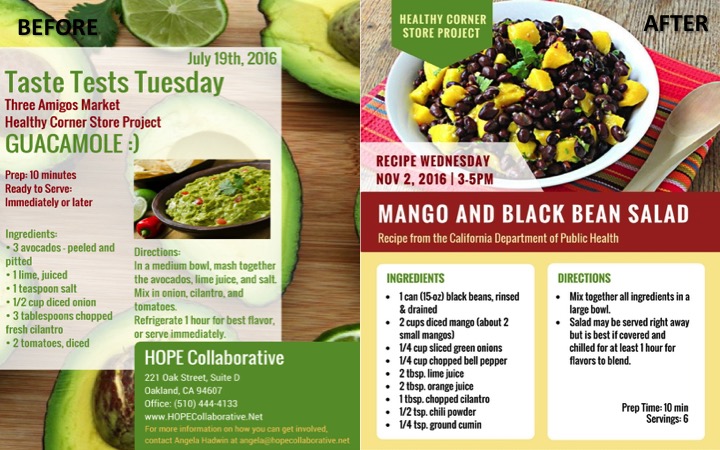 Examples of redesigns of outreach materials, including recipes for the taste test events (above) and flyers for store work days (below)
I also attended several meetings with different organizations and agencies that are collaborating with HOPE. For example, HOPE and Mandela Marketplace are part of a pilot Healthy Retail Certification project with the Alameda County Public Health Department, which is still in its early stages. One of the meetings also included folks from the county's WIC program, Nutrition Services Department, and Tobacco Control Program. It was interesting to see both the possibilities and difficulties in collaborating with groups that have different individual goals, but all ultimately want to see healthy corner stores become a reality in Oakland.
Another common theme for me this semester has been racial justice in the food justice movement. For example, HOPE threw an event at One Stop celebrating the Black Panther Party's 50th Anniversary. While I was creating a fact sheet to hand out at the event, I learned so much about the Black Panthers' Free Food Program and Free Breakfast Program and how they contributed to today's federal food assistance programs. I was surprised that this was not taught in any of my food systems classes.
HOPE also was one of the community partners for Berkeley Food Institute's "Community Forum on Black Liberation and the Food Movement." These different experiences taught me about the role of Black leaders (past and present) in the food movement. I also talked to different people about the need to decolonize the food justice movement, which refers to the importance of having food justice work in disadvantaged neighborhoods led by the community rather than by privileged outsiders who may not understand the priorities and struggles of the people living there. At the very least, the voices of the community need to be at the table.
I think this is something HOPE does very well; it is an inspiring example of food justice work led by the community, for the community. I am so glad I had the chance to be a part it, and will take these lessons and experiences with me as I continue working on environmental justice and food systems issues.