We've been thinking about pipets lately and Ingrid the intern has an unboxing video of the Rainin adjustable width multichannel. In the mean time we came across this amazing display of how not to let the pipetmonkeys treat the labware.
The Gilson M P-1000 in his left hand at 0:34 retails for over $500 and the multi-channel on the right goes for north of $1,200, so . . . we couldn't resist making a couple of animated gifs from the clip.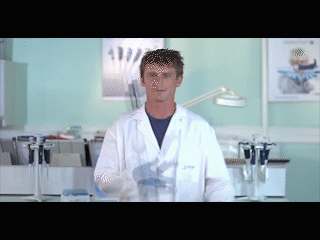 It's not really clear what's going on here, is he a real science guy or just an model/actor/juggler they brought in for the photo shoot? You know how we feel about demotivational science stock photography. The consensus is that while his over sized and ill fitting lab coat points to real science guy, his hair game is right on point, so. . . probably not. It would be interesting to know what products he puts up in his her.