Written by Brienna Pies
Fall 2018
For the food systems capstone course project, I collaborated with Mothers to Mothers, an organization focused on defining and obtaining postpartum justice for parents of all races, genders, cultures, and identities. The group has a website used for discussing their ideas, concept, events, classroom lectures, resources, and media outreach. I played a part in redesigning and offering new resources and updates to that website so visitors would have a fresh look the project based on current semester goals.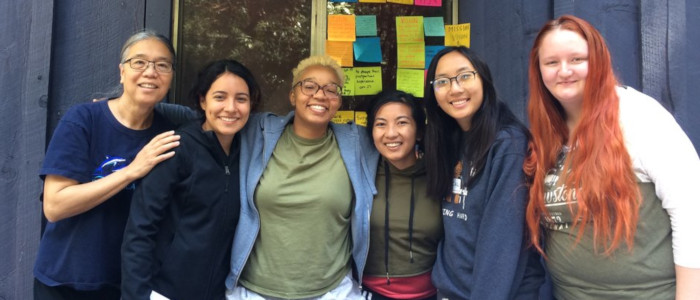 Specifically, I restructured and added to the resources pages so viewers could now see articles, videos, books, services, and advocacy for postpartum justice (racism, sexism, individualism, abandonment of traditional wisdom, health care system; these are the causes behind postpartum problems), midwives, doulas, breastfeeding, diet and nutrition, national family paid leave, and the UCB course. I related these areas to food justice through articles, books, service providers, and research devoted to food access, traditional and cultural foods, food wisdom, and food history as they were relevant to each section. I performed weekly resources research to provide academic and media viewpoints for these issues so viewers could have a wide, knowledgeable selection of material to pull from and see that the world was involved in. I also communicated with the events lecturers to obtain information and update the website and emails with recent details so people understand what the lecture ideas were really about and by who.
Mothers to Mothers also held weekly guest lectures with professionals working with or involved in aspects of the postpartum world, of which I attended, took notes, learned from, and deliberated about with class members and the project team. I was responsible for weekly class notifications and team communication as well as website updates for the lecture materials and related article research uploads. This was done via extensive email and spreadsheet updates to track possible and actual attendees and task performance for the course. In addition to this, I attended one-on-one meetings with Dr. Wong to perform the above mentioned and separate tasks as well as twice weekly meetings to work on event and website details and plan for the Alameda First Five event in November. And I interviewed people for new recipes to post on the website (for women interested in cooking cultural postpartum foods) while researching the nutritional background of the ingredients behind existing recipes.
Through this project, I learned about the different facets of the postpartum world, including racial and social justice issues in regard to treatment by society, employers, and the health care system. I also learned and analyzed how food can be used to discriminate or treat people through ingestion or physical application and what kind of access problems that various groups encounter when they are pregnant or caring for new babies. I realized what kind of food system and justice issues and structures existed for pregnant and postpartum women, something I had never considered in all my previous food systems courses at UC Berkeley. Despite this being due to my lack of experiencing pregnancy and recovery myself, it is a group of affected people that I think all course providers, health care workers, and the general populace should think about because one gender of people and billions of individuals have experienced pregnancy and the postpartum period, our own mothers, sisters, daughters, relatives, and friends included.
Specific elements of focus and learning include the food medicine theory behind African and Chinese cultures that date back centuries. I found the traditional Chinese medicine bodily organ, element, and taste system intriguing and have worked on communicating its teachings with food nutrition providers and the general population considering its application have proven effective for thousands of years. The African American lectures and my research on food uses and social history have helped me realize that part of food justice is understanding and acknowledging the history and harms done to cultures by other peoples, and how that played into food developments and tastes to create a food culture seen today. Learning about postpartum isolation and researching non-US community care has shown me that food provision and advice by families and friends to mothers can make the difference between thriving parents and children or broken spirited families. Researching resources to help with postpartum care demonstrates how food provision programs now and will continue to help new mothers survive and succeed their transition periods. Understanding the nutrition details and stories behind the food recipes has taught me different ways people had approached and overcome food health and access difficulties.
My work with Mothers to Mothers ultimately points out that the social elements of the food system need to look at and cater to the specific needs of the postpartum mothers in order to be successful addressing every societal group facing food equity, access, tradition, and nutrition problems. This will be challenging considering most people don't think of people experiencing postpartum life as a group- they only see individuals going through the period when they are themselves or they are related to those who do. But the perception needs to be broadened to feature all postpartum mothers in order to successfully tackle their collective issues with wide efforts as has and continues to be done for other large groups. With collaboration, postpartum people can reap the benefits justice of the food system as they are accomplished too.