Written by: Mackenzie Feldman
Spring 2017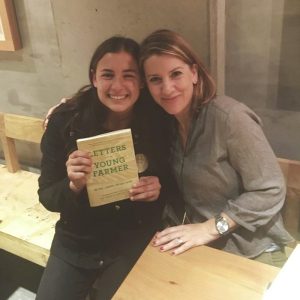 Real Food Media uses powerful storytelling and media to inspire, educate, and grow the movement for sustainable food and farming. My draw to Real Food Media began when I attended their film contest screening at Berkeley last year. After watching a series of short films that promoted a sustainable food system, which ranged from topics of urban gardens to fair trade, I felt so inspired to go out and make an impact on our food system. I began an internship with Real Food Media last summer, and was able to pick the internship back up again this semester through the Community Engagement Project.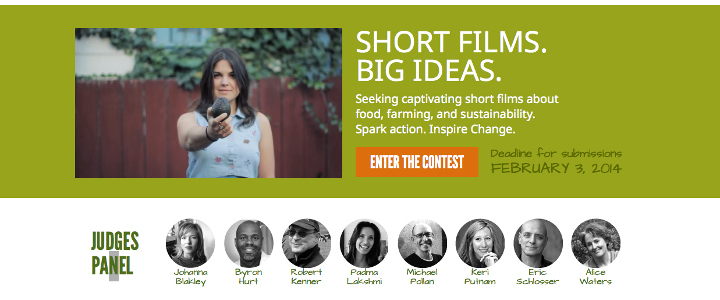 Real Food Media (RFM) is a small team of currently two full-time employees and three part time employees, including me. Because of this, I have been able to work closely and form lasting relationships with both full time employees, Christina Bronsing-Lazalde and Anna Lappé. Anna is the Founder and Director of RFM, as well as a national bestselling author and the founding principal of a foundation. It has certainly been special to learn from such a leader in the food movement. Some of the highlights from the semester have been attending her talks.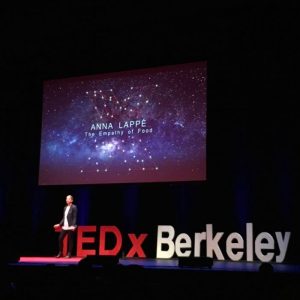 I have learned a lot and really enjoyed the work I have done at RFM! One of the assignments that I enjoyed most this semester was writing blog posts to promote the organizing toolkit that was recently launched. Because of all of the turmoil this year with the Administration, RFM decided that creating toolkits that would allow people to organize would be the best way to create change. The toolkits will feature films, both old and new, from the Real Food Films contest. The three themes of the contest include: Taking on Big Soda, Building Power with Food Workers, and Tackling Climate Change Through Food.
My mom and I went on a road trip last summer visiting farms throughout California and Oregon. In the blog posts, I wrote about a Food Justice certified farm that builds power with farm workers, and another farm that is tackling climate change through regenerative agriculture. The blogs have not been released yet, so keep a lookout on the RFM website! Through this process of sharing my experience, I have come to find that I really enjoy writing blog posts. One piece in particular titled A Letter from Mackenzie that I wrote for RFM over summer about industrial agriculture and GMO testing in my home state of Hawaii has helped me to better understand where my passion stems from.
A few of the other pieces of work I have done include doing research on front groups and their budgets (organizations that claim to represent one agenda when in reality they secretly serve other interest groups), contacting filmmakers to put together new biographies, creating evergreen content for social media, and collecting resources so that people know how and where to get involved after being inspired by the films. One of the biggest takeaways from this internship is that change often happens slowly, and work might feel tedious but it does not mean that it is pointless. Often times, I would find myself working on a million spreadsheets and wondering how this is actually going to be impacting anything. I learned that these small action items are crucial if you ever hope to make momentous change. It is the little steps that people take that go unseen that are often times the most crucial to their success.
I am looking forward to the summer of 2017 because RFM will be updating their website and putting together the work that I have been doing for the past year. I am also very excited to say that I will continue doing some work for them this summer! Thank you Paul and the Food Systems minor for giving me this opportunity.