This year's Homecoming Celebration, October 6-8, will feature faculty and alumni lectures on "new dimensions in human health," "the foodie landscape in the Bay Area," "40 years of change in forest ownership," and "California's water future."
---
Biochemical Moving Pictures:
Exploring New Dimensions in Human Health
Marc Hellerstein, Professor of Nutritional Sciences & Toxicology
Friday, October 6 -- 9:30 to 10:30 a.m.
Bechtel Engineering Center, Sibley Auditorium



Techniques developed at Berkeley allow measurement of molecular and cellular flow rates in living organisms, including humans. This opens a new dimension for exploration. Professor Hellerstein will discuss how caloric restriction reduces cell turnover (and extends life-span); the dynamics of brain cells, pancreatic cells, fat cells and mitochondria with disease and therapy; and treatment of ALS by slowing a neuronal pathway.

Professor Hellerstein is one of the developers of a laboratory technique for directly measuring the turnover of T cells. Experts have hailed this technique as a major breakthrough in HIV disease monitoring and research.

Follow Your Food: Exploring the
Foodie Landscape of the Bay Area
Sally Fairfax, Henry J. Vaux Distinguished Professor of Forest Policy
and Lynn Huntsinger, Associate Professor of Environmental Science, Policy, and Management
Friday, October 6 -- 2 to 3 p.m.
Alumni House

Professors Fairfax and Huntsinger will discuss "Follow Your Food" in two ways — first, as an exploration of trends in agricultural production that characterize the Bay Area's spectacular cornucopia of "yuppie" food, and second, as an example of how teaching, research, and community building intersect to offer a unique opportunity to learn in the field and from each other.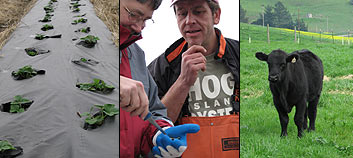 Related: Down on the Farm



Professor Fairfax has taught natural resource law and policy at UC Berkeley's College of Natural Resources for more than 25 years. Her teaching focuses on domestic policy processes and institutions with reference to land conservation and management. She has published extensively on legal aspects of resource administration and related federalism issues.

Lynn Huntsinger is Associate Professor in the Department of Environmental Science, Policy and Management (ESPM). Her expertise is in agriculture, ecological history, and rangeland ecology and management. In 2004, she initiated a new college course for freshman titled "Follow your Food" that introduces our students to local producers and products. She has published numerous articles about the conservation, management, and use of California's oak woodlands and agricultural landscapes.

SJ Hall Lecture:
Understanding 40 Years of Change in Private Forestry and Timberland Ownership
Friday, October 6 -- 4 to 5:30 p.m.
Bancroft Hotel, 2680 Bancroft Way, Great Hall
William Berry '64, retired executive vice president of forest resources and wood products at Rayonier, was responsible for all of Rayonier's timberlands, its international log and wood products trading organizations, and wood products manufacturing facilities. He will discuss the major trends in private forest ownership in the US from 1966-2006.

Carrington Sawmill and Railroad Sculpture Collection Exhibit
October 6 -- 4:30 to 6:30 p.m.
International House, Chevron Auditorium



Friday, The UC Berkeley Center for Forestry Carrington Sculpture Collection contains 220 metal sculptures. The homecoming exhibit will feature a select grouping. These sculptures are the work of Ray Carrington, Forestry Alumnus, Class of 1953. Carrington has taken objects salvaged from three Northern California sawmills and formed them into sculptures intended to catch the experience, energy, force, and spirit, of by-gone lumbering days.

Growth, Environment, and Efficiency:
California's Water Future
Professor David Sunding, Director of the Berkeley Center for Water Resource Mangaement
Saturday, October 7 -- 1 to 2 p.m.
Alumni House


Continued growth coupled with increasing demands for environmental protection are placing unprecedented strains on California's water system. Will the water system undergo the same kind of crisis as the state's electricity sector, with rolling shortages and skyrocketing prices? Professor Sunding will discuss California's water resources and current trends that will have a large impact on the potential for future crises.

Professor Sunding has played leading roles in some of the most significant California water issues, including reallocation of Colorado River supplies among Southern California interests, restoration of the S.F. Bay/Delta estuary, and development of the state's water trading system.

Plus, Homecoming has much more to offer -- check out the full program at homecoming.berkeley.edu.