Complex Issues, Comprehensive Solutions
The Rausser College of Natural Resources offers a burgeoning number of programs for professionals who are already working on the front lines of social, economic, and environmental issues in a changing world. Led by faculty from across UC Berkeley's academic disciplines, our programs offer participants the chance to expand their networks, prepare for career transitions, and become leaders in their fields.
For more information about the programs listed below as well as upcoming professional development programs in the fields of sustainability, health science, and the natural resources, visit the College's International and Executive Programs website.
Programs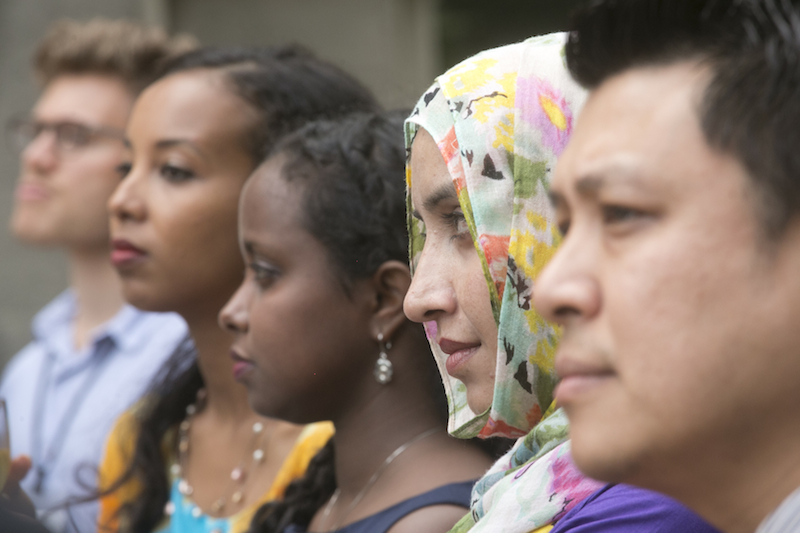 A new cohort of the Bearhs Environmental Leadership Program listens at a welcome ceremony. Photo: Jim Block
The Beahrs Environmental Leadership Program (Beahrs ELP)
The Beahrs ELP offers a unique and unparalleled three-week summer certificate course for mid-career practitioners and decision-makers to expand their knowledge and perspectives on environmental and natural resource science, policy, management, and leadership. Program participants can utilize connections with UC Berkeley faculty and the program's alumni community of more than 731 members from 114 countries for post-training collaboration on projects in conservation and sustainable development. Alumni of the ELP become part of a global network of leaders, and continue receive support after they complete the program.