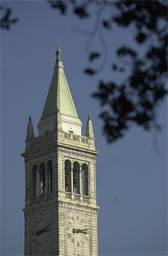 Enjoy the beautiful background of the CNR campus.
Safety Resources
---
CARD KEY ACCESS/KEY REQUESTS
Please complete the ACCESS APPLICATION AND AGREEMENT
The new hours for all access (card key, trilogy codes, metal keys) requests and pickups will now only be Tuesday through Thursday between the hours of 9am -11am and 2pm - 3pm.
Email requests to cnrfa_mgmt@berkeley.edu
EQUIPMENT MANAGEMENT
PI or lab managers must notify the facilities team at cnrfa_mgmt@berkeley.edu prior to having equipment salvaged, moved, cannibalized, traded-in, upgraded or loaned.
For all building facility issues email the CNR facilities team at
cnrfa_mgmt@berkeley.edu
Include building name , room location of issue, and contact info.
Safety and Facilities Contact Information
Please send requests to cnrfa_mgmt@berkeley.edu
Tony Gamez
CNR Facilities Manager
54 Mulford # 3100, 643-5252, gamez32@berkeley.edu
Eddie Cazarez
Koshland Hall, GPB Teaching Building, and Morgan Hall Coordinator
Ergonomic Evaluations Coordinator
54 Mulford # 3100, 643-2606, ecazarez@berkeley.edu
Jonathan Rennella
Mulford Hall and Wellman Hall Coordinator
Copy Code Distribution
54 Mulford # 3100, 664-4881, rennella@berkeley.edu
Christina Wistrom
Oxford Tract and Gill Tract Coordinator
1751 Walnut Street, 110 Oxford Tract Greenhouse # 3100, 642-8189, cwistrom@berkeley.edu
Rob York
Safety and Building Management for Forest Properties
4501 Blodgett Forest Road, Georgetown CA, (530) 333-4475, ryork@berkeley.edu