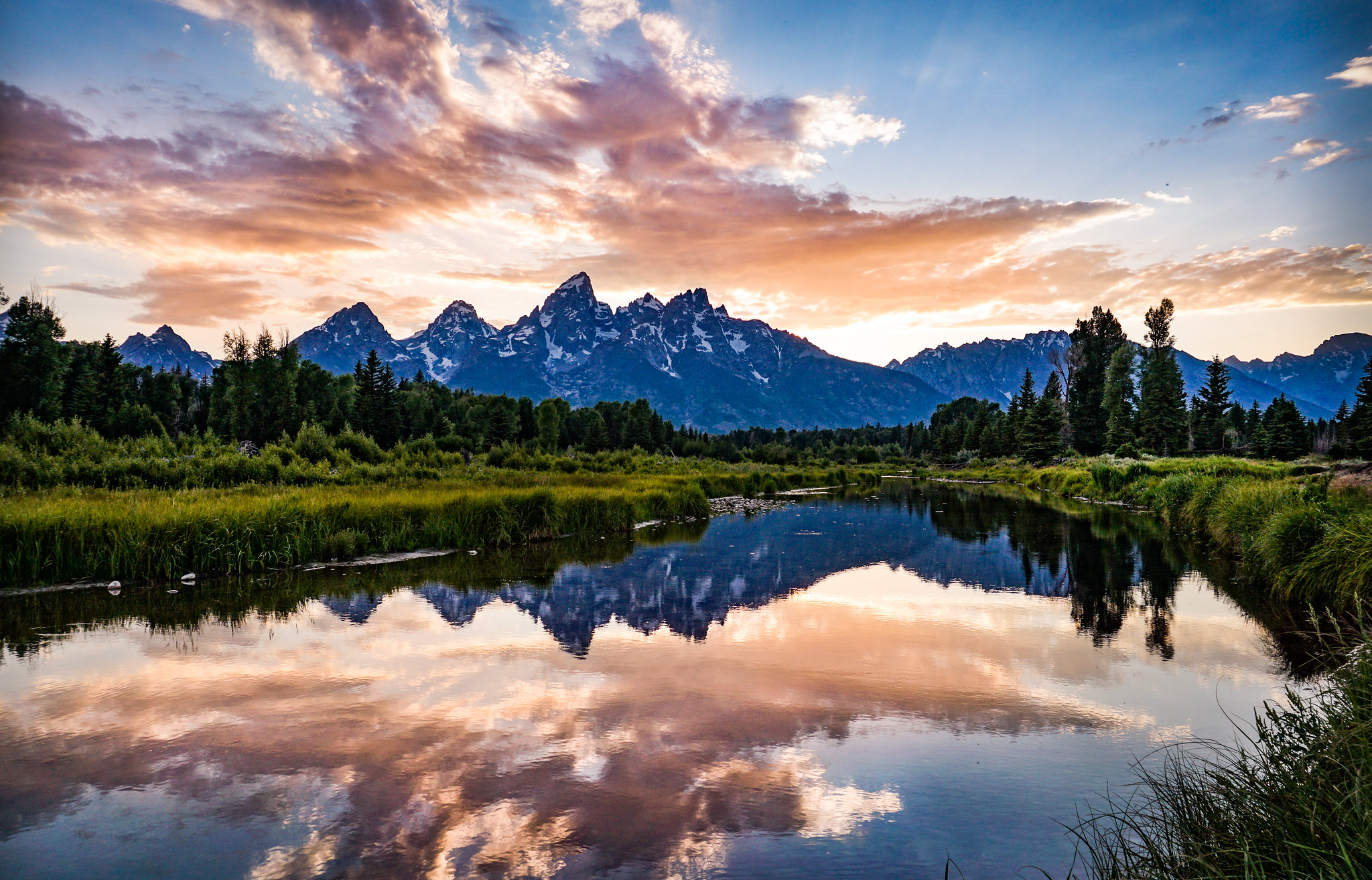 2019 Rausser College Photo Contest Winners
The nearly 200 images submitted to the 2019 Rausser College photo contest represent the wide-ranging activities of the college community and exemplify the beauty of the world we are all working to improve. Below are the winning images from our five categories as well as the recipients of the honorable mention award.
Research in Action
First Place: Wyoming or the Moon?
Avery Shawler, February 2019
My research is focused on understanding how elk migrations in the eastern frontier of the Greater Yellowstone Ecosystem impact when and where wolves kill cattle. In order to do this, we need to understand movement and behavioral patterns of wolves, elk, and cattle. Over the next 3-4 years I will conduct field work investigating clusters of wolf GPS points to check out areas of wolf activity. This cluster searching method will help me understand predation patterns of wolves in the study area. This picture is from the second day in the field of my first winter field season. My three field assistants are pictured standing over what is left of a wolf-killed elk. It was blowing snow and -30F degrees outside and our eyelashes kept freezing together, but it was still a fun day in the field!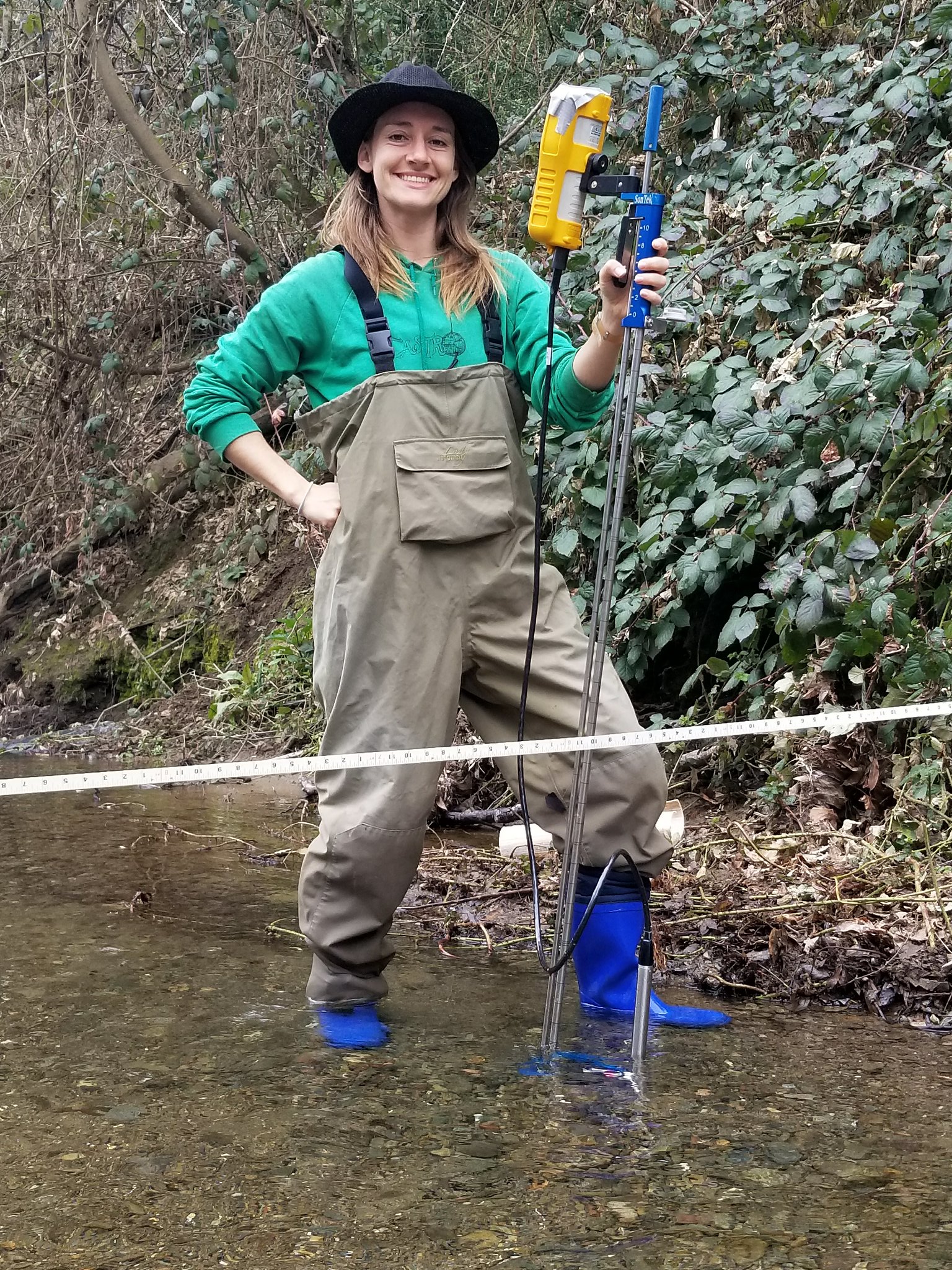 Second Place: Investigating Native Fish Habitats in Northern California
Chippie Kislik, March 2018
Here, I am measuring the depth and velocity of a river in Northern California to assess native fish habitat for coho salmon and steelhead trout.
Third Place: Field research in the Sierra Nevada
Joan Dudney, October 2018
Researchers in wilderness areas spend the majority of their time hiking to randomly selected sites. The physically demanding aspects of field work are rarely highlighted in scientific settings but without highly fit and rugged individuals, our research would not be possible.
The Worlds We Study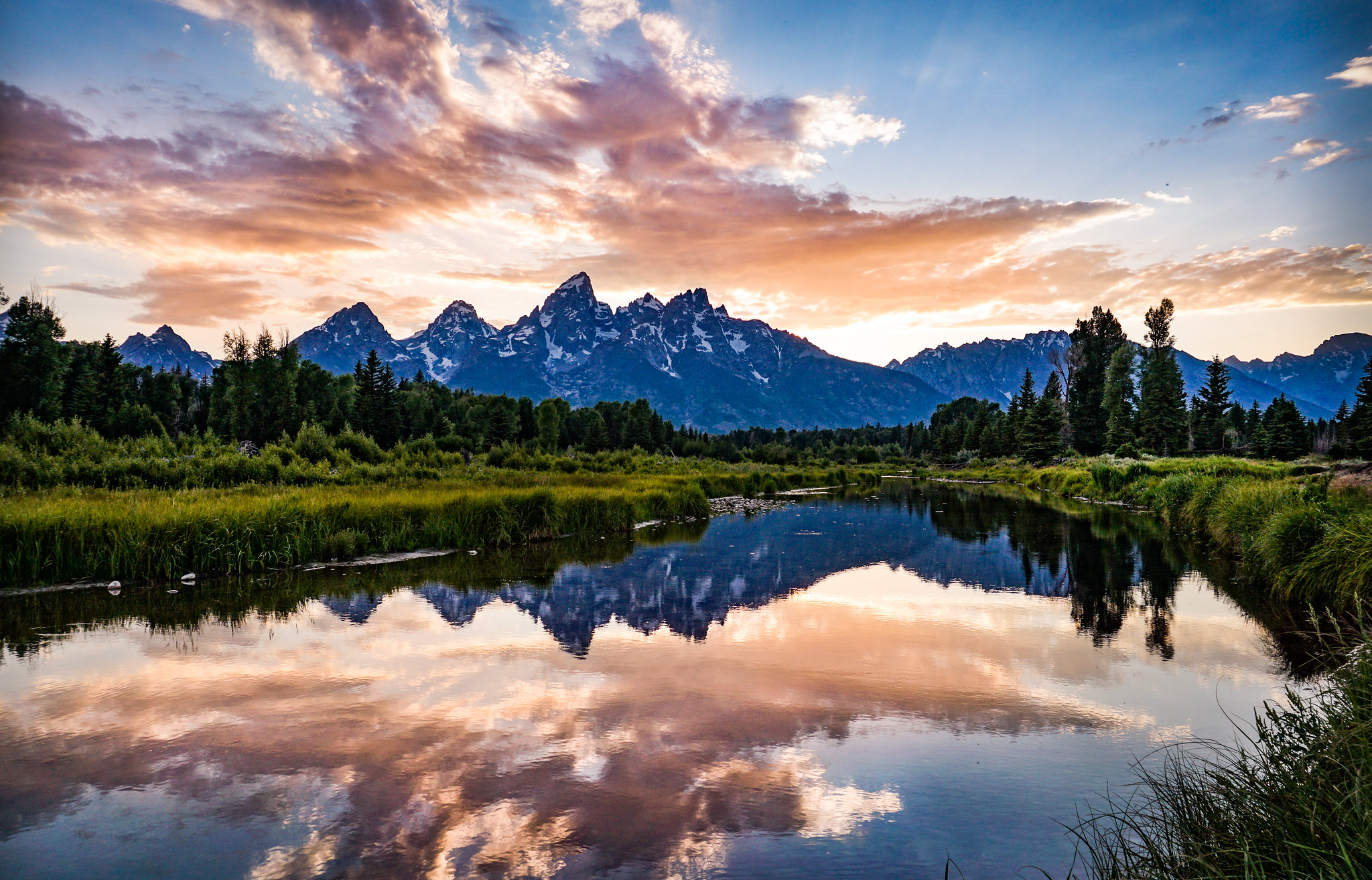 First Place: Blister rust spread through the Tetons
Joan Dudney, July 2018
The invasive pathogen, white pine blister rust, is causing widespread decline of the IUCN endangered species whitebark pine throughout its range, including Tetons National Park.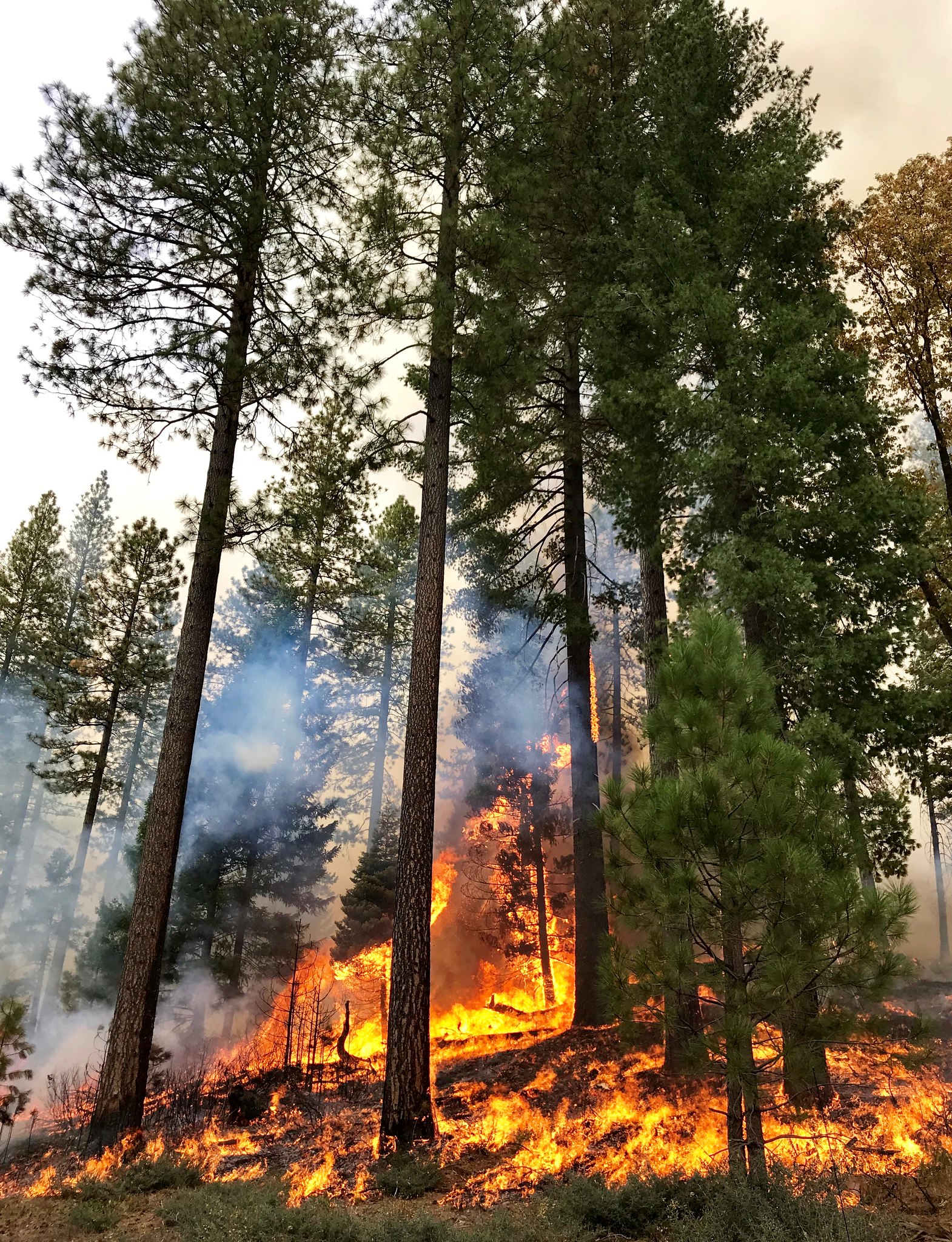 Second Place: Burn Baby, Burn
Hunter Noble, October 2018
Prescribed burning conducted at Blodgett Forest as part of several ongoing research projects.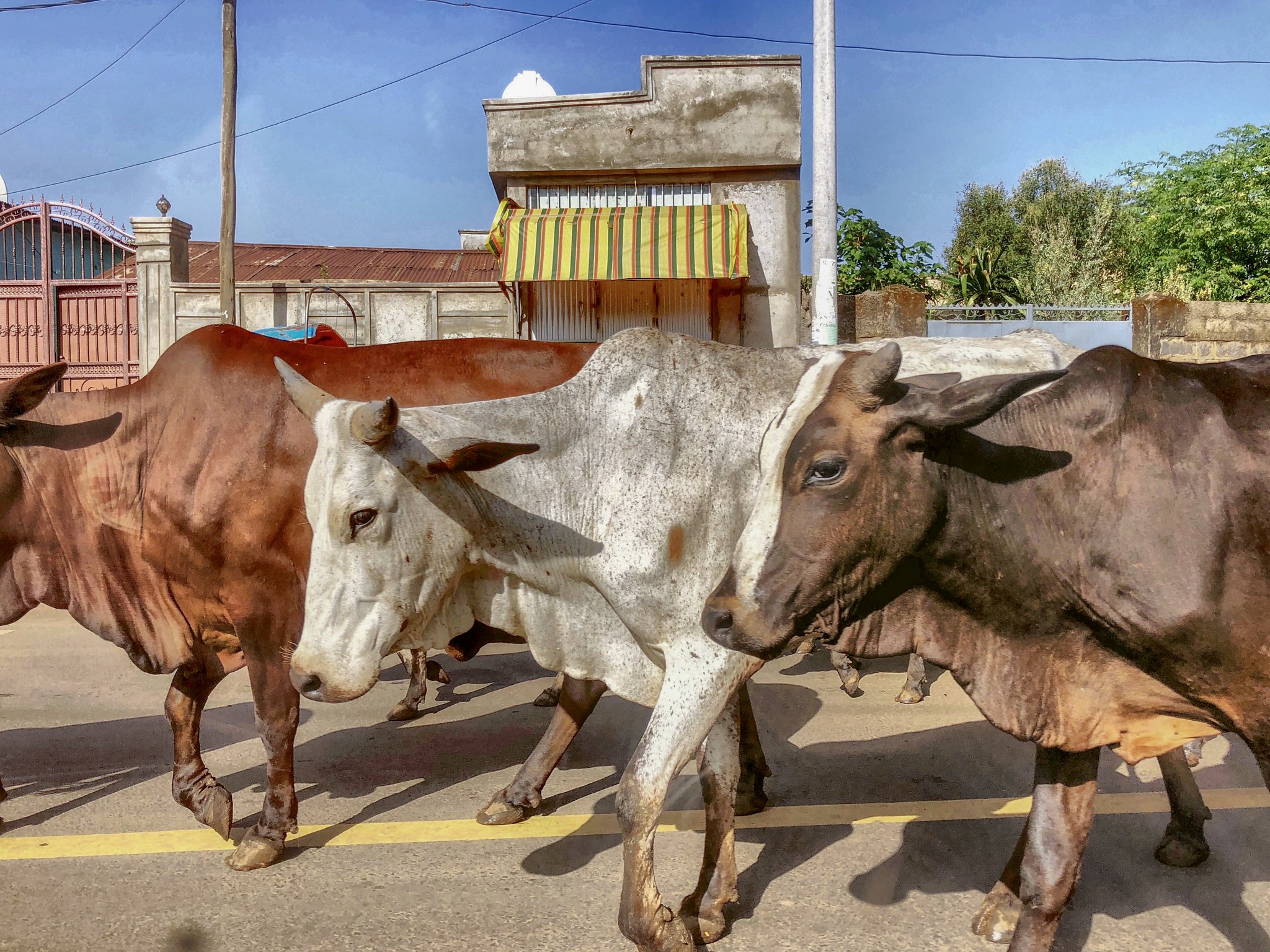 Third Place: The Urban Cattle Gang
Nicole Wu, May 2018
A herd of oxen is walking with cars on the street of Bahir Dar City, Ethiopia.
Macro / Micro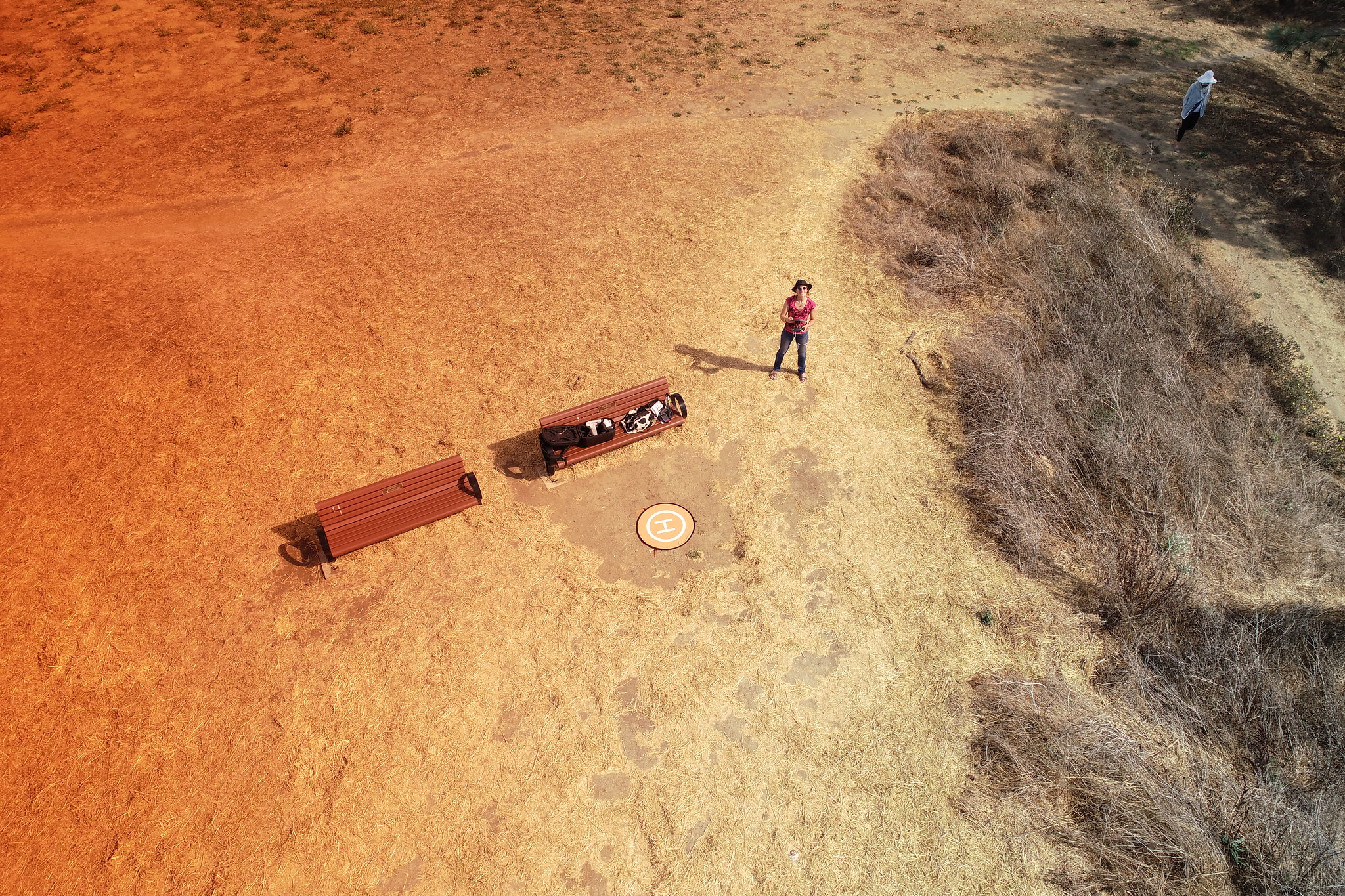 First Place: Flying High over Cesar Chavez Park with a Drone to Estimate Vegetation Health
Chippie Kislik, October 2018
Here I am using a Phantom 4 Pro drone to take imagery of the trees and shrubs in Berkeley's Cesar Chavez Park to understand spectral reflectance values of vegetation before winter precipitation events. I use drones for different kinds of research, including terrestrial and aquatic investigations of vegetation health.
Second Place: A Forest in Miniature
Phoebe Parker-Shames, December 2018
A close up photo of the moss that grows at my field site in Southern Oregon.
Outreach & Extension
First Place: Learning about flowers for Earth Day
Tuesday Simmons, April 2019
At the Oakland Zoo's Earth Day celebration, PMB graduate student Lorenzo Washington explains the process of pollination by using a game where the participants match flowers to the fruits they produce.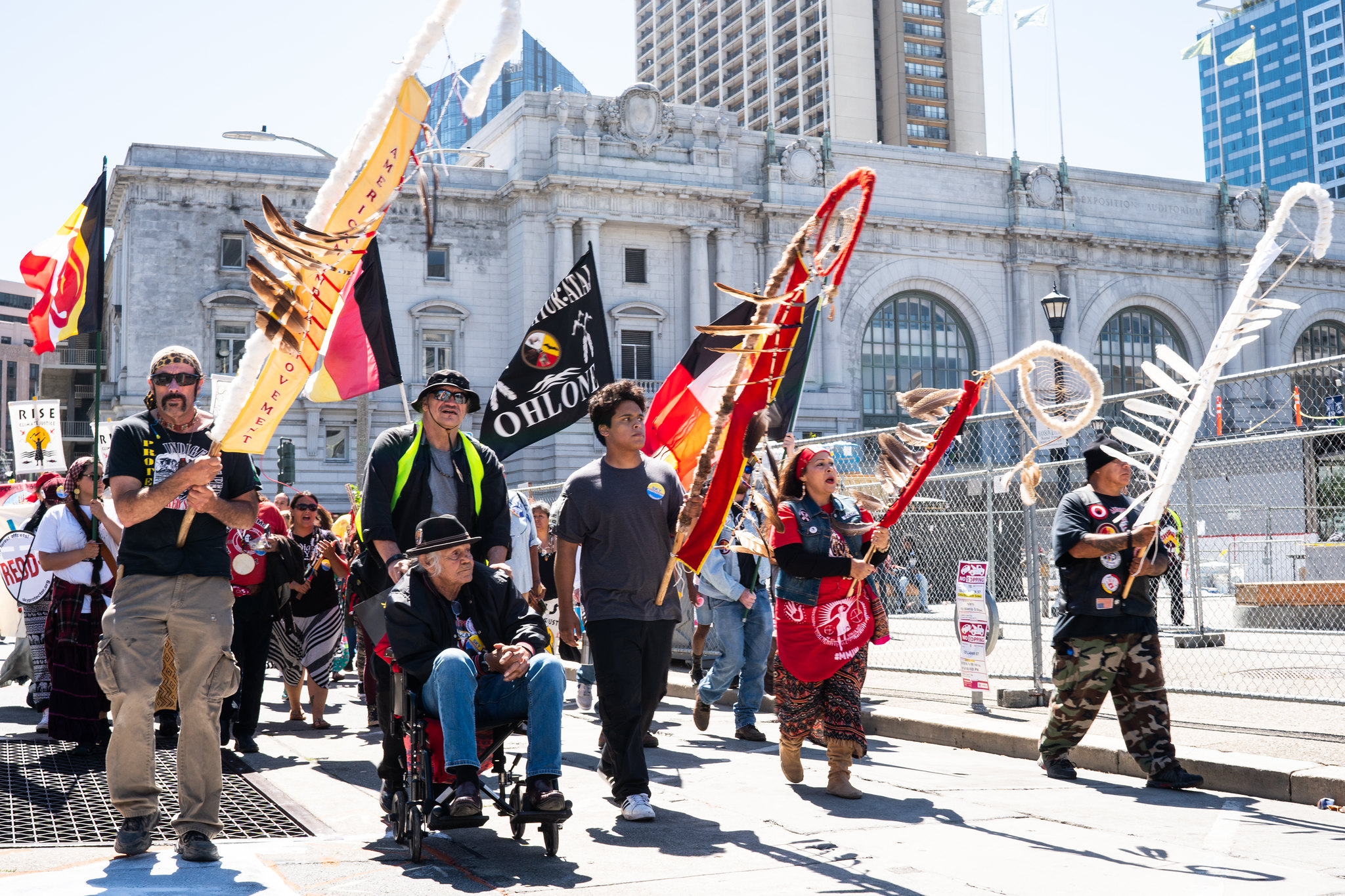 Second Place: Rise for Climate, Jobs, and Justice
Wilson Sherman, September 2018
This is a photo of indigenous protestors at the Rise for Climate, Jobs, & Justice in San Francisco—a demonstration for clean energy and environmental / racial justice. Dozens of Rausser College students from ESPM 50AC volunteered to help organize the event.
College Life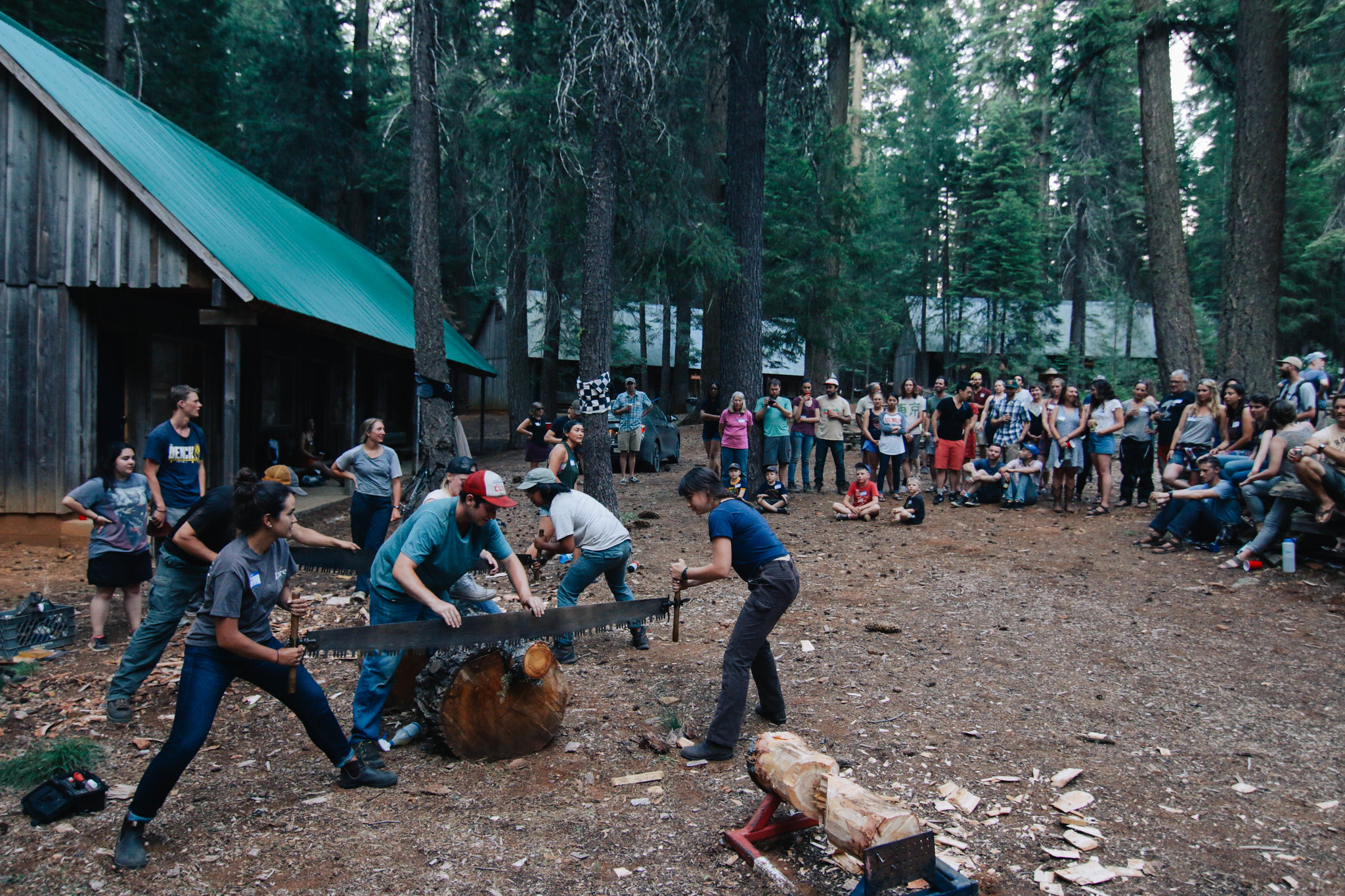 First Place: Logging Sports
Stanley Shaw, June 2017
Campers and forestry alumni compete and watch logging sports during alumni weekend at Forestry Camp.
Second Place: Fife Creek Cool-Down
Emily Cox, October 2018
The fearless Environmental Science Student Association (ESSA) takes a rest on the edge of Fife Creek during a camping trip fall semester 2018 before the steep hike out into the oak grasslands.
Honorable Mentions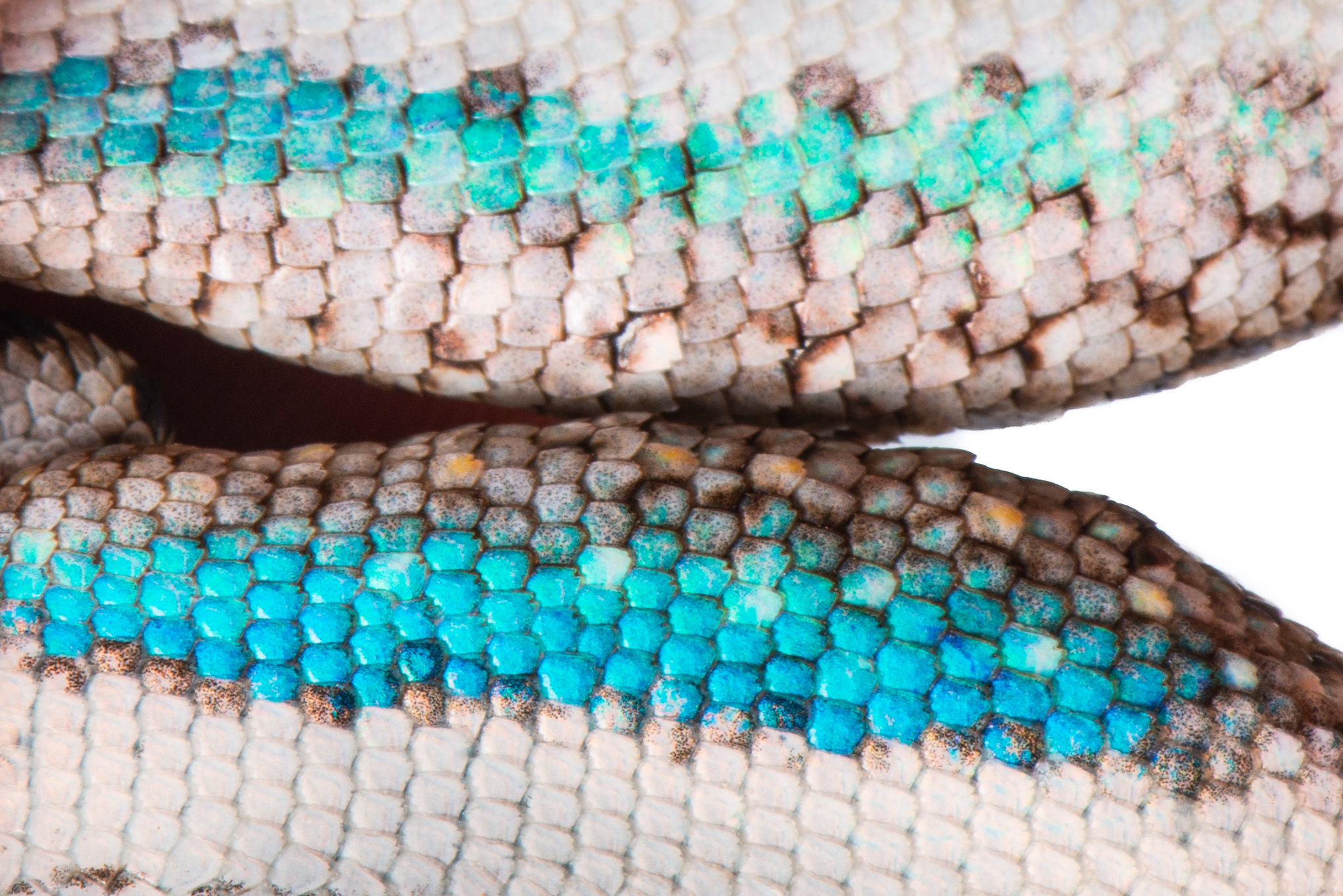 Sceloporus cowlesi
Erin Westeen
Bright ventral coloration of two Sceloporus cowlesi lizards at El Malpais conservation area, New Mexico.
Untitled
Matt Mayes, June 2018
A traditional batik artisan rinses natural indigo dye from a wax resist textile in West Java, Indonesia.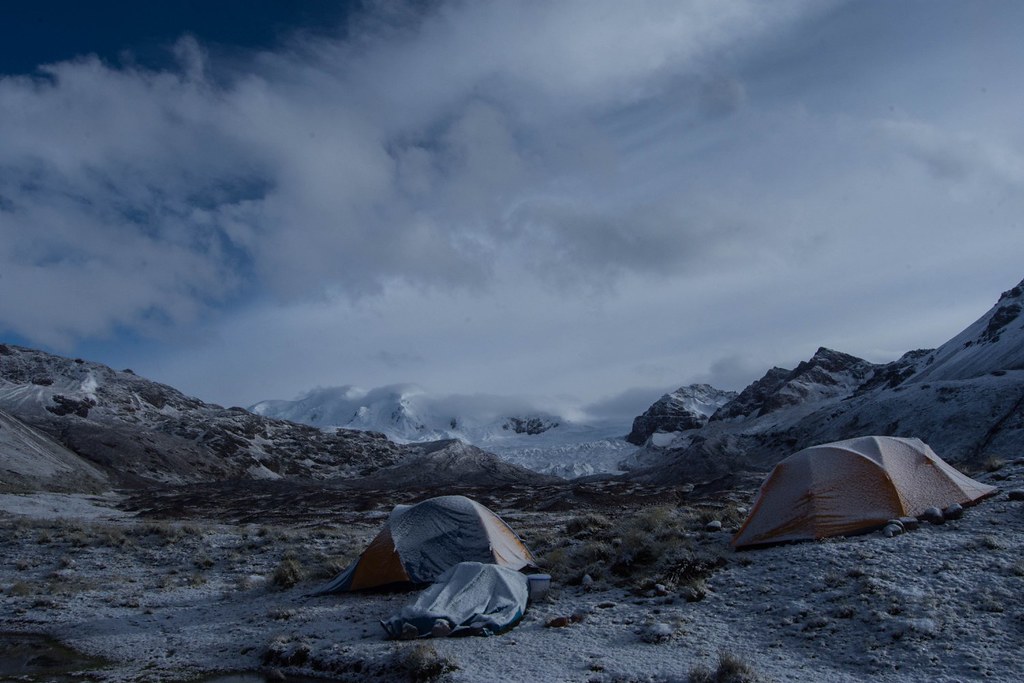 High Camp
Emma Steigerwald, March 2018
Studying the response of wild populations to glacial retreat means that many mornings of my field season find our tents frosty or deep in snow! Gladly, the intense sun at these elevations usually burns either of these off after the first hours of the day. Once the landscape thaws, we can begin searching for my amphibian study species…Yes! Amphibians survive, and even thrive, on this extreme landscape!
"Thanks, Science!"
Robin D. López, July 2016
ESPM Ph.D. student Robin D. López processing soil samples from the Arctic ecosystem at the Lawrence Berkeley National Laboratory.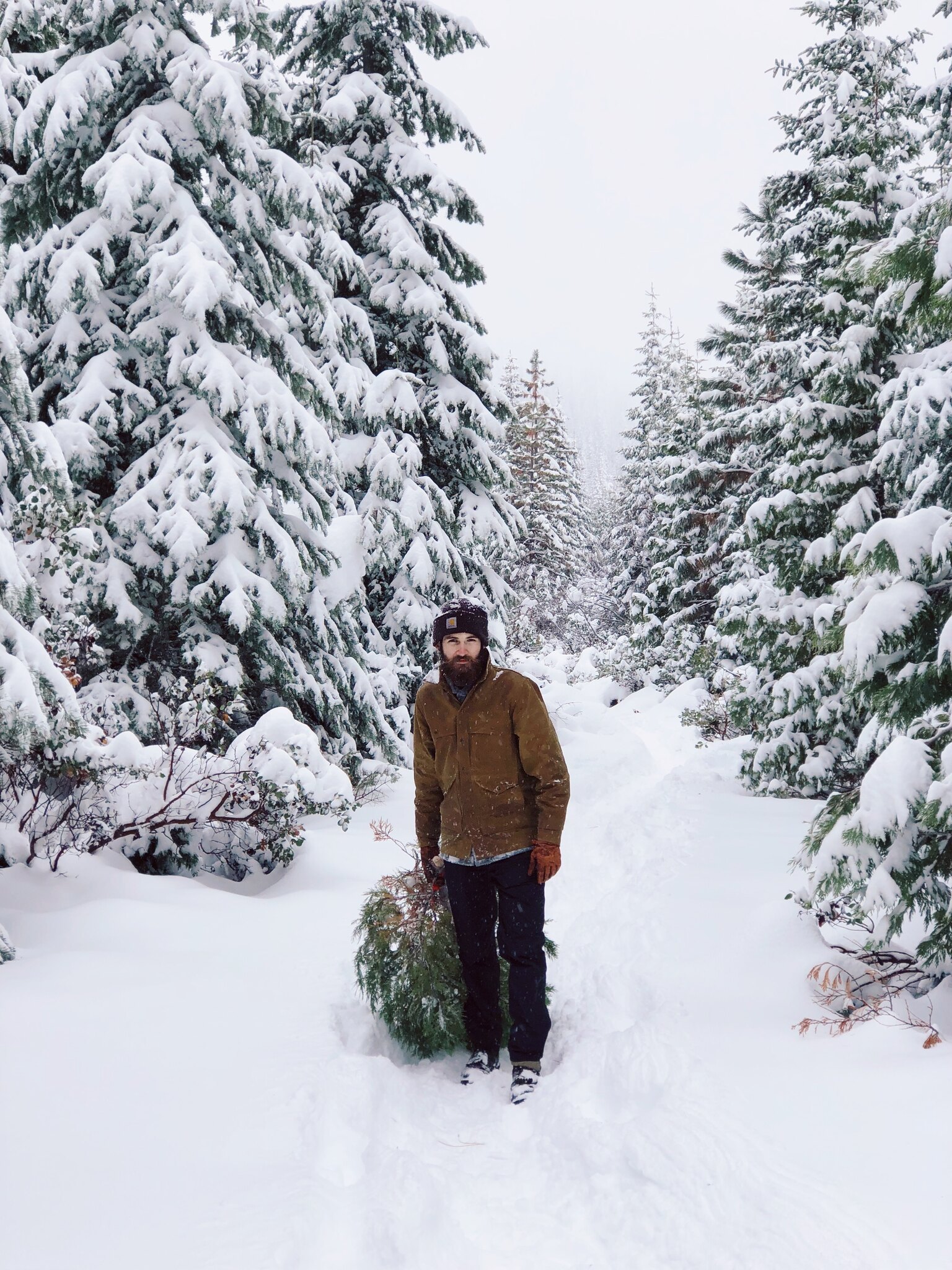 2018 Forestry Club Annual Tree Cut
Max Titcomb, December 2018
During the Forestry Club's Annual Christmas Tree Cut, we drove out to Tahoe to get a ton of semi-scraggly but character-filled trees to sell to the city of Berkeley. We spent the day trudging through waist-deep snow with hand saws in search of the best holiday trees around. It's one of the coldest experiences I've ever had, but so much fun and undoubtedly one my favorite in college thus far. The kind woodsy folk of forestry club are an absolutely fantastic group of individuals.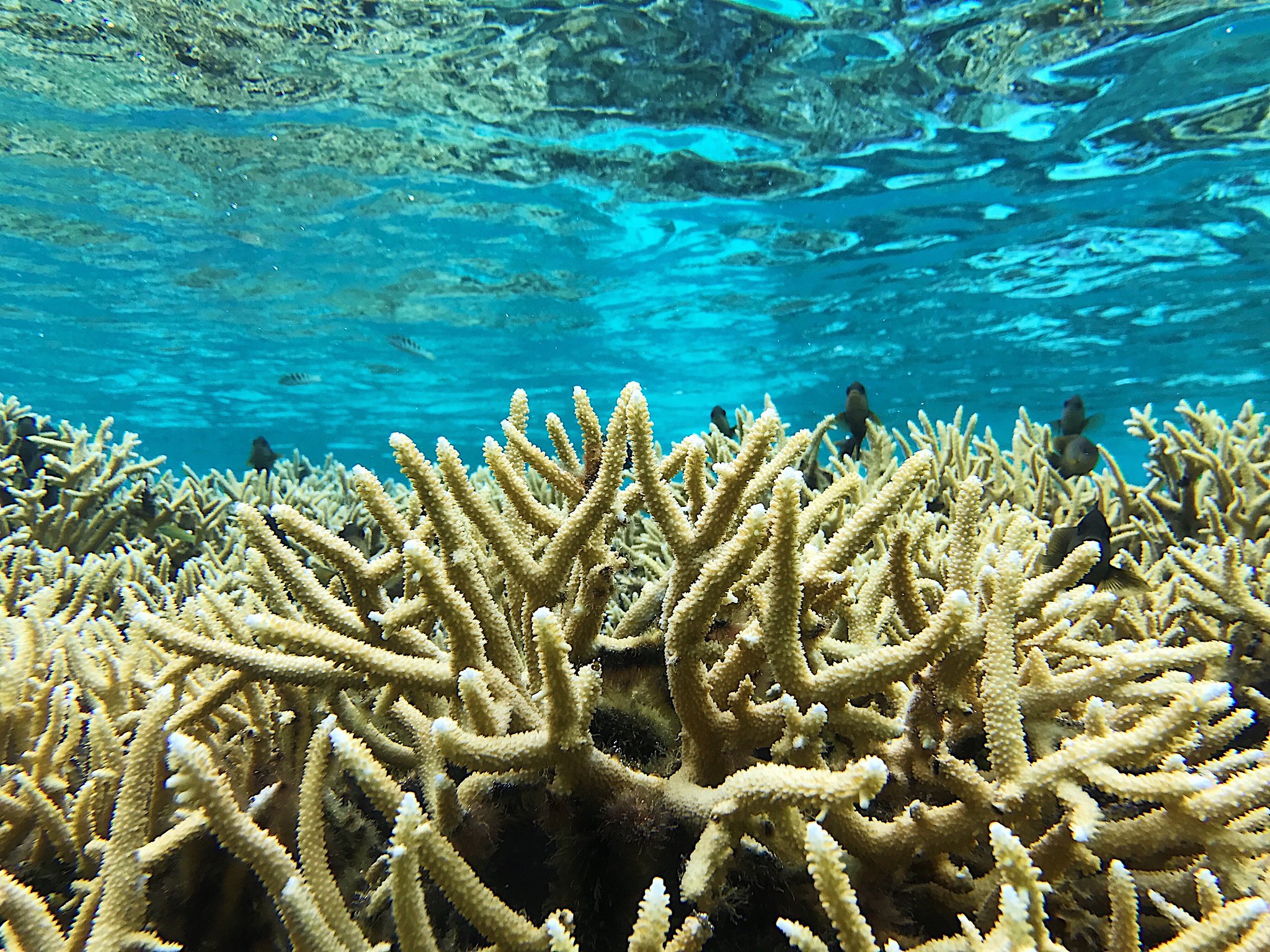 Resiliency
Sophie Babka, November 2017
This is a picture of Acropora Pulchra, a branching coral, on the Island of Mo'orea in French Polynesia. I spent the semester at UC Berkeley's Gump Research Station studying its resiliency to successive heat shock events predicted under "business as usual" emission scenarios. With average ocean temperatures increasing, the ambient conditions of the marine environment are changing. As the ocean environment changes, coral's ability to adapt is essential for the survival of many species. Coral reefs make up less than one percent of the ocean floor, yet support more species per unit area than any other marine ecosystem. Coral reef bleaching and mortality due to alterations of its ambient environment leads to dire consequences for all the organisms dependent on the productivity oases the reefs provide. Coral reefs are not only essential for marine organisms, but also physically and economically important to global communities. Coral reef ecosystems provide a source of income for island and coastal communities by supporting reef fish. The complex, aesthetical structures of coral reefs also draw in tourism revenue that supports local communities. Coral reef ecosystems  provides erosion protection for the island, a food source, a tourism industry, and a way of life. In order for these coral to persevere, climate change mitigation needs to occur at large scales to prevent ocean warming that will result in coral bleaching, killing the keystone species of this diverse ecosystem.