Fourth-year, Conservation and Resource Studies major
Ella Griffith, a fourth year Conservation and Resource Studies major with a double minor in Food Systems and Geospatial Information Science and Technology, has been a strong advocate for reducing food waste on campus since her freshman year. She interned for the Joint U.S. Chinese Collaboration for Clean Energy in Shanghai last summer, and as part of the Undergraduate Research Apprentice Program (URAP), she is working at the UC Berkeley Oral History Center on a project about the Sierra Club's historical narratives of influential women.
How did you first become interested in food systems?
My mother was a passionate horticulturist, and she cultivated an amazing amount of healthy food for our family. I was expected to help out from a young age. As a result, I was incredibly connected to where my food came from and why that mattered.  Before coming to Berkeley, I ran the Kids' Activities for the National Heirloom Exposition, which was a three-day harvest fair in Sonoma County. I co-coordinated with various beekeepers and master gardeners, helping with exhibitions for worm bins, drawing booths, and workshops for the 6,000 children that came through on field trips. In college, focusing on where food went when we did not finish it seemed like a natural next step.
Working with children also helped reaffirm my belief that habits and social norms around food are taught. There are many points of intervention in a child's life to teach them about waste and sustainability. In other words, while there are a lot of important reactive and adaptive solutions to these problems, there are many preventive, educational approaches we can take. I feel that if we provide kids with information early on, they are more likely to care as adults. 
Ella Griffith during her internship with Joint U.S. Chinese Collaboration for Clean Energy in Shanghai last summer. There she worked on Food Heroes, a play-based food education program for children ages 4-9, which teaches dietary habits that have health and environmental benefits. Photo by Jeanne Torp.
​Can you tell me about your work on campus around food waste?
I was hired as Cal Dining's first Food Waste Reduction Coordinator during my first semester freshman year. At the time, food waste reduction was much more focused on sorting waste and integrating composting systems. With the support of the sustainability coordinator Sam Lubow and the Housing and Dining Sustainability Advocates (HADSA), a student led group that advocates for sustainable practices on campus, I pushed to expand the campus leftover donation policy, ensuring that more meals are packaged and donated to communities in need. I also helped create a waste reduction signage campaign and implemented other programming events to educate students on their food-waste impact. 
Through my role with HADSA, I helped develop—and now coordinate—an internship program where we have first year students help as tabling volunteers and run mini-projects, in an effort to make HADSA's work more accessible. I also still assist the current Food Waste Reduction coordinator in an unofficial role. 
Can you talk about your internship experience as it related to food systems?
This summer, I lived and worked in Shanghai as a nutrition curriculum development intern for the Joint U.S. Chinese Collaboration for Clean Energy. This group has spent the last 10 years developing a gamified curriculum for preschool and elementary students called Food Heroes. The premise behind it is that education about food can be a positive pressure point for many societal problems, including childhood obesity, climate change, and learned wasteful behavior. The internship was an incredible opportunity to learn about the globalized food system from a different cultural perspective while sharpening my educational theory skills. It also drove home the fact that effective environmental solutions must take cultural context into account.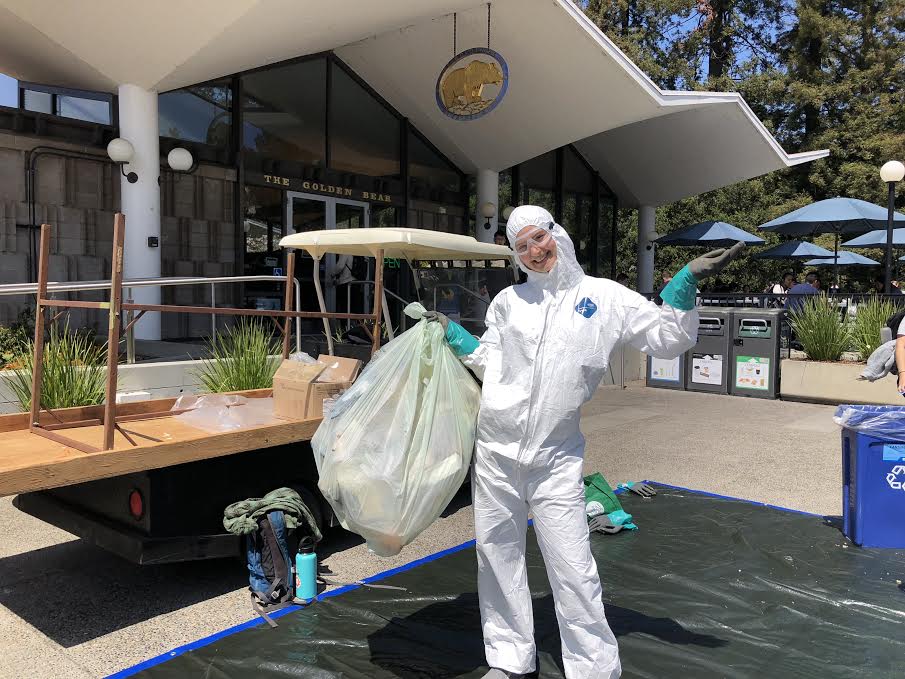 Ella Griffith at a food waste event on campus. Since her freshman year, Griffith has been involved with Housing and Dining Sustainability Advocates (HADSA), where she helped develop an internship program and created campaign materials to raise awareness about food waste, among other activities. Photo from the HADSA Archives.
​You also worked on a very different project: an oral history deliverable on women at the Sierra Club. Can you talk a bit about that? 
While working with Dr. Roger Eardley-Pryor, a historian at the Oral History Center, I became very curious about stories that touched upon environmental justice. We started with the Sierra Club interview collection, so I could focus on unpacking the Club's complicated past with diversity and inclusion. There wasn't a lot of discussion of environmental justice themes in the collection, but the narratives of the women in the Club were really fascinating. What they spoke about remains relevant to gender issues today. I downloaded and read interview transcripts, pulling quotes and recording themes to build a bibliography from the women's interviews. 
For a deliverable, Dr. Eardley-Pryer and I had initially explored the idea of creating a podcast centered on women's experiences on Sierra "high trips," but we instead settled on a multimedia, interactive website. For that I leveraged my geographic information systems (GIS) skills to build route maps of the early 1920s Sierra Club outings, which required traveling to the Sierra Club library at their headquarters in Oakland to seek out the outing location archives. I began to pair routes with quotes, pictures, and audio clips from women's interviews about these trips, a project that continues this semester.
Do you know of a student or group in Rausser College involved in noteworthy research, community outreach, or extracurricular activities? Let us know by submitting a suggestion with this nomination form.