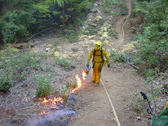 by Kathryn Stelljes

GEORGETOWN, CALIF. -- Fire hazard reduction methods slated for nearly 2 million acres in the Sierra Nevada may not work as anticipated, according to research conducted at the Blodgett Forest Research Station near Georgetown, Calif., in El Dorado County. Details on this and other studies at the forest will be presented on May 9-10 at the research station.

At issue is the effort to protect specific groups of young trees while burning the surrounding areas. By choosing when and where to burn, land managers hope to reduce the chance of catastrophic wildfires. This method already forms the backbone of proposed management plans for the Sequoia National Monument and the 1.4-million-acre National Forest Management Area in the northern Sierra often associated with the Quincy Library Group.

While the plan sounds feasible, UC Berkeley researcher Scott Stephens found in recent studies that the technique is "much more difficult to implement than anyone imagined." Stephens is an assistant professor of forest science at UC Berkeley's College of Natural Resources.

"We were the first to actually conduct prescribed burns around designated group selection units," Stephens said. Despite the good condition of the groups in terms of fuel load, the burns repeatedly spotted into the groups and many of the trees were too small to withstand the fires. "Logistically it became a giant challenge to protect the trees inside the groups." Based on his work, Stephens believes the strategy needs to be re-evaluated before it can be used successfully over large areas.

This research is part of a large, interagency Fire and Fire Surrogate study funded by the U.S. Departments of Agriculture and Interior. Stephens is the lead investigator for the study. He will present these and other research results as part of an invitation-only scientific session on May 9 and an open house free that is for the public on May 10 at Blodgett Forest Research Station, 4501 Blodgett Forest Road, Georgetown.

The station is owned and operated by the College's Center for Forestry and supported by the University of California Division of Agriculture and Natural Resources.