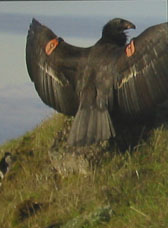 by Geralyn Unterberg

The Ventana Wildnerness Society has generously loaned the College of Natural Resources their exhibit on the California Condor. It is housed in Room 260 Mulford Hall, the CNR Student Resource Center, and is open to the public between 9:00am and 4:00pm Monday and Friday. The exhibit will be on the UC Berkeley campus through June 18, 2004.

The exhibit consists of several photographic and text panels that describe the biology of the condor, the recovery program and environmental issues hindering its success, and an interactive "Grandmother Condor" chair explaining the lessons young condors need to learn to survive in the wild.

At the turn of the century, the California condor (Gymnogyps californianus) population began to plummet after decades of wanton shooting and poisoning. In 1987, the last wild condor was taken into captivity to join 26 others. Successful captive breeding has dramatically increased the population of this endangered species. As of October 2002, the total population of California condors was 202 birds; 73 of those were in the wild.

Ventana Wilderness Society is the first private non-profit in California to release condors. Beginning in January 1997, the Ventana Wilderness Society began conducting releases of condors in Big Sur. In September 2003, Ventana Wilderness Society completed construction of a new condor release site, in collaboration with Pinnacles National Monument and the U.S. Fish and Wildlife Service. Condors historically used this region in the 1970s and evidence of nesting exists for Pinnacles National Monument dating back to 1898. The Ventana Wilderness Society plans to release 20 to 30 condors.

The loan of this exhibit was made possible thanks to the following people:

* CNR Professor Sally Fairfax, Division of Society & Environment;
* Sheila Foster, Communication and Development Coordinator, Ventana Wilderness Society;
* Mark Dedon and Wendy Pulling of PG&E;
* Catalina Estrada, Lynn Huntsinger, and Monica Lin: CNR Student Affairs Office;
* Sidney Zelaya-Aragon, Amelia Binas, Lourdes Enriquez: CNR Business Office;
* Richard DeMeyere, Gene Hudson and Talmai Gaskin: Academic Facilities;
* Janice Hing and Andy Goldblatt: Risk Management, Business Services;
* Rick Standiford, CNR Associate Dean for Capital Projects & Center for Forestry; and
* Paul Ludden, CNR Dean.