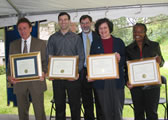 by Steve Birndorf

Berkeley–Gordon Rausser, Professor of Agricultural and Resource Economics (ARE) and Former Dean of CNR received The CNR Citation, at the inaugural CNR Awards ceremony on the east lawn of Giannini Hall on May 6th. The Citation, now in its third year, honors an individual, couple, or group that has made important contributions to the College and its programs, and is the highest honor bestowed by the College.

"Gordon's service to the College has been demonstrated in all areas: teaching, research, outreach, administration, and fundraising. For his vision and dedication to the College, he clearly deserves our highest recognition," said Dean Ludden, who presented the award. "Professor Rausser has had a profound impact on the College and helped to chart the course we are on today." ARE chair, Tony Fisher, who led the nomination effort, noted the praise from colleagues at Berkeley and around the world.

Dr. Rausser served as Dean of the College from 1994-2000 and chair of his department, Agricultural and Resource Economics, on two separate occasions. He has served as senior economist on the President's Council of Economic Advisors and subsequently as chief economist of the U.S. Agency for International Development.

Previous recipients of the CNR Citation are alumnus Dick Beahrs and the late Don Dahlsten.

At the awards ceremony, other faculty and staff were honored as well. Assistant Professor Steven Brenner received the Young Faculty and Cooperative Extension Award. Dr. Brenner is internationally recognized for co-founding the rapidly growing field of structural genomics and function of proteins. In his comments, Dr. Brenner thanked his colleagues, collaborators and students.

Staff members Mary Graham and Donna Symon were recipients of the CNR Staff Awards. Mary has served the College in many different roles. She is currently the acting MSO for Insect Biology and is assisting with the reorganization of the Department of Environmental Science Policy and Management. Donna serves as a student affairs officer for the College and has maintained a high degree of professionalism and service during her tenure at CNR. Both are graduates of Cal.

Dean Ludden created the Young Faculty and Staff Awards this year to recognize the tremendous dedication and hard work that the College employees put forth on a daily basis. Said Dean Ludden of the ceremony and reception, "It is heartening to see such support and admiration within the CNR community." Many friends and family members of the honorees attended the ceremony with CNR faculty, staff and students.