This month, the college honored two individuals for their extraordinary commitment and accomplishments in 2005. The CNR Citation, the highest honor of the college, was awarded for the first time to two deserving recipients, Iona "Rocky" Main and Helen Ullrich.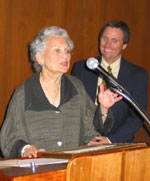 Rocky Main and her family were instrumental in creating and endowing the William Main Distinguished Visitor Program, an academic program that has made, and continues to make, significant contributions to the study of forest and natural resources management. Main has made her impact elsewhere on campus, as well. She has served as a trustee of the University Library, a leader of her alumni class, and a benefactor of the popular "Lunch Poems" series.

Many of her nominators stressed Main's personal supportiveness of faculty and recognized that, as one supporter put it, she "has sustained a grace and civility that helps us to appreciate the very best in our institution."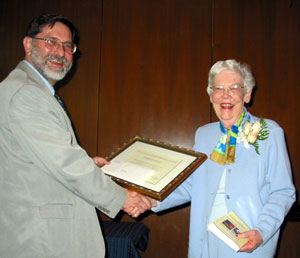 Helen Ullrich, a pioneer in expanding dietetics beyond medical nutrition therapy to include health promotion and disease prevention, co-founded and served as executive director of the Society for Nutrition Education from 1967 to 1983, and was instrumental in the establishment of the California Nutrition Council. (The council presented her with its Lifetime Achievement Award at its 2005 Childhood Obesity Conference.)

After her many years as a Cooperative Extension nutrition specialist, Helen remains deeply involved at CNR, where she has served on the Center for Weight and Health advisory board for five years.

"We know that we are better people because of Helen Denning Ullrich," wrote her nominators, "and that the world is a better place because of her."