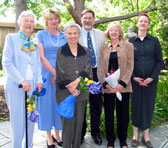 This May, recipients of the college's 2005 awards for staff and faculty reflected a full range of the diversity of talent and dedication within the CNR community.

The Staff Recognition Award was bestowed on two enormously dedicated employees who play very different roles at CNR.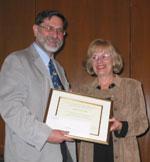 Gail Vawter, student affairs officer in Agricultural & Resource Economics, was honored and praised for "her role as the center of the ARE community."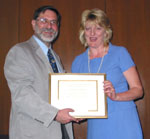 Sherry Cooper, program assistant in the Shasta County Cooperative Extension office, was, like Vawter, widely praised for a do-everything work ethic that doesn't know how to say "that's not my job." Cooper's award was acknowledged as a welcome honor for CNR's oft-overlooked, hardworking, off-campus units.


This year's Young Faculty & CE Specialist Award honored Alix Zwane, CE Specialist in Agricultural & Resource Economics, for her exemplary research and outreach.