Helen Denning Ullrich, former nutrition specialist for the University of California, longtime friend of the College of Natural Resources, and 2005 recipient of the College's highest honor, the CNR Citation, died in her Berkeley home on March 19 with all of the grace and dignity that drew to her a vast and diverse circle of friends and admirers.
---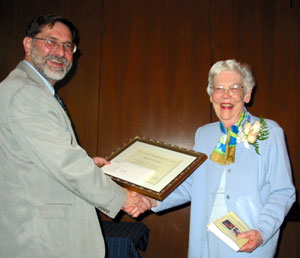 In May 2005, Helen Ullrich accepted the
CNR Citation from Dean Paul Ludden



As a nationally known nutrition educator, Ullrich recognized that although it is critical for scientists to conduct research on how nutrients promote health and prevent disease, it is quite another thing to motivate people to make daily food choices based on that body of knowledge. Ullrich's life work was devoted to bridging this gap.

Her work as a nutrition specialist at the Agricultural Extension Service of Pennsylvania State University from 1950 to 1956 gave her first-hand knowledge of this issue. She used demonstrations and publications to teach rural women to preserve food and cook healthful meals. She found delight in taking on the challenge of teaching these women new information about subjects already familiar to them.

In 1956, Ullrich returned to her native Berkeley to assume a position as a nutrition specialist for Cooperative Extension at UC Berkeley, a position she held until 1963 when she became pregnant. The University did not have a maternity leave policy at that time, and pregnant women were expected to resign their positions.

Ullrich took great joy in parenting her daughter, Louise, but she also realized that she wanted to continue to use her knowledge and skills. She had already spent over 10 years working in the field of nutrition. She felt a strong commitment to the profession of dietetics, although she wanted to see the role of dietitians broadened. Dr. George Briggs, then chair of the Department of Nutritional Sciences at UC Berkeley, recognized Ullrich's commitment and asked for her assistance. He wanted to begin a new organization devoted the field of nutrition education. The fact that nutrition played a role in the development of chronic diseases was just coming to light, and both Ullrich and Briggs understood the need to influence the public's food choices. With the help of a small group of other well known nutritionists, they co-founded the Society for Nutrition Education (SNE).

Ullrich served as executive director of SNE (eventually receiving a salary for her work) from 1967 until 1983. She used SNE to make nutrition education a legitimate academic profession and to promote policies that would benefit public health. Ullrich was a well respected figure in both Sacramento and Washington, D.C., and was often called upon to testify on food and nutrition issues by congressional committees. Shortly after helping to establish SNE, Ullrich took on the responsibility launching the society's journal, The Journal of Nutrition Education, and served as the publication's editor from 1968 to 1979.

Ullrich was uniquely qualified to provide leadership in this profession. As a fourth generation nutritionist, Ullrich was comfortable with the technical aspects of nutrition in an era when almost all scientists were men. As a clear thinker, who had courage and great grace, she was able to establish direction, articulate a mission, and mentor and motivate others.

On a personal level, Ullrich was known as a loyal friend. She corresponded constantly and met annually with friends from high school more than 65 years after she graduated. She continued her involvement with issues of health and nutrition after she retired from SNE and counts many members of that community among her closest friends. She loved to travel and did so extensively, visiting friends in Australia only two years ago. She enjoyed reading; a couple of mysteries she hoped to read arrived in the mail a few days before her death. She loved the church she attended and served it faithfully. She was a nutrition educator who dined regularly (but properly) at the finest restaurants in the area because she enjoyed eating good food. Most of all she loved her grandchildren Sarah (in whom she saw echoes of herself) and her grandson Matthew (in whom she took complete delight). Ullrich's last trip was to Ohio at Christmas to visit Matthew and Sarah.

Ullrich was preceded in death by her husband Bob, and is survived by her daughter Louise Myers (Gene) and her grandchildren Sarah and Matthew.

Friends are invited to attend a celebration of Ullrich's life, at 2 p.m. on April 9, at the First Congregational Church of Berkeley.

In lieu of flowers, contributions may be made in Ullrich's memory to the First Congregational Church of Berkeley (2345 Channing Way, Berkeley CA 94704-2201) or the Alameda County Community Food Bank, where Ullrich was a founding board member (PO Box 2599, Oakland CA 94614).