On July 15, the Beahrs Environmental Leadership Program wrapped up its sixth annual summer course.

The course is an intensive, hands-on summer training program at UC Berkeley that brings 40 mid-career environmental leaders from developed and developing nations together for workshops on topics including environmental management and policy; clean energy options; leadership for sustainable development; population, poverty and the environment; and conflict management.


---
On July 6, executive chef and owner of Chez Panisse Alice Waters hosted a special lunch for the participants. The lunch has become an annual affair because of Waters' and many of the participants' shared interest in food programs that provide communities with nutritious, sustainable, locally grown food.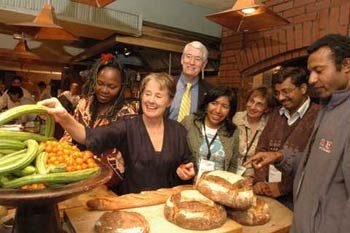 Above, (l-r) Martine Ngobo Nkongo, a tropical forestry ecologist from Cameroon; Waters; UC Berkeley Chancellor Robert J. Birgeneau, ; Sara Mateo Centeno, a biodiversity management specialist from Peru; Robin Marsh, Beahrs ELP co-director; Aman Singh, an expert in traditional biodiversity management in India; and Biatus Bito, a conservation biologist and forest ecologist from Papua New Guinea. (Photo by Peg Skorpinski.)

On July 7, City of Berkeley Mayor Tom Bates and California State Assemblymember Loni Hancock spoke to participants.

Bates discussed the policies and technologies being adopted by the City of Berkeley to encourage and ensure "green" development. These include shared cars, energy efficient construction, waterfront protection and enhanced recycling services for residents. Bates said that Berkeley still faces important challenges with transportation and homelessness. Hancock spoke to participants about their own environmental and conservation struggles.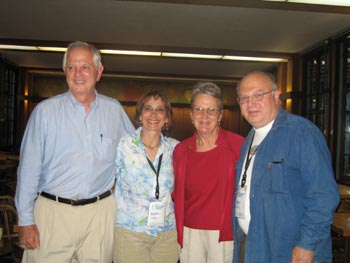 Above (l-r), Mayor Tom Bates, Robin Marsh, Assemblymember Loni Hancock, and Beahrs ELP co-director Prof. David Zilberman.