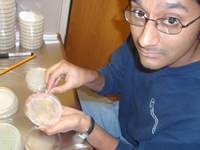 Until he met the slimy green algae called Chlamydomonas, undergraduate Subhajit Poddar didn't know he was interested in plant biology. "Once I began working with mutant strains of algae, I was totally hooked," he says.

Poddar, fourth year in Plant and Microbial Biology, studies the green algae Chlamydomonas under the mentorship of Professor Krishna Niyogi. His research has focused on identifying and cloning genes responsible for two compounds involved in photosynthesis.

Using genetics as a novel tool to understand physiology, Niyogi and his team are isolating genes that are important in determining plant responses to stress and high light conditions. SPUR funds have helped Poddar purchase essential lab equipment necessary to maintain laboratory populations of Chlamydomonas.

Undergraduate research through SPUR is funded entirely by donations to the Berkeley Fund for Natural Resources -- and gifts are accepted online here.