Two of CNR's finest teachers -- one known for teaching the largest lecture on campus, the other for recently creating one of Berkeley's most intimate courses -- have been named the recipients of the College of Natural Resources 2007 Distinguished Teaching Award.



Nancy Amy, associate professor of nutrition, and Kathleen Ryan, assistant professor of microbial biology, share the honor. The awards were presented May 20 at commencement.

---


Nancy Amy developed and regularly teaches Nutrition 10, the most popular course on the UC Berkeley campus. (Typical enrollment is 700 students -- a size that, as one nominator put it, "would make most Berkeley faculty faint"). Amy was among the pioneering Berkeley faculty who began podcasting lectures last year, and her classes are enjoyed by students and non-students around the world.



Despite the challenges of teaching such an enormous class, Amy's personal connection to students was repeatedly praised by her nominators. Says one:

Berkeley can be very intimidating to a freshman--it's easy to get lost in those large lecture halls! However, Professor Amy does a wonderful job of providing a welcoming setting, and surprisingly, she is able to facilitate a class discussion in the lecture hall.

Outside of the classroom, Amy is known for going the extra mile for her students. She invites students to meet with her over lunch after lectures, and there's always a group that shows up with questions. She is also well known as a caring faculty advisor. Wrote one student nominator:

"Nancy is one of the professors who truly cares about students on more than just an intellectual level... Most advisors make sure your schedule is on track to help you graduate in four years. Professor Amy on the other hand helped me to make sure my life was balanced."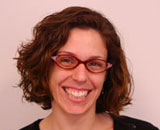 Kathleen Ryan was nominated by a flood of past and present students who gushed about her enthusiasm and passion for microbiology and her deep interest in individual student success. All of the letters cited her as "inspiring" and credited her with influencing educational and career directions.



In addition, many of the students raved about the unique, intensive, hands-on class [PDF] Ryan designed to help undergraduates grasp the concepts and techniques of laboratory research.



A sampling of student comments:

In a single summer, I learned more about biological research in her lab than in all my lab classes combined here at UC Berkeley.



I watched every student in that class grow under Dr. Ryan's personal attention, from beginners who could barely use a micropipette into research scientists breezing through lab working independently.



Dr. Ryan has energy that helps students relax and focus on learning, and that brings out creative thoughts.



With her as our professor, nothing seemed too complicated or impossible to achieve.



I've had my share of biology classes here at UC Berkeley with many of the best professors that this nation has to offer. As my final year comes to a close, I can't think of another professor I've had that has been so devoted to helping students learn.



In nine semesters here at Cal, I've learned more from Professor Ryan than any other professor on campus.



The concept that I could receive more personal attention while being exposed to a diverse UC Berkeley education attracted me to CNR. Dr. Kathleen Ryan's teaching style epitomizes those values.